Amusement Parks, Summer Camps Get Green Light to Reopen in New York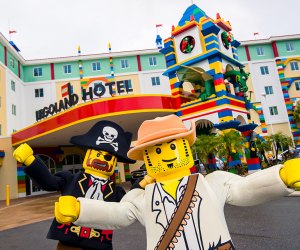 New York families can finally start looking forward to a more "normal" summer thanks to Governor Andrew Cuomo's announcement this week that summer day camps and sleepaway camps can begin making plans to reopen. Another boon to families: Indoor family entertainment centers and outdoor amusement parks have also been given the green light to reopen.
Read on for details on these newest reopening plans, and be sure to bookmark our list of what's open now in NYC for kids to keep up on all the developments as they happen.
Guidelines for Indoor Entertainment Centers and Outdoor Amusement Park Reopenings
Per the governor's announcement, indoor entertainment attractions state-wide are allowed to reopen on Friday, March 26, at 25 percent capacity; outdoor amusement parks can reopen on Friday, April 9, at 33 percent capacity.
Though many museums and indoor play spaces have reopened, indoor entertainment spots like arcades have been shuttered since the beginning of the pandemic. The governor's announcement opens green lights their reopening, plus the debut of some attractions we've long been anticipating, including Legoland in Goshen, New York.
Local attractions like the boardwalk amusement parks in Coney Island, Playland Park in Rye, and Long Island's amusement parks are also prepping to reopen.
In addition to limiting capacity, all amusement centers, indoors and out, must follow COVID-guidelines including collecting contract tracing information, frequent sanitation and disinfection of attractions and high-touch areas, upgrading interior air filtration and ventilation systems, selling advanced, timed-entry tickets to stagger admissions, and staffing sufficiently to ensure safety compliance. Masks, social distancing, and health screenings before entry are all mandatory as well.
All attractions must submit written reopening plans to their local health department for approval.
"We are thrilled with Governor Cuomo's announcement for the reopening of family attractions, including outdoor theme parks," said Stephanie Johnson, divisional director of Legoland New York Resort. "This means Legoland New York Resort will be able to celebrate its grand opening this season as planned, and we look forward to sharing more details soon."
New York Summer Day Camps and Sleepaway Camps Can Reopen
In announcing that day camps and overnight sleepaway camps will be permitted to reopen, families can start making concrete plans for summertime care. In 2020, the announcement that day camps could reopen didn't come until early June.
Many camps have anticipated reopening, laying the groundwork to do so. While the Department of Health will issue specific reopening guidance in the coming weeks, expect camps to implement the COVID-precautions we're all too familiar with by now, including mandatory mask wearing, temperature checks, and health screenings.
Check out our Summer Camp Guide for a full run-down of camps and programs to choose from.