What's Open Now in NYC For Kids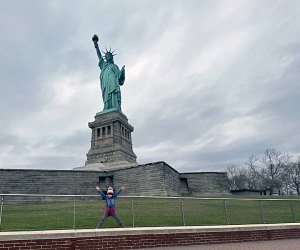 2/12/21
- By
Jody Mercier
New Yorkers have ridden the roller coaster of the pandemic figuratively—and virtually—for nearly a year. Some of our favorite spots have closed and opened, only to close again. So, what's open now in NYC for kids? A lot, really.
We've done our best to pull together this list of family-friendly destinations in New York City that are open now. Our favorite parks and playgrounds, most of the city's top-notch kid-friendly museums, and destination-worthy tourist attractions, like the Statue of Liberty, have all reopened and are ready to welcome you and your brood—with safety top of mind.
So, read on for what's open now in NYC and bookmark this post, as we'll keep it up to date as we learn of new reopenings.
Editor's note: While we are trying to promote safer activities that occur outdoors or with social distancing guidelines in place, please keep your family and others safe by always wearing a mask and maintaining an appropriate distance. If you arrive at a venue that appears too crowded, try using the "nearby" search feature on our Event Calendar to find something else to do. Keep in mind, reservations are required for many destinations, so plan your outings in advance, and be sure to click through to each venue for any updates to its policy. Some photos in this post were taken prior to the pandemic.

Artechouse is an interactive digital art gallery that's sure to impress.
We barely knew the new MoMA before the pandemic forced it to close, but it's back!
Fotografsika, the photo-centric museum housed in a stunning landmark building on Park Avenue South, is open and welcoming visitors, though it's best for older kids.
RELATED: Free Times to Visit NYC Museums, Gardens, and Zoos

Visit the Bronx Zoo or any of the other WCS parks in NYC with advance, timed-entry tickets.
Zoos, Gardens, and Aquariums Now Open in NYC
The WCS Zoos and New York Aquarium are all open. Visit the Bronx Zoo, Central Park Zoo, Prospect Park Zoo, Queens Zoo, and New York Aquarium, which are all requiring timed-entry tickets for entry.
The Staten Island Zoo is also open and requires advance tickets to visit.
The New York Botanical Garden is open and getting ready for a landmark installation of Yayoi Kusama's works, which opens in April.
Both the Queens Botanical Garden and Brooklyn Botanic Garden are open with generous, FREE, offseason admission policies.
The lesser-known—and equally enchanting—Snug Harbor, in Staten Island, and Wave Hill, in the Bronx, are both welcoming visitors.
RELATED: 14 Family-Friendly Openings We're Looking Forward to in 2021

Krispy Kreme's doughnut empire has come to the Crossroads of the World.
Tourist Attractions Now Open in NYC
Times Square is hauntingly quiet without its slow-walking hoards of tourists, but you can visit the Disney Store, M&Ms World, Hersey's Chocolate World, or our new favorite sweet spot Krispy Kreme's 4,500-square-foot doughnut wonderland.
Lady Liberty shines bright in the harbor. Liberty Island, Ellis Island, and the newish State of Liberty Museum are all open and welcoming visitors, and the crowds are very light!
The city's sky-high observation decks have all reopened. You can take in stunning views from Edge at Hudson Yards, the newly renovated Empire State Building, the One World Observatory at the World Trade Center, and Rockefeller Center's Top of the Rock.
RELATED: The New York People and Places Who Saved Our Sanity in 2020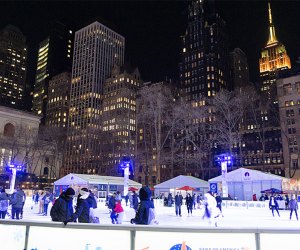 Bryant Park's Winter Village has extended many of its attractions through late March.
New York City Parks and Playgrounds Now Open
Bryant Park's Winter Village is open. Home to the city's only no-cost ice skating rink, there's plenty of fun to be had here. Many holiday shops have extended their season through March, and a slew of Kids Week activities are on tap for Midwinter Break.
All New York City parks and playgrounds are open. Find all our favorite spots to play in our Parks and Playgrounds Guide. A few favorite spots to highlight: These 18 time-tested top playground, 13 spots that boost mental skills during playtime, and 12 cool themed playgrounds.
Go off the beaten path at one of these 10 underrated NYC parks.
Explore some outer-borough gems like Van Cortlandt Park in the Bronx, Socrates Sculpture Park in Queens, or The Greenbelt in Staten Island.
The Alley Pond Environmental Center is one of the only nature centers currently open and has a calendar full of in-person classes and workshops.
RELATED: Family-Friendly Hiking Trails to Tackle in NYC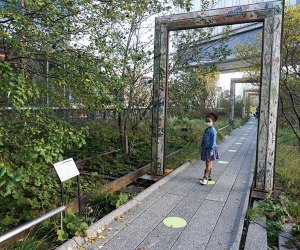 The High Line requires tickets for weekend visitors only now.
The High Line is open, offering a lovely above-the-fray walk, and reservations are required for weekend visits only.
Hit the ice at these family-friendly outdoor ice skating rinks.
Despite the pandemic, the Parks Department has been busy at work building plenty of new play spaces. Two recent openings to check out: Pier 26 in the Hudson River Park and the Pier 2 Uplands at Brooklyn Bridge Park. Spring will bring the seasonal opening of the Queens new mega splash pad in Flushing Meadows Corona Park and Little Island, the floating park that's one of our highly anticipated openings this year.
As long as the flakes are flying, hit the city's sledding hills or try your hand at cross-country skiing, yes, even in city limits.
Restaurants in NYC Now Open
Outdoor dining has introduced food service in igloos, cabins, yurts, and more.
Indoor dining makes its return right in time for Valentine's Day weekend, meaning many of our favorite family-friendly restaurants will be allowed to reopen.
Brooklyn's Industry City is home to tons of family-friendly destinations and the largest covered outdoor dining area in the city.
If dining in is a no-go, consider supporting your local eateries with NYC Restaurant Week to-go through Sunday, February 28.
RELATED: Guide to Indoor Play Spaces and Fun Zones in NYC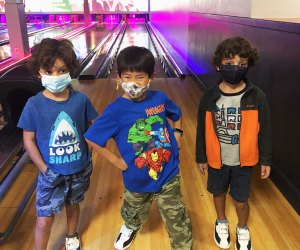 Head to a family-friendly bowling alley. Photo by P. Singh
Indoor Play Spaces and Fun Zones Now Open in NYC
Hit the lanes at a family-friendly bowling alley. Most are open and taking reservations.
Let kids get their wiggles out at Brooklyn's top play spaces or top play spaces open now citywide. You can book the whole space at these play spaces offering private playtime.
Enjoy some ooey-gooey playtime at Soho's Sloomoo Institute or the Museum of Ice Cream.
Explore the Instagram-friendly Color Factory.
Many of our favorite arts and crafts studios have reopened and offer limited-capacity classes or take-home kits.
RELATED: Creative Hub Playday Opens Cobble Hill Location

Powerhouse@IC offers a curated kids section and a fun day-long destination. Photo by Diana Kim
Bookstores have reopened but may limit browsing time. Hit up one of these kid-friendly spots or the new Powerhouse@IC.
Let kids climb the walls at one of these rock climbing gyms or the newly opened New York Ninja Academy.
If you've got an older gamer on your hands, consider a visit to VR World, where kids ages 9+ can immerse themselves in another dimension.
Princesses in training will love the princess playdates, tea parties, and more at Let's Dress Up.
RELATED: Winter Fun List: 40 Things To Do With Kids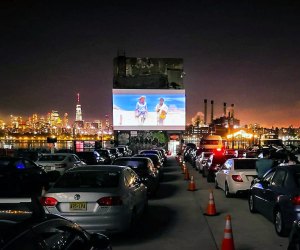 The Skyline Drive-in offers movies with a view in Greenpoint, Brooklyn. Photo courtesy of the venue
In-Person Entertainment and Theaters Open Now
The Skyline Drive-in has capitalized on the extended indoor movie theater closure by operating its drive-in since summer. Walk-up friendly lounge chairs are available if you don't have a car.
Brooklyn's Puppetworks is playing Aladdin & the Wonderful Lamp through Sunday, March 28, and has more upcoming shows in the works.
Nearby Day Trips NYC Families Can Enjoy Now
Catch some air at these Northeast snowboarding parks.
Hit the slopes at these nine family-friendly ski resorts.
Snow tubing hills are also open and require far less equipment.
Sneak away for a bit of summer at one of these nearby water parks.
Unless noted, all photos by the author