Powerhouse Books Opens in Industry City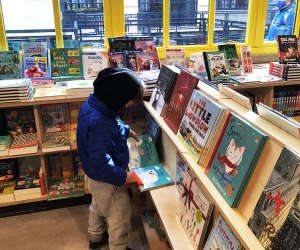 Just in time for the holiday shopping season, Industry City has welcomed a brand new tenant: Powerhouse at IC is the newest outpost of the local indie bookstore chain. It brings a curated selection of literary titles and an impressive, diverse selection of children's books to the Sunset Park development.
Centrally located in the Food Hall of Building 2, Powerhouse at IC is open and airy, with sunlight pouring through large, industrial windows. With yellow accents, the space feels warm and inviting, ideal for perusing the shelves for your next great read or gift.
Editor's note: While we are trying to promote safer activities that occur outdoors or with social distancing guidelines in place, please keep your family and others safe by always wearing a mask and maintaining an appropriate distance.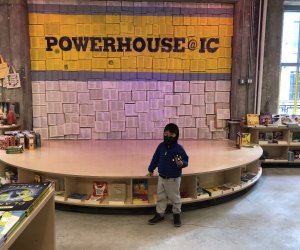 Plans are in the works for children's storytime on the pink-lit stage.
The first thing you'll notice when you enter the store is a large, half-circular stage set against one wall below a mural of open books. Once the pandemic is behind us, Powerhouse at IC hopes to use the space to host events like storytime. For now, it's a nice spot for kids to sit, read, and look through books. Kid-friendly books are organized and displayed on low shelves making it easy for youngsters to browse by themselves.
RELATED: 17 Things To Do With Kids in Industry City Brooklyn

The store offers a diverse range of books for kids.
The bookstore has a great children's section, with a diverse range of offerings for babies through middle schoolers. You'll find the classics and new releases, plus seasonal books. Many of the children's books on display feature racially diverse characters and voices. There is even a dedicated section of Spanish-language children's books, inspired by the neighboring Latin community.
RELATED: The Best Children's Bookstores in NYC

Powerhouse at IC has a curated selection of fiction, nonfiction, art, and design books.
Other books are grouped into cheeky categories like "Make Believe," "Coffee Table Beauties," "Wonderfully Tasty," "Pre-Instagram," "For Real," and the "Art of Design." While the store sells the newest releases and bestsellers, this isn't your big-box bookstore with every title imaginable. The books in these sections reflect the unique taste and passion of the co-owners, Daniel Power and Susanne König, who've made their mark in the publishing world with an eclectic publishing house specializing in art, design, and photography.
If there is a book the store doesn't carry, the friendly staff is happy to order it for you. You can also find an assortment of cards, toys, and novelty items. In addition to storytime, Powerhouse at IC hopes to offer events like photography exhibits and other literary experiences.
Know Before You Go
Industry City is accessible via the D/N/R subway lines to 36th Street. The B35, B37, and B70 bus lines also get you close.
Powerhouse at IC is open daily, 11am-6pm.
All visitors over the age of 2 must wear masks and practice social distancing.
​Currently, the store operates at 50% capacity, and browsing is limited to 10-15 minutes.
During the pandemic, please limit touching as much as possible and ask for assistance retrieving titles.
Photos by the author