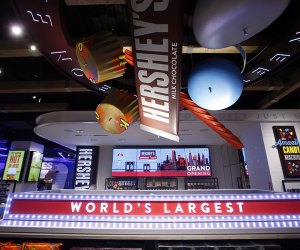 Why Your NYC Kid Will Drag You To the New Hershey's Chocolate World
Kids like candy. It's a fact I deal with on a daily basis. I counteract it with lots of activity and as much good food as my 5- and 10-year-olds will tolerate. But here's something they don't know. I like candy, too. So when the assignment hit my inbox to visit and review the brand-new Hershey's store, it was an easy decision. I'd even brave Times Square for it!
Read on to find out the good, the bad, and the ugly of our trip to the middle of the city in search of massive amounts of chocolate.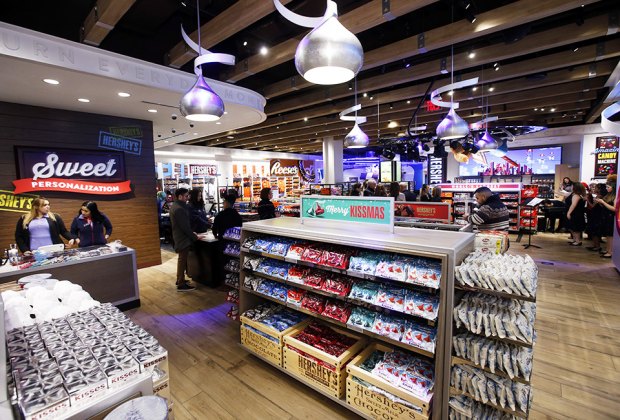 Rows upon rows of candy welcome you!
Located at the corner of 47th and 7th, the newly expanded Hershey's Chocolate World is nearly three times the size of the original. It opend on December 14. And they haven't wasted an inch: Everywhere you look, it's candy, candy candy. Weaving your way through really is like a game of Candyland. The holiday candy was front and center when the kids and I entered on the 7th Avenue side (there's also an entrance on 47th), with red and green, silver and blue foil-wrapped treats all around, bagged up and ready to take home.
Each signature candy (e.g., Hershey's Kisses, Kit Kat, Reese's, etc.) had its own little shrine, with various themed mementos and keepsakes, like mugs, T-shirts, and tins. But if you're looking for a more personalized experience, you can hit up the wrapper station, where you can personalize your very own Hershey's Milk Chocolate Bar wrappers for your bars.
RELATED: A Dozen Times Square Restaurants for Kid-Friendly Eats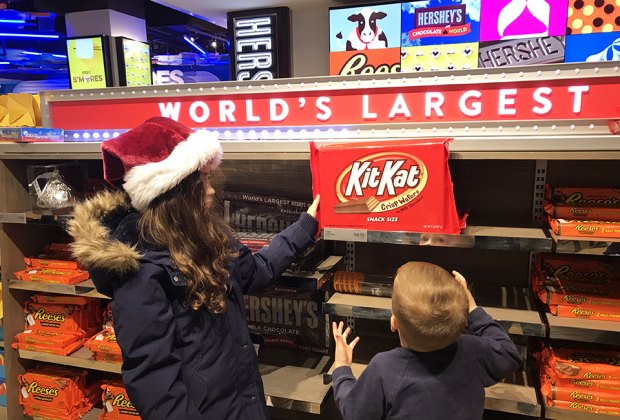 The larger-than-life Kit Kat might just be a "must-do." Photo by Maureen Dempsey
We passed by the oversized novelty bars. The kids were pretty impressed with the larger-than-life Kit Kat (which is actually two pounds of individually wrapped candies) and the mega peanut butter cups.
Then we hit the Amazing Candy Machine station, where you can grab a metal bucket and pull the levers on the various candy silos to unleash a spray of individually wrapped treats, from Jolly Ranchers to Kisses. You pay by the pound.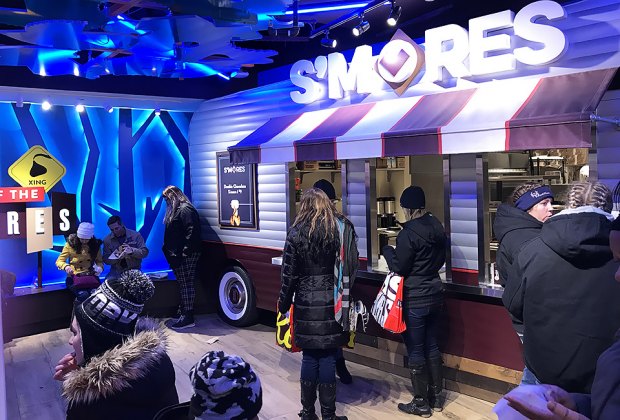 Indulge your sweet-tooth with a giant S'more that is big enough to share! Photo by Maureen Dempsey
The kids (okay, "I") was on the lookout for the S'mores camper, which is in the back corner of the new store. After hovering a few minutes around the camper's window, a fellow customer told me about the s'mores kiosk—where you order and pay. Then you head back to the camper, where the attendant distributes freshly toasted GIANT s'mores. While they're $9 each, they are enough to feed two to three kids (if you can convince them to share nicely). Each one is made up of two graham crackers about the size of an adult hand with two fluffy marshmallows and two pieces of chocolate inside. Ask for extra napkins!
We also asked if they'd be changing up the flavors or options for customizing your s'more (I mean, who wouldn't want a Reese's s'more?), but I was told it's just this Double Chocolate version for the foreseeable future.
RELATED: The 15 Most Insane, Must-Try NYC Desserts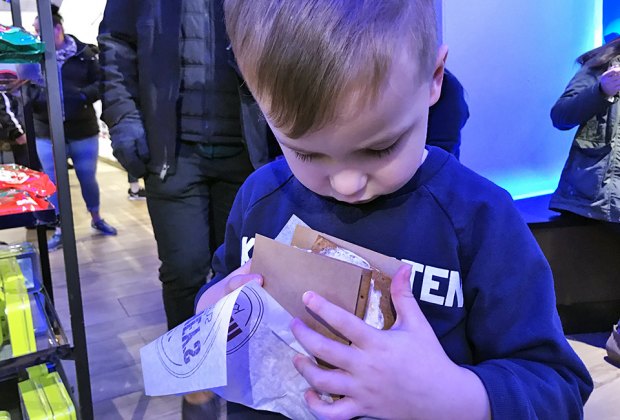 Whoa! Wrangling a giant s'more. Photo by Maureen Dempsey
We rounded out the experience by heading back around toward the 47th Street entrance, where the Kitchen Bakery lures you in with fresh-baked fragrances. We were stuffed from our s'mores experience, but options included Triple Chocolate, Reese's Peanut Butter, and Cookies N' Creme-filled brownies; Double Chocolate S'mores; Melted Hot Chocolate; and Chocolate Spritzer drink, along with coffee and other bakery usuals.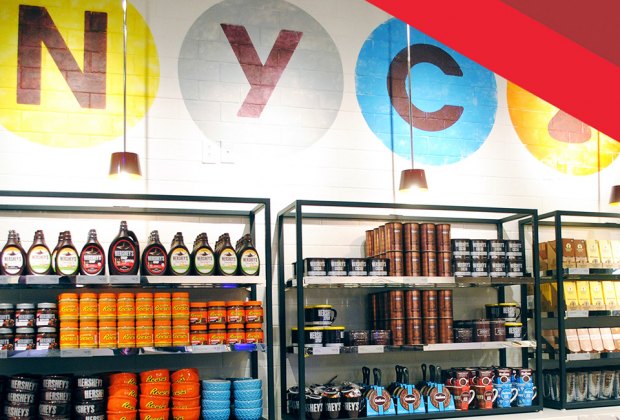 Displays are often neatly grouped by type of chocolate indulgence.
We trudged through Times Square on a pre-holiday Saturday afternoon, so, as you can imagine, it was...crowded. The streets, the intersections, the store itself. Wall-to-wall people. If you do want to visit, be a smart New Yorker and go on a weekday. And be a smart mom and fill them up with a meal before you go. I know I'll recover at some point and go back. Maybe this spring...
Hershey's Chocolate World is located at 701 7th Avenue and is open daily 9am to midnight.
Photos by Jason DeCrow/AP Images for the Hershey Company unless otherwise noted