Private Playtime: 13 Indoor NYC Play Spaces That Can Be Rented For Pods or Families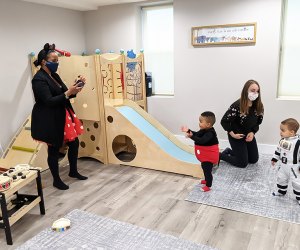 While indoor play spaces usually provide a haven from the frigid winter weather, many of us aren't too keen on setting our kids loose at an indoor play space with kids we don't know amid the city's rising coronavirus infection rate.
Luckily, many indoor play spaces and gyms throughout the city have adapted to the moment and offer their spaces for private rentals, giving families or learning pods a space to play on your own or with a close group of friends.
Read on for 13 local play spaces offering this private play perk, and find more play spaces in our Indoor Play Spaces Guide and plenty of seasonal things to do in our Winter Fun Guide.
Editor's note: All the play spaces listed are adhering to COVID regulations, including mandatory mask wearing, temperature checks, hand washing, and additional cleaning and sanitizing measures. The play spaces and play cafes are not offering any indoor dining options at this time. Given how quickly things are changing during this pandemic, be sure to check their websites or call to confirm pricing and availability. Please always keep your family and others safe by wearing a mask and practicing social distancing.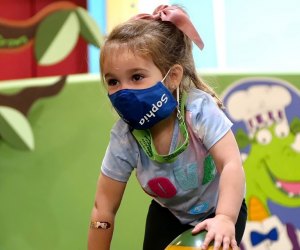 Museum educators lead fun and engaging activities for groups of up to 25 at the Children's Museum of Manhattan.
212 West 83rd Street between Broadway and Amsterdam Avenue
Ages 1-8
You can have a private adventure at this amazing kid's museum for up to 25 people (including kids and adults). You and your pod have exclusive use of two exhibit floors for 1 hour, 45 minutes. Museum educators lead art, movement, and storytelling activities. Each child receives a personal activity kit. The experience is open to members to book and costs $500. Call 212-721-1223, Ext. 295 or email guestservcies@cmom.org to schedule.
591 5th Avenue between 16th Street and Prospect Avenue
Ages 8 months-6 years
Rent this beloved neighborhood indoor play space any day of the week for up to 2 hours for $200. The maximum number of people allowed is 16 (including adults and children). Book using the form on its website. Kids can play with a wonderful selection of curated toys, the ball pit, slide, and wood cube pit.
RELATED: NYC Winter Fun List: 40 Things To Do With Kids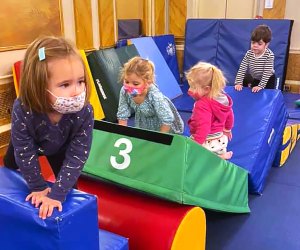 A pod of up to seven kids can do gymnastics, learn, and play in a safe atmosphere at Elliott's Gymnastics.
131 West 86th Street between Amsterdam and Columbus Avenues
All Ages
Private pod options are now available at this popular gymnastics studio. You can reserve a private 40-minute session, either for free play with exclusive use of the space or have a coach lead your group in an activity of your choice. The maximum number of kids allowed is seven, and it costs $275. Call or email elliottsgymnastics@gmail.com to reserve. You can look at the available time slots for private pods here.
149-13 14th Avenue between 149th and 150th Streets
Ages 12 and under
This newly opened Queens play space has many different activities to keep kids busy and entertained, including climbing areas, a ball pit, trampoline, and block-building area. Book the early bird special from 9:30-11am any day of the week, and you can have the entire space to yourself for up to eight people, for $120. Otherwise, the regular cost is $260 for 1.5 hours, for up to 16 people. The cost is $300 on weekends. Call or email jungleadventurenyc@gmail.com to reserve.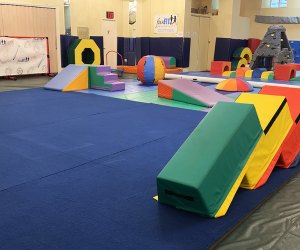 Kids have free use of the huge fully-equipped space at FunFit NYC.
5. FunFit NYC – Morningside Heights
550 West 110th Street at Broadway
Ages 0-8
Kids love going to this indoor gym to climb, run, move, and dance. Features including a climbing wall, scooter raceway, ball pit, tunnels, playground equipment, and sports equipment. You can rent the entire space for $100 per hour. Up to six children are allowed with one adult. Reserve here.
6. My Gym – Cobble Hill, Brooklyn
209 Smith Street at Baltic Street
Ages 6 months-10 years
This indoor kiddie gym offers balls, mats, slides, rings, and other playground equipment for kids to move their bodies to have fun. You can rent the space on the weekends for up to 2 hours and a maximum of seven children and seven adults. For members, the cost is $17 per person, per half-hour; for non-members, the cost is $18.50 per person, per half-hour. Request your session on its website to reserve your space.
RELATED: Creative Hub Playday Opens Cobble Hill Location

Lidia's Play Cafe, a warm, inviting, and carefully designed Montessori-style kids play space, is a perfect venue for a private gathering.
7106 Fresh Pond Road at 71st Avenue
Ages 0-6
This Montessori-inspired play cafe offers a wide selection of wooden toys and figures for kids to play with. It offers a private play option for 90 minutes for up to 10 people (kids and adults) for $100. Reserve a private playdate here and use code MPP20% to receive a 20 percent discount on bookings before Monday, February 15.
1439 1st Avenue, at 75th Street
Ages 6 months-5 years
The 3,000-square-foot play space offers an indoor jungle gym, dress-up area, faux bodega for grocery fun, and more imaginative play options. You can book the entire place for 90 minutes for up to 10 kids (with one adult per child) for $500. There are multiple slots throughout the day, seven days a week. Visit the website for additional details.
RELATED: 30 Days of Indoor Activities for Kids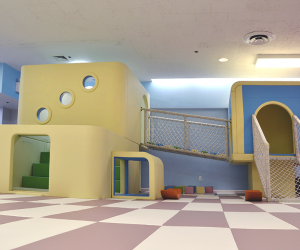 Designed for kids under age 6, the modern play space at Little Bear Cafe stimulates learning and creativity.
100-26 Queens Boulevard
Ages 0-6
Your kids will love this cute play cafe featuring a custom-designed play structure with stairs, slides, a ball pit, toy stations, and an entire room dedicated to Legos, arts, and crafts. Private playtime sessions are 90 minutes long and cost $225 for a group of 16 (any combination of kids and adults). Use this form to book.
503 Dekalb Avenue between Franklin Ave and Skillman Street
Ages 0–4
Beautifully curated and mindfully constructed, this play space offers plenty of play opportunities for kids to get physical and use their imaginations. You can rent the space by the hour for $10 per child with a five child minimum. A maximum of 10 people is allowed. Call or email info@littlelolatots.com to reserve.
RELATED: New York Ninja Academy in Midtown Lets Kids Live Out Ninja Warrior Dreams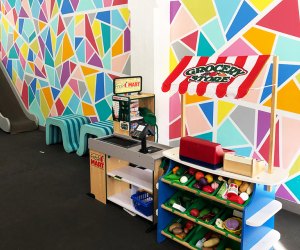 PLAY Kids offers a variety of private playtime options.
11. PLAY Kids – Greenpoint, Brooklyn
33 Nassau Avenue between Guernsey and Dobbin Streets
Ages 0-5
This popular play space in Greenpoint offers a private playtime option with exclusive use of the entire 2,700-square-foot space, which includes an indoor playground, stimulating toys, and a music and art studio. The cost varies depending on the size of the group and the length of time desired. Reservations for private playtime can only be made by emailing team@playgreenpoint.com.
81 Washington Street between Front and York Streets
Ages 6 months-6 years
One of our favorite play spaces is offering the option to book the entire space. Your group enjoys the custom-designed play and climbing structures for a cost of $200 per hour and includes up to six children. It can be booked at any time—during regular play hours and after hours, seven days a week. Visit the website to reserve.
5 Station Square
Ages 1-7 years
Private play at this 1,600-square-foot play space is offered every afternoon. Ninety-minute sessions are offered for $150 and allow groups of 10 guests—any combination of kids and adults—to enjoy the space. The bright and airy play space is well-stocked with age-appropriate toys and broken down into play areas for different ages, and includes an ultra-cool, multi-level playhouse to explore.
Photos courtesy of the venues