The New York City People and Places Who Saved Our Sanity in 2020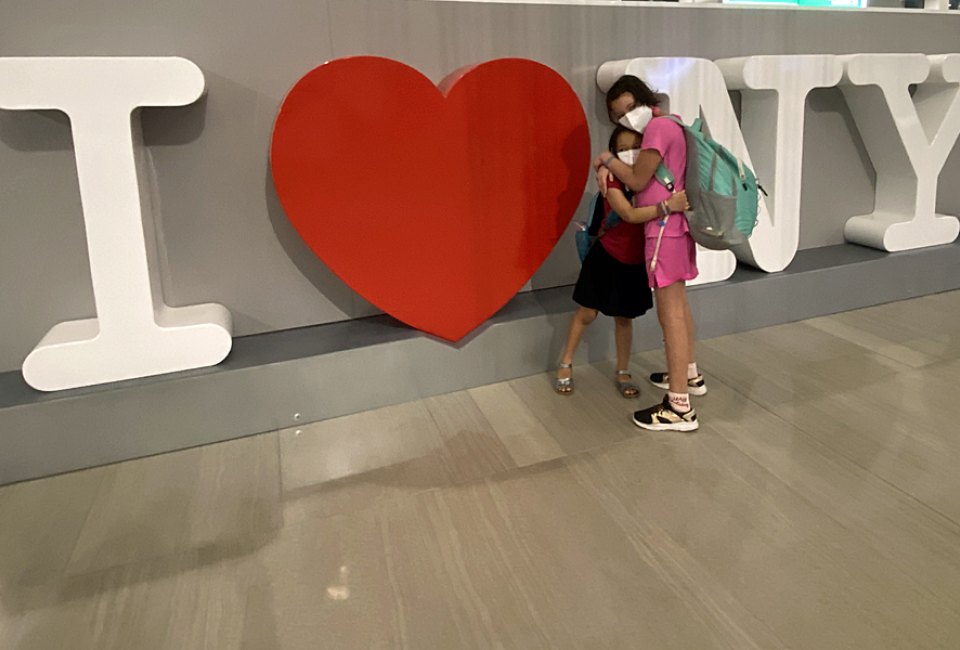 12/31/20
- By
Jody Mercier
With 2021 just hours away, I'm sure I'm not the only one ready to kick the dumpster fire of 2020 to the curb, but in the spirit of optimism and silver linings, I'll be doing so with a grateful heart. Twenty-twenty tested us in ways we couldn't previously imagine, but it also brought out our best in many ways, and now that we're almost through it, let's take a little time to offer some gratitude to the New York City people and places who saved our sanity in this crazy, never-ending, groundhog day type of a year.
So, join me in raising your glass to these (lucky!) 13 New York City characters and the hope on the horizon.

The 7pm clap was a nightly celebration of gratitude throughout spring and early summer.
1. The 7pm Clap
The nightly cacophony of clamoring, clapping, and banging pots sounded different in every corner of NYC. From my Harlem fire escape, we'd be serenaded by a Broadway-singing neighbor regularly, but it wasn't just the sweet sounds that helped save my sanity nightly (usually when I was racing toward the dinner time finish line...again). The 7pm clap was a constant reminder of the sacrifices 2020's biggest heroes, our healthcare workers, were making for us and a nightly show of gratitude. It was also one of those moments that reminded you NYC isn't really as big as it seems. It served as an inspiration to keep our heads up and keep fighting, too—by wearing masks and washing hands, but also by showing up for our neighbors. Checking in with them, offering a friendly wave, and reaching out to offer a helping hand.
2. Teachers
While the mayor, governor, and DOE have all given us a case of whiplash over the will-they-close-will-they-open-will-they-change-the-rules decision-making about our school system, the support we've received from the ground level has been next level. The teachers, administrators, and staff at each of my kids' three schools have been unbelievable. Besides embracing a new way of teaching, they've also been counselors to kids and parents, they've reached out with offers of supplies and groceries, placed off-hours phone calls just to check in and, this fall, played double duty, catering to kids in-school and online. In short, teachers are pandemic heroes who have earned their place in our hearts and hall of fame many times over.
RELATED: 10 Things Families Resolve To Do More of in 2021

Mo Willems put a smile on many faces during the pandemic's early, dark days.
3. Mo Willems
We've got to give a shoutout to fellow NYC parent and scribe Mo Willems for his Doodles With Mo series. He opened his studio to us, offered a Mr. Rogers-like soothing lesson over lunch, and introduced us to a whole new world of streaming entertainment. Since Doodles With Mo, content creators worldwide have invited us on field trips, offered cool streaming classes, and filled our suddenly blank calendars with fun things to do. We've seen plenty of big annual events pivot to virtual offerings, and we have Mo to thank for it. Sort of. Also, I now draw a mean Gerald. Here's to learning new life skills.
4. Social Distancing Circles
Remember when the shutdown was starting to ease, and we were all anxious to get outside, but didn't really know where to go or what to do? Then, aerial photos started emerging of spots like Domino Park and Bryant Park, with their lawns polka-dotted by large circles showing you just where it was safe to sit and keep your social distance from others? Yeah, those social distancing circles showed us the way back into the world, not to mention the yards of tape that have kept us in orderly lines and the "stand here" signs in the subway. We like a good visual cue, and some have been creative and entertaining to boot.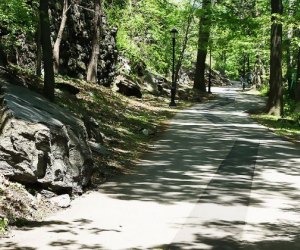 Highbridge Park in Upper Manhattan proved a lovely off-the-beaten-path escape.
5. The Great Outdoors
When playgrounds shuttered, it was a blow to city kids and weary parents. We rejoiced when they reopened and we could visit our favorite spots again, but we also found other ways to enjoy our parks (see No. 4!). We hit the hiking trails in NYC, upstate, and beyond and gave thanks for the reopening of Governors Island and our city beaches.
6. Space Reinventors
Three cheers for the New Yorkers who reimagined our city for safety in 2020. Whether it was building yurts and igloos for outdoor dining or rethinking business models to cater to private families or pods, we're grateful to those who put pubic interest above their bottom line. We love booking small-group sessions to kid-friendly spaces like CMOM and the Brooklyn Children's Museum, and appreciate AMNH rethinking its Nature of Color exhibit for safe exploration.
RELATED: Line-Free NYC: 20 Things To Do and Enjoy in NYC Right Now

Moments of tourist-free peace exploring the city's cultural gems were a definite bright spot.
7. Nearly Empty Museums
Pre-pandemic, I was marveled by an early morning Empty Met tour. It was such a special treat to wander the grand museum's halls almost alone. Fast-forward to 2020 and intrepid New Yorkers could enter many cultural institutions with capacity limits, seemingly making every trip an almost-solo experience. We loved the New-York Historical Society embracing the moment and opening an outdoor exhibition. We appreciated how the Brooklyn Children's Museum, on the brink of reopening when a sudden virus spike hit its neighborhood, re-evaluated and stayed shuttered until the infection rate came down. In short, though it hurt these nonprofits, museums had our best interest a heart, and we love them for that.
8. Drive-Thrus and Drive-ins
Remember when there was a drive-in theater rumored for the Yankee Stadium parking lot? It didn't materialize, but plenty of others did and the Skyline Drive-in is still going strong! We are grateful for this 2020 trend and it's follow-up: drive-thru holiday light shows. Pro tip: There's still time to catch a few of those light shows before they go dim for the season.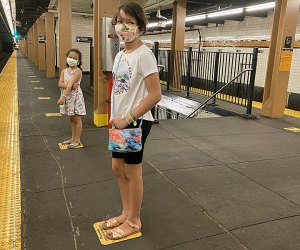 Empty(ish) subway? That's cleaned nightly? We hope this trend sticks around.
9. MTA
To say most New Yorkers have a love-hate relationship with the MTA is an understatement, but when the city shut down, and public transit use was deemed for essential travel only, I didn't leave my neighborhood for months. It was weird. Our first train trip back was in June, and I had to talk myself off the ledge before swiping. I was pleasantly surprised by the station's cleanliness, that of the train, and the respect my fellow New Yorkers paid to me and my family by wearing masks and giving us space. Six months later, I still find these facts to be largely true. I'm grateful to all the MTA workers who have gotten us from Point A to Point B before the crisis and every day since.
10. Delivery People
When I wasn't leaving my neighborhood, I was getting plenty delivered, and those essential workers kept our house well-stocked in everything from Costco-sized toilet paper packages to birthday presents, stocking stuffers, and yes...even boxes of wine! Generous tips aside, these hardworking delivery people are owed much more in our gratitude.
11. Risk Takers
Pivot is probably going to rank as one of the words of the year. We're grateful to the businesses who have done just that, offering new services for the new normal. Places like the newly expanded Playday, which turned its art-making paradise into a remote-learning support micro-school and offers classes for pods in your home; Brooklyn Beanstalk created circus arts classes in the park, and Fotografiska invited families on outdoor photo scavenger hunts. The sweetest pandemic pivot: Sugar Hill Creamery's ice cream CSA, which brought a few pints of happiness to our door weekly. Necessity, as they say, is the mother of invention, and we saw plenty in 2020.

Signs of hope were everywhere this year; you just had to keep your eyes open.
12. Community
Community comes in many forms. From the neighbor who papered the elevator in sticky notes with their cell phone number offering grocery store runs for elderly and immunocompromised residents, to the one who sets up a free store every Saturday on the street corner, and the countless others who have filled the local community fridges to help New Yorkers they've never met. Community is also the guy who runs the local bodega, who stayed open 24/7 and greeted me with a smile evident even under his mask when we hadn't been there for a few weeks. Community is the random text messages from friends we haven't seen in way too long or the somewhat clunky Zoom check-ins over dinner with too many kids vying for one lone microphone. Community is what you make it, and my community enriched my life in these ways and countless more in 2020.
13. Kids
To say I've worried about my kids over the past nine months of pandemic life would be a gross understatement, but they've also been my light. They've stepped up and stepped in to help with household chores. They've cooked dinner and washed dishes. Entertained one another and offered homework help. They've used technology to their advantage and taught me a thing or two or three or more. They've faced challenges and persevered. They've offered unsolicited hugs just at the moment when I was feeling my lowest. They've also put up with some weird requests from mom: photos on the fire escape, off-hours trips to tourist destinations to maximize social distancing, being sprayed with sanitizer regularly, and wearing weird safety goggles during our travels with not too many eye rolls. All told: The kids are all right, and that gives me the biggest ray of hope heading to the new year.
All photos by the author