Governors Island Reopens July 15 for Summer 2020 Fun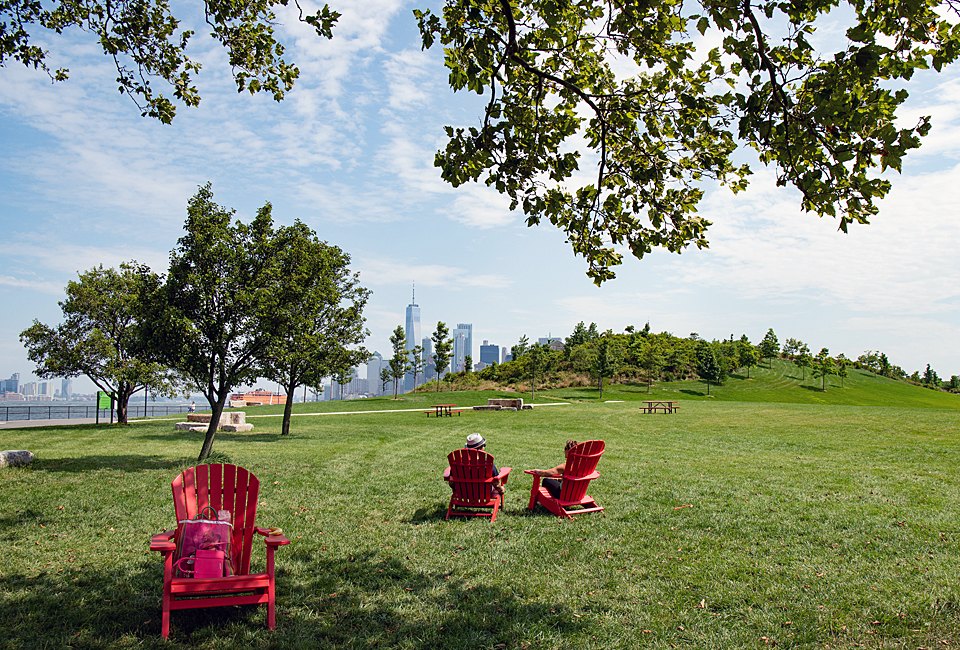 7/10/20
- By
Katie Nave
Cooped up New Yorkers were given some good news this week: You can add a visit to Governors Island to your list of safe, outdoor summer staycation activities. The 172-acre island in the heart of New York Harbor reopens to the public Wednesday, July 15. Like many mainstays, there are new rules for summer 2020, including social distancing, mandatory mask wearing, and the most significant change: Reservations are required for ferry rides.
If you're looking to escape the confines of your home, Governors Island has long been one of our favorite summer playgrounds, with its vast green spaces, fresh air, and views of the Manhattan skyline. Read on for details about the summer 2020 Governors Island season and programming, plus learn how to score your ferry reservation. We've got more family-friendly picks for fun in our Summer Guide for NYC Kids.
"Equitable access to open spaces in our city has never been more important, so we're thrilled to welcome New Yorkers to Governors Island," said Clare Newman, President and CEO of the Trust for Governors Island. "This summer, Governors Island will be an affordable, local getaway for New Yorkers who need it most. We've focused on a plan to make the Island more accessible to New Yorkers in areas underserved by parks this season, and have taken important steps to ensure the health and safety of our visitors."
Families are encouraged to take advantage of the Island's wide-open park spaces by engaging in passive recreation activities like biking, birding, and picnicking.
Parents can relax in Hammock Grove while kids can take advantage of the Hammock Grove Play Area. Slide Hill, which features the longest slide in the city, will also be open. The Urban Farm is set to welcome visitors on weekends, and public art installations are still on view, including Shantell Martin's The May Room and Rachel Whiteread's Cabin.
There will be no shortage of food and beverage offerings on Governors Island. Longtime favorite Little Eva's returns and families can indulge in eats and sweets, including oysters, tacos, and ice pops, too. Other vendors this year include Threes Brewing, The Meat Hook, People's Pops, Melt Bakery, Pizza Yard, Joe Coffee, Taco Vista, Wafels & Dinges, and more.
Visitors can enjoy the Island's 7 miles of car-free bike paths, and longtime vendor Blazing Saddles returns with its bike rentals, pedal cars, surreys, scooters, and more. Its FREE one-hour rentals on weekday mornings return, too. CitiBikes are also available, and visitors can bring their bikes on the ferry free of charge.
To keep everyone safe, Governors Island is implementing increased cleaning protocols and schedules in all restrooms, passenger compartments aboard ferries, and in high-touch areas across the Island. Hand washing and hand sanitizing stations will be available. Visitors are required to wear face coverings while riding the ferry or any time social distancing is not possible.
In another nod to safety, there will be significant reductions in programming. The large-scale events that have called Governors Island home have been canceled through at least August 1. No permits will be issued for its athletic fields until at least that date, and all indoor programs have been postponed until at least August 31. Fort Jay and Castle Williams remain temporarily closed to the public.
Visitors can, however, enjoy a series of self-guided tours of the island by utilizing Urban Archive tours, which provides historic photos of the island as you journey its grounds.
If a day trip isn't enough time to explore Governors Island, you can book a night of over-the-top glamping at Collective Retreats, which is set to reopen on July 15, too. It's the only open campground in city limits this summer.
RELATED: 10 Underrated NYC Parks to Visit Now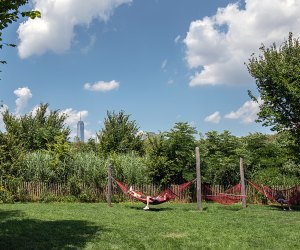 Governors Island's Hammock Grove is just a short seven-minute ferry ride across the harbor. Photo by Julienne Schaer/courtesy of The Trust for Governors Island
New Governors Island Ferry Rules for Summer 2020
Ferry service for the 2020 season requires guests to book reservations in advance to promote social distancing. Ferry tickets can be booked online. Round-trip ferry tickets are $3 for adults and FREE for riders ages 12 and under. Ferries are now FREE for all New York City Housing Authority (NYCHA) residents, seniors ages 65 and over, military service members, and IDNYC holders. All ferries departing before noon on Saturdays and Sundays are free for all. Visitors wishing to pay cash for their ferry ride must email ferrytickets@govisland.org to make a reservation, and pay for tickets upon arrival at the ferry terminal. There will be a very limited number of tickets available for walk-up patrons.
As in years past, ferries depart the Battery Maritime Building in Lower Manhattan daily. Brooklyn ferries run on weekends and holidays and have a new departure point, leaving from the Red Hook/Atlantic Basin ferry terminal.
Supplemental ferry service is offered by NYC Ferry on the weekends, departing from the Wall Street/Pier 11 ferry terminal. Tickets for the NYC Ferry are $2.75 in each direction, and visitors who arrive using its service are encouraged to depart via NYC Ferry, too.
Governors Island is open to visitors daily beginning Wednesday, July 15, from 10am-6pm on weekdays and 10am-7pm on weekends. For more information on Governors Island's public season and programming updates, visit its website.
Places featured in this article:
---
Governors Island National Monument