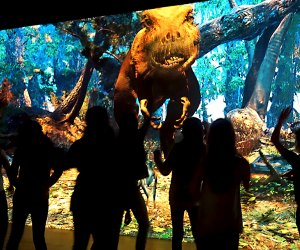 New Interactive T. Rex Exhibit Opens at Natural History Museum
Just three years after making waves with the debut of Titanosaur, one of our favorite family-friendly museums is upping the ante. The American Museum of Natural History is kicking off its 150th anniversary with a fantastic new exhibit dedicated to the ferocious king of all dinos. The interactive exhibit T. rex: The Ultimate Predator opens to the public on Monday, March 11—read on for more details on this not-to-be missed exhibition that will impress dinosaur-obsessed kids and adults alike.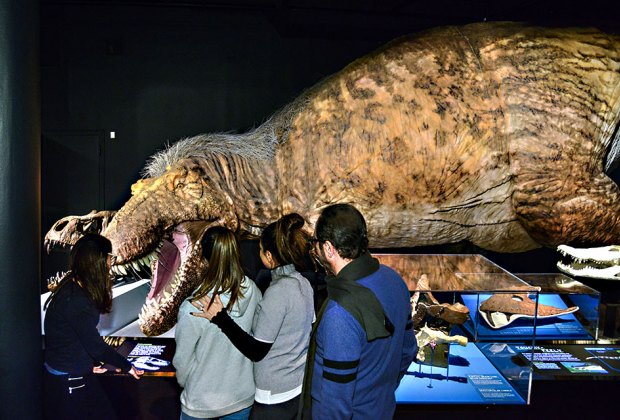 Learn the most recent discoveries scientists have made about T. rex. Photo courtesy of AMNH
T. rex might be the most well-known of all dinos, but there's still much scientists have to learn about the fearsome carnivore. Recent discoveries prompted the new Tyrannosaurus rex exhibition, housed in its own hall a floor below the rest of the museum's vast dinosaur collection. (Fun fact: AMNH fossil hunter Barnum Brown was the first to identify the species in 1902, so T. rex and the AMNH go way back.)
Visitors will see tyrannosaurs as never before, learning about the family tree of the fearsome predator and how it evolved from a small chicken-like specimen to the most fearsome of Cretaceous killers. Beyond the spectacular fossils you're used to seeing on the fourth floor, the exhibition presents T. rex and the rest of its family tree in a variety of mediums and with a number of hands-on activities. While there's a VR experience that's for older kids only, and parents of younger or sensitive kids may want to be wary of some potentially scary sounds and visuals, there's plenty here for kids of all ages.
RELATED: 9 Must-Sees for Dinosaur-Obsessed Kids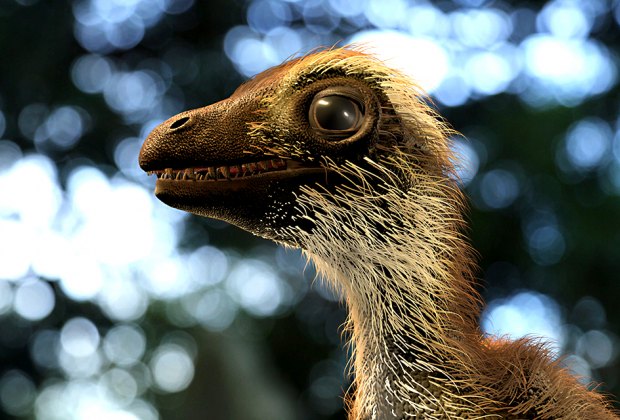 It's hard to believe every T. rex was once a vulnerable youngster—and most never made it past age one. Photo by R. Peterson for AMNH
Upon entering the gallery, the first T. rex you'll see is nothing more than a tiny hatchling covered in downy feathers. It's hard to believe this cute little fellow could grow into the shadowy predator projected on the wall next to him, but some of the most interesting parts of the exhibit shine a spotlight on the vulnerable side of the king of the dinos. Tyrannosaurus hatchlings faced a daunting 60% chance of death in year 1. And while T. rex is presumed to be fierce, scientists have theorized that thanks to its sensitive facial nerve endings, T. rex was capable of picking up a small egg or hatchling without causing harm—despite its famous bone-crushing bite.
Round the corner and you'll meet the family: From specimens dating back about 167 million years to a recent discovery by AMNH scientist and exhibit curator Mark Norell, dubbed Xiongguanlong baimoensis, which could be the evolutionary link between his smaller predecessors and the ultimate giant. You'll be able to touch a cast of a thigh bone from a full-grown Tyrannosaurus rex and learn how T. rex grew to its giant size by age 20.
RELATED: Family-Friendly Restaurants Near the American Museum of Natural History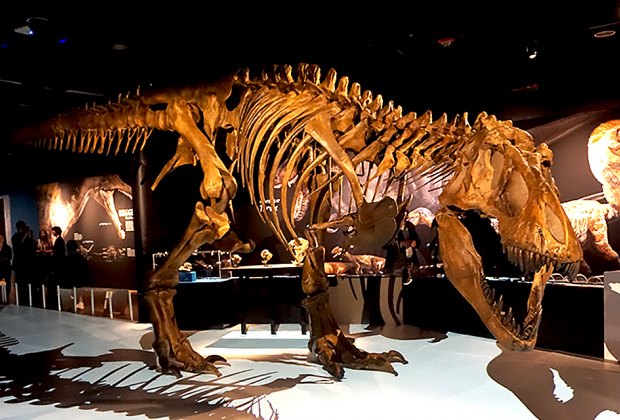 This T. rex reproduction has an interactive shadow that moves in the way scientists believe the T. rex did.
A full-size reproduction of the museum's T. rex fossil from the Hall of Saurischian Dinosaurs takes up plenty of real estate in the middle of the exhibition, and has an interactive shadow that comes to life, moving in the way scientists believe T. rex did, making the hall echo with the sounds of monstrous footsteps.
As you move through the exhibit space, there are plenty of kid-level activities to encounter. Kids can play a matching game to find the right tail for the tyrannosaur (to ensure it has the proper balance to stand upright), and also try out a "roar-mixer," which allows visitors to re-create a possible T. rex vocalization. But the two stars of the show, at least for kids, are the room-wide screen where you can interact with a fully grown T. rex and its hatchling, and a multi-player virtual reality experience called T. rex: Skeleton Crew.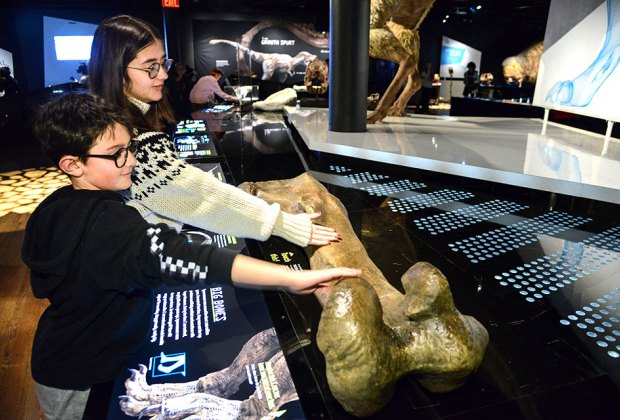 Touch a cast of the femur of this formidable dino! Photo by R. Mickens for AMNH
T. rex: Skeleton Crew allows visitors ages 12 and older to build a T. rex skeleton bone by bone, then watch it come to life in its marshy Montana home circa 66 million years ago. Created in conjunction with HTC VIVE Arts, a home version of the experience will launch in the summer.
The wide screen at the exhibition's end lets kids interact with a video T. rex and her baby. Movement makes her react...and maybe even chomp! Thanks to some very smart curators, there's a series of benches here where parents can take a break while their kids play with the interactive elements. While it will likely be hard to convince your kids to leave, a stop for a souvenir at the Dino Shop directly outside the exhibition might help incentivize them.
This exhibition succeeds in giving new life to the massive predator, combining plenty of knowledge with creative thinking and a bit of imagination. While the fossils are impressive, here they're upstaged by full-color illustrations and full-scale models, complete with scales, feathers, and even a drool-dripping mouth full of teeth, plus interactive elements. Perhaps this larger-than-life character will inspire a new generation of scientists.
T. rex: The Ultimate Predator is on view through August 9. You must purchase General Admission + One or All tickets to access the exhibit. See our full AMNH post for family-friendly visitors' tips for your trip.
Unless noted, photos by the author