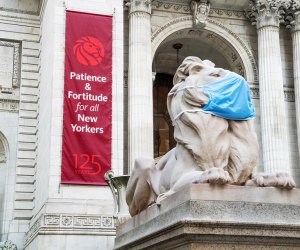 Stream Tons of Free NYPL Programming From Storytimes to Tutoring and More
From their perch guarding the entrance to the Stephen A. Schwarzman Building of the New York Public Library, lions Patience and Fortitude bore witness to the 1918 Spanish flu pandemic and, not long after, the Great Depression. It was then that Mayor Fiorello H. LaGuardia named them to remind New Yorkers of qualities that would help see the city through the dark days ahead. The noble lions are a constant reminder of the countless ways the NYPL remains an invaluable resource for New Yorkers.
To help navigate the current pandemic, the library has ramped up its remote-learning resources with FREE offerings ranging from virtual homework help and storytimes to reading lists, learning aids, and other activities to engage learners of all ages and stages. Read on for details on six FREE NYPL programs families can stream right now.
We've got tons more remote-learning resources in our Homeschool and Online Learning Guide and fun ways to keep kids engaged and entertained in our Stay-at-Home Guide, too.
Like many cultural institutions, the NYPL shuttered its buildings in March but quickly pivoted to offer online programming. Over time, its selections have only grown, even as buildings have partially reopened. Bookmark the org's Remote-Learning Resources website for full details on its programming. If you—or your child—need a library card, you can obtain one online (also FREE); it's necessary to take advantage of some of the services listed below.
From kid-friendly virtual events to engaging at-home activities, increased access to digital archives, books, and other resources, here are the FREE NYPL programs we're most excited about.
1. Online Tutoring
The NYPL has partnered with an online tutoring service, Brainfuse, to offer one-on-one live tutoring services for students daily from 2-11pm. Services are also offered en español.
RELATED: Use Your Library Card to Get into 56 NYC Museums and Gardens for Free

The NYPL has a huge library of FREE streamable storytimes for kids. Photo courtesy of the NYPL
2. Remote Storytime
We loved the cheeky title of the library's December storytime series, and there are tons of virtual storytimes archived online, including beloved series like its Drag Queen Story Hour, Multilingual Storytimes, and more.
Cognizant of the fact that not all families have access to a reliable internet connection, the NYPL has recently added a Story Line, which opens its free storytime program to anyone with a phone line. Youngsters can dial 917-ASK-NYPL (917-275-6975) to access the service, which features librarians reading short stories aloud in English, Spanish, and Mandarin. New stories are added to the Story Line each Monday, and the books featured can be picked up using grab-and-go services or accessed via SimplyE (more on both below).
3. Virtual Events and Programming
Access countless events and programs from the comfort of your sofa (or your kid's bedsheet-and-pillow fort) with options ranging from author talks to themed book clubs for all ages, writing workshops, code clubs, and more.
4. At-Home Activities
The library has compiled a comprehensive database of offerings for every grade level and interest. Enjoy top-rated podcasts and activities, as well as cool offerings from National Geographic, the Smithsonian, and other partners. Age-specific lists make it easy to find programming tailored to your child's needs. Select from grades pre-K-2, 3-5, middle school, and high school.
RELATED: Virtual Field Trips to NYC's Coolest Kid Spots and Cultural Institutions

No matter your age or reading level, the NYPL offers a wide variety of e-books and audiobooks. Photo courtesy of the NYPL
5. E-Books and Audiobooks
SimplyE, the New York Public Library's FREE e-reader app, offers access to more than 300,000 e-books and audiobooks.
6. Grab-and-Go Services
As wonderful as digital platforms and e-books are, sometimes you just want to curl up and flip through the pages of a good old-fashioned book. While library buildings are currently closed to the public, the NYPL is working to make its collections as accessible as possible with grab-and-go services at select locations.
Bonus: It's also worth noting there are plenty of options for mom and dad, as well. From community support offerings, including health and wellness and career-building resources to engaging digital collections and exhibits, there's something for everyone in your family to enjoy, making the New York Public Library's digital resources guide a handy partner for remote learning and recreational play.