Destination Playground: Hester Street Playground Is a Play Oasis in Chinatown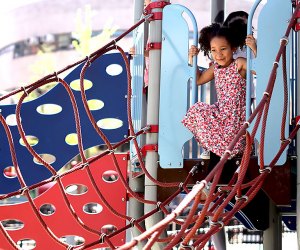 Playground season is finally upon us, and what better way to celebrate warmer weather than to hit a new-to-you destination playground? The promise of a trek to the Hester Street Playground in the heart of always-packed Chinatown was enough to get even my weary teen off the couch during spring break...especially with the promise of delicious post-playground eats in Chinatown.
Located on the southern end of the 7.85-acre Sara D. Roosevelt Park, Hester Street Playground is a hotbed of activity no matter the season. Bookended by a soccer field and track on one side, and basketball courts on the other, there's fun for all ages here.

With two play areas, you can choose the area that best suits your child.
Upon entering the playground from the pedestrian-only section of Hester Street, you're greeted with a large play structure on your left, suitable for big kids, while a toddler-sized area is enclosed in its own gated section on the right.
Thanks to a fairly recent renovation (the city spent $5 million to make over the play area in summer 2011) creature comforts abound, whether you're there to play or supervise—including restrooms. There are eight round picnic tables near the entrance, often filled with local seniors playing games. The landscaped perimeter of the park lends plenty of color on a spring afternoon and provides a bit of shade when the temperatures soar.
RELATED: 25 Things to Do, See, and Eat in Chinatown With Kids

Climb on platforms dangling from ropes as you make your way to the main structure.
Kids will appreciate the large, multi-level jungle gym. Near the entrance—which (beware) is rarely latched—there's a separate monkey bar and climbing area. My 5-year-old delighted in trying to keep her feet from hitting the ground as she climbed around the unstable platforms dangling from ropes and made her way to the main structure.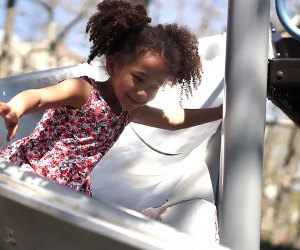 Tall, twisty slides always seem to be a big attraction!
The multiple entry and exit points allow kids of all ages to climb up and slide down. The rock wall and twisty slide were far more popular with my kid than the over-sized rope climber, where older kids delighted in bouncing on its tendrils, testing their balance with friends.
RELATED: 35 Things to Do, See, and Eat in Soho and Little Italy With Kids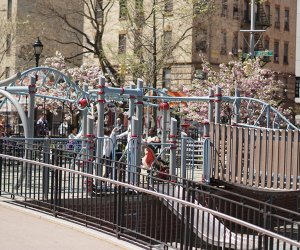 Separate play areas make for a safe space for toddlers to play while big kids run free.
There are dueling swing areas here too, with separate sections for big kids and babies. The toddler play area has a couple of play structures, plus a low-level table with a track perfect for racing Matchbox-type cars. A sand area sits near the toddler area, and summer months mean water trickles from a spigot into the space. Play sprinklers also offer a cooling mist when the summer heat hits.
The whole play area offers plenty of padded space to run wild; a welcome oasis in a densely crowded neighborhood.
Hester Street Playground is located at the southern end of Sara D. Roosevelt Park on Hester Street between Chrystie and Forsyth Streets. Follow up a visit here by exploring all Chinatown's family-friendly fun...or with a visit to Vanessa's Dumplings, like we did.
This post, originally published in November 2011, has since been updated.
Photos by the author