Best Family Friendly Dim Sum Restaurants in New York City's Chinatown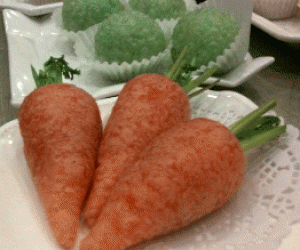 Dim sum is one of the really fun things you can do with kids in New York City. With huge steaming carts of dumplings and other intriguing Chinese delights that roll right up to your table so you can point and pick exactly what you want, it's a culinary experience your kids won't soon forget.
With Chinese New Year around the corner, I thought it's be a good opportunity to share some of my favorite dim sum restaurants, but first some tips on going to dim sum with kids and ideas on what to order once you are there.
I wish I could say that going out for dim sum was great for kids of all ages, but the truth is that it does have some challenges. Most of the large restaurants don't offer high chairs, just booster seats, and can be loud and disorienting for small children, and while you'd think small plates of dumplings and noodles would appeal to all kids, some small children will not warm to all the unfamiliar foods. Also, if you go on a weekend afternoon, expect a long wait to get a table.
Favorite dim sum to try are, of course, steamed and fried dumplings of all kinds, rice rolls, sticky rice wrapped in a banana leaf, roast pork buns, and desserts like egg custard tarts, mango pudding, sesame balls and other treats that may save the day if the hot food from the carts leaves your kids cold.
Sure, going out for dim sum might not be as easy as going to the corner diner for bacon and eggs, but if it was easy it wouldn't be an adventure. Here are my favorite dim sum restaurants:
The first choice you need to make when going out for dim sum is whether you want to go to a traditional large hall Chinatown dim sum restaurant where food is served from carts that are rolled table to table and you can just point and pick what you want or a more Americanized version that can be more family friendly.
Our favorite large hall restaurants are Golden Unicorn (18 East Broadway) and Jing Fong (20 Elizabeth St). Both are huge and have a large variety of dishes brought around on carts, giving you an authentic Chinatown experience and the quality of food is great. If you are with a small party during peak times you will be asked to share a table and both offer menus which can be handy to supplement the dim sum with a favorite dish.
When we aren't in the mood for the din of a large hall, we head to Dim Sum Go Go (5 East Broadway) a trendy place that serves dim sum all day. Rather than carts, you'll order by checking the dishes you want on a paper menu. There are good vegetarian dim sum options and the food is less greasy overall.
I had previously recommended Chinatown Brasserie (380 Lafayette) but unfortunately it closed in 2012.
Find more ideas on ways to celebrate Chinese New Year.