We're Sweet on This Jersey Shore Ice Cream Shop's Insane Milkshakes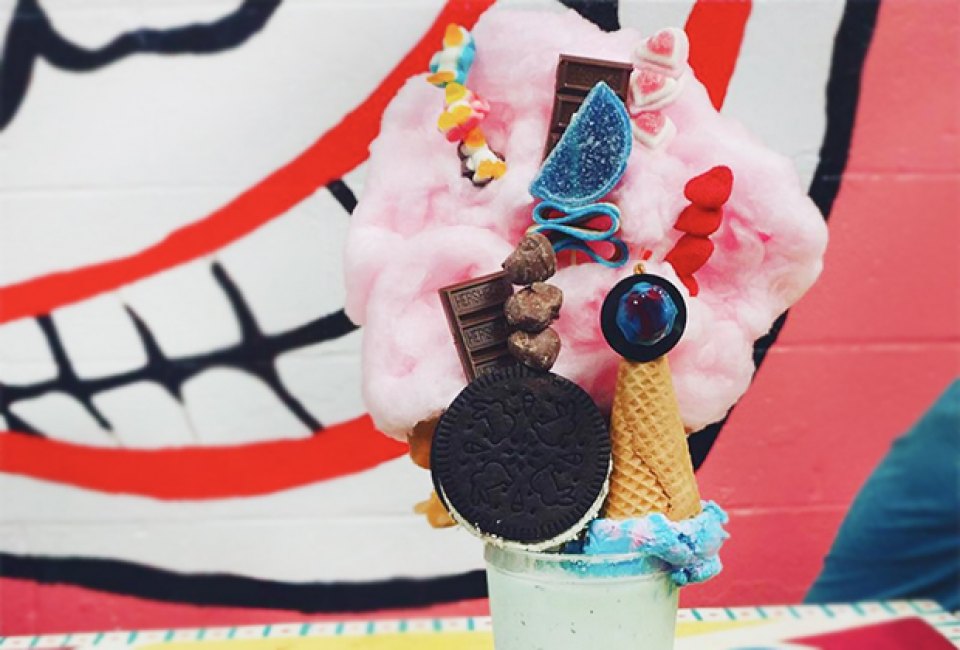 7/6/17
- By
Margaret Hargrove
Take a break from the beach and cool down at Coney Waffle, home to the best milkshakes in New Jersey. This Shore staple has locations in Asbury Park and Belmar, and it recently opened a third shop, at Pier Village in Long Branch, just in time for the summer season. Your kids will go crazy for the jaw-dropping super shakes towering with whipped cream, baked goods, candy, and other sweet toppings. With homemade waffles, fudge, and ice cream also on the menu, there's something for every sweet tooth at this beach-side spot.
Coney Waffle's carnival-like atmosphere looks and feels like a Candyland board game come to life. The red, pink, and white–striped walls are adorned with colorful murals of Coney Island attractions for a hint of nostalgia. Grab a seat at one of a few brightly painted picnic tables inside the store, or head outside to soak in the sun and the smell of warm cinnamon wafting from the waffle makers.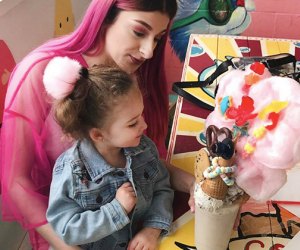 It's hard to know where to begin. Photo by nickstagrammin via Instagram
Coney Waffle originated in the late 1940s on the Coney Island boardwalk in Brooklyn. Its signature dish, the Coney waffle, features a warm, freshly made waffle shaped like a hot dog bun, filled with scoops of ice cream and topped with whipped cream, fresh fruit, or sprinkles. For a more grown-up palette, it also comes stuffed with cannoli cream—yum!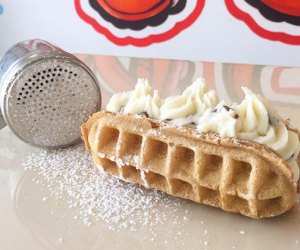 Coney waffle with cannoli cream. Photo courtesy of the shop.
But it's Coney Waffle's mega milkshakes that are bringing all the boys—and girls—to the yard. Available in creative flavors like Cookie Monster and Orange Cream, the shakes seemingly defy the laws of gravity, piled high with everything from cotton candy and lollipops to donuts and cupcakes. Arguably the most insane Jersey Shore treat of the summer, the "freak milkshakes" at Coney Waffle are extraordinary in virtually every way.
RELATED: Best of Asbury Park Beach and Boardwalk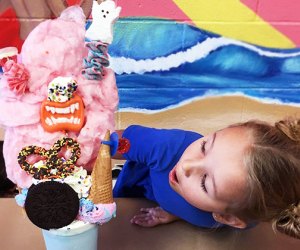 Coney Waffle serves up holiday themed Sideshow Shakes. Photo by thosemarlingirls via Instagram
The best-selling Sideshow Shake starts with the ice cream flavor of your choice whipped up into a creamy milkshake. It's topped with a waffle cone, ice cream cookie sandwich, fluffy swirls of cotton candy, a Ring Pop or rainbow lollipop, strips of sour candy, and finally, a chocolate-covered pretzel... whew!
These monster shakes aren't just visually stunning; they taste amazing, too. Just be prepared to wait on a pretty long line to try one for yourself. Homemade fudge and marshmallow cereal treats will also tempt you once you reach the counter.
Coney Waffle is cash-only, and the $18 monster shakes can easily feed a family of 4. Make the drive, stand in line—do whatever you have to do to get a scoop of this Jersey Shore sweet shop!
Top photo by idi0.syncrasy via Instagram
Places featured in this article:
---
Coney Waffle Belmar
---
Coney Waffle Asbury Park
---
Coney Waffle Pier Village
Sign up for the Mommy Poppins Newsletter today!