Hikes in New Jersey With Waterfalls, Swimming Holes, and More Wet Places to Play
8/8/21
- By
Laurie Rein
Taking the family on a warm summer hike can be scenic, educational, and energizing, but also downright hot! Adding a splash of water to your hike ups the adventure and is a refreshing motivator. The Garden State is home to tons of hiking trails leading to waterfalls, beaches, streams, and other fun spots where kids can dip their toes in the water and cool off a bit in the process.
So, read on for our list of 12 hiking trails where you can enjoy a quick wade or dip. Be sure to pack water shoes as these trails can get wet and sometimes muddy—and a towel is helpful for young hikers who choose to go all in.
Subscribe to our newsletters to get stories like this delivered directly to your inbox.
Hikes Near Water in Northern Jersey
There are plenty of opportunities to get wet on a hike through Hacklebarney State Park. The gushing Black River and its tributaries are the hub of the five miles of hiking trails that vary in difficulty. Kids love climbing the giant boulders, crossing the bridges, and getting their feet wet in the streams and mini waterfalls along the way.
Hike through history at Watchung Reservation's Deserted Village, an 18th-century mill town and resort with buildings still intact. If you wander behind the General Store, there is a bridge that leads down to a stream where little ones can dip their feet. Aside from the Deserted Village, Watchung Reservation houses 16 miles of trails, plus a nature center, playground, waterfall, sensory trail, and lake.
RELATED: 16 Stroller Walks in New Jersey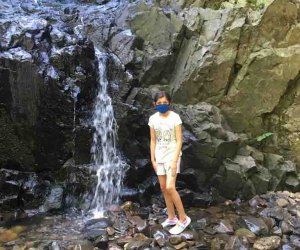 Hemlock Falls, located within the South Mountain Reservation, is a rewarding sight at the end of a hike. Photo by the author
This easy, shaded hike in the South Mountain Reservation leads to a beautiful 25-foot waterfall with a swimming hole at its base. The simplest path only takes about 15 minutes to reach the falls from the closest parking lot in the Tulip Springs-Boy Scouts lot off of Brookside Drive, but motivated hikers can choose a longer trail. Whichever path you choose, splashing around the water is an inviting reward at the end of the hike.
Bergen County's 4,000-acre park offers hikes with gorgeous views of the hills and valleys of the Highlands Region. Visitors can take advantage of multiple cooling-off opportunities on their journeys, including the MacMillan Reservoir, Scarlet Oak Pond, and a waterfall.
Perfect for younger hikers, the Tillman Ravine Trail is an easy 1-mile roundtrip path through the forest, which leads to Tillman Falls. Located within Stokes State Forest, the simple hike contains rocks to climb, bridges to cross, and many spots to dip your toes in the water, though swimming isn't allowed.
RELATED: Great Day Trips to New Jersey State Parks and Forests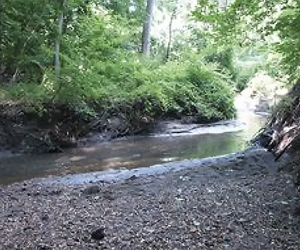 Sift for fossils in the water at Poricy Park, but be sure to bring the water shoes. Photo courtesy of the park conservancy
Hikes to Waterfalls, Streams, and More in Central NJ and the Jersey Shore
Kids dig this 250-acre Monmouth County Park, which houses hiking trails, a nature center, and a 70-million-year-old fossil bed. With water shoes and a strainer in tow, little ones can enter the stream and sift for actual fossils, such as shark teeth and ancient shellfish, to take home. The path to the fossil beds is located off Middletown-Lincroft Road.
At first glance, Chimney Rock is a bustling local park with ball fields, tennis courts, and a playground. Wander past the action to the wooded path, and find yourself in a peaceful forest with a footbridge, staircase, and an inviting rocky stream to meander through. While this hike is a short walk from the parking lot, longer trails lead to nearby Washington Valley State Park.
Cheesequake's four, low-key, well-marked hiking trails range from about 1-3 miles and are characterized by bridges, creeks, boardwalks, staircases, and a lakefront beach. Squeeze in some water play at the lake before finishing a roundtrip stroll. Swimming is permitted Memorial Day weekend through Labor Day weekend when the beach is staffed with lifeguards.
Despite the name, this state park is quite serene, with eight miles of hiking trails around a historic village and an old cranberry farm. The trails, which are relatively flat and simple, follow Cedar Creek and its streams, where visitors may kick off their shoes and splash around in the clear water, though swimming is prohibited.
Discover the nature and wildlife of this otherwise touristy town on a peaceful, mile and a half-long hike through dunes, wetlands, bird observation points, and an undeveloped beach. The trail offers great wildlife photo ops and some free beach time along the way.
South Jersey Hikes Near Water
Embark on a short, 1-mile hike through the woods at the north end of Wharton State Forest, and find yourself at a lakefront beach. Swimming is permitted Memorial Day weekend through Labor Day weekend. Longer hikes lead through ponds, streams, swamps, and the historic Batsto Village.
Hikers at this Southern Jersey state park can enjoy flat simple trails through forests and swamps, various plants and animals to observe and a dip in Parvin Lake. The lake is open to swimmers seasonally.