Visiting Watchung Reservation in New Jersey with Kids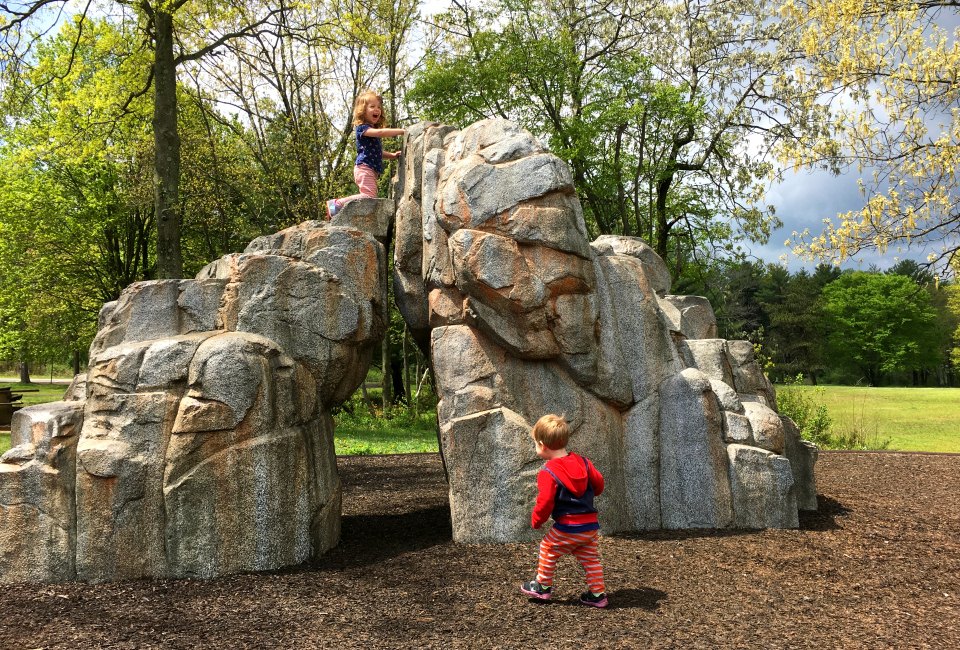 7/11/15
- By
Jennifer Battista
Watchung Reservation, the largest park in Union County, is home to many wonderful kid-friendly activities, making it the perfect day-trip destination for any time of year.
Numerous hiking trails, an interactive nature center with fish and taxidermy, and a fabulous playground, provide both indoor and outdoor fun for NJ families. Whether you're planning to visit for just a few hours or bring along lunch and stay all day, Watchung is a great place to relax, have fun and spend some time enjoying nature.
Find more great day trips in our NJ Day Trip Guide, or check out our Parks & Playgrounds Guide for more outdoor fun.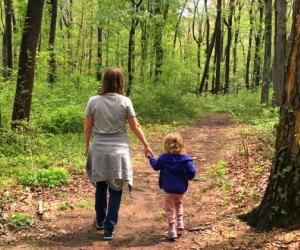 There are several easy trail loops through the reservation, which are accessible from the main parking lot.
My four-year-old son is really into hiking and Watchung is his favorite place to go. He and his dad have spent many weekends there exploring the various trails. There are four short trails, each under a mile, which are perfect for little legs to navigate. (More experienced hikers can opt for The Sierra Trail, a 10-mile loop encircling the reservation.) The trails can be independently hiked at any time but if you'd prefer a guide, tag along on one of the themed hikes offered throughout the year. Park naturalists, who will point out the various flora and fauna that make their home in Watchung, lead the hikes.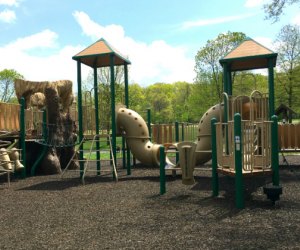 The modern playground has swings, plenty of slides, a climbing a wall, and even a huge faux boulder to climb.
The Loop Playground is another spot in Watchung that our family loves. This recently renovated playground is usually the first place we hit on any trip. There's a large big-kid area, as well as a smaller spot better suited for younger kids, so it's a good option if you're visiting with kids of varying ages. The playground structure includes rocks for climbing, slides of varying heights, plenty of swings and connecting tunnels that can be crawled through or slid down (my son's favorite). Picnic tables are located right outside the playground, providing a nice area to enjoy a snack or meal, as well as some shade. Public restrooms are directly across the field from the playground—it's not a long walk but if your kid really "has to go," you might want to take the car (or better yet, make a pit stop before hitting the playground).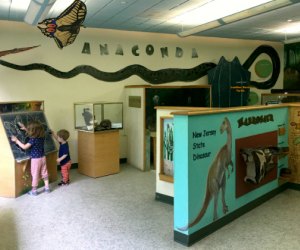 The indoor nature center includes this dinosaur-themed reading room, but also live fish and turtles.
If you're visiting during summer months and can't take the heat for too long, you're in luck as Watchung houses an excellent indoor nature center that's just a short walk (or drive) from the playground. This place has been my salvation on scorching summer days! Trailside Nature & Science Center is like a mini-museum with hands-on exhibits, a children's discovery room, a cozy reading area and lots of seasonal activities offered to the public. Currently on view at Trailside is a 25,000 year-old Mastodon tusk found in Union County's Lenape Park.
There is certainly plenty at Watchung to keep your kids busy. In fact, the reservation is so large that there are several areas my family has yet to explore. Watchung Stable, which offers guided horseback rides on Sundays, and the Deserted Village, open daily for self-guided walking tours, are definitely on our list for future trips. Whether you're looking to commune with nature or spend the day playing and picnicking, I highly recommend Watchung Reservation for your next family excursion!
Directions: Watchung Reservation is easily accessible from several major highways, including the Garden State Parkway. Use the Trailside Center address (452 New Providence Road, Mountainside) in your GPS, then follow signs upon entering the reservation.
First published in 2013. All photos by Rose Gordon Sala/Mommy Poppins.
Places featured in this article:
---
Trailside Nature & Science Center
Sign up for the Mommy Poppins Newsletter today!
i