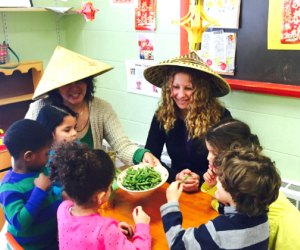 Foreign Language Classes for New Jersey Kids
Early exposure to a foreign language can be a rewarding and fun experience for a young child. New Jersey offers many programs representing a wide variety of languages and cultures. Read on for our picks of the best options available—from Mommy & Me programs for the little ones to group or private lessons for older children. And for more great class options, visit our guide to Classes and Enrichment Programs for New Jersey Kids.
EasyLearn Languages – Cherry Hill, Moorestown, Turnersville, Mullica Hill, Mount Laurel
EasyLearn aims to make learning Spanish fun with its range of classes geared toward children ages 14 months to 7 years. Classes combine music, movement, speaking, reading, and creativity.
French Institute Alilance Française – Montclair
FIAF offers French classes to kids from toddlers to teens. Kids ages 4–10 can even take baking and yoga workshops taught in French.
GainVille Learning and Training Center – Rutherford
GainVille provides instruction in French, Spanish, Italian, and Arabic in classes taught by native speakers. Its three main programs are Parent & Me, Language Immersion, and After-School Language Cultural Workshops.
German Language School – Westwood
Children's programs at GLSW start with a Mommy & Me language group for ages 1½ to 3. They continue with kindergarten-level lessons and go on through high school, where students can prepare for the SAT II German subject test or the AP German Exam. The classes are tailored to meet each student's needs and allow for plenty of individual interaction. Most children's classes are held on Saturdays.
The Hebrew Corner – Marlboro
At The Hebrew Corner, both children and adults are welcome for either group or private instruction. In addition to the Hebrew language, they teach students about Jewish holidays, history and the Bible. Group classes are kept small, ensuring every child gets one-on-one attention from their teacher. Teachers are also available to train your son or daughter for their upcoming bar or bat mitzvah.
The Language School – Red Bank
This esteemed school has been offering foreign language classes to Monmouth County residents for more than 30 years. Courses are taught in Arabic, ESL, French, German, Italian, Japanese, Mandarin Chinese, Portuguese, Russian, Sign Language, and Spanish. Children can enroll in private, semi-private, or group lessons. They also provide foreign language playgroups for ages 2 to 5, as well as Mommy & Me programs for children 20 months and up.
The Language Workshop for Children – Madison, Montclair, Ridgewood
The LWFC employs a whole language approach, with courses that utilize music, vocabulary-building songs, visual aids and active games to engage children. Classes for children 6 months to 9 years are available in Chinese, French, Italian, and Spanish (varies by location). Choose from baby/toddler groups, after-school lessons, language immersion preschool, or summer day camp.
Let's Play in Italian – Nutley, Scotch Plains
Learn all about the Italian language and culture at Let's Play in Italian, which provides a variety of programs for children and adults. Options for children include Mommy & Me classes (6 months to 2.5 years), drop-off lessons (2.5 and up) and full day programs (3-5 years). For fuller immersion, sign your kids up for the Italian preschool—this option is available Mondays through Saturdays in Scotch Plains and Tuesdays in Nutley.
Ming Hui Chinese School – Bridgewater
Ming Hui emphasizes Chinese culture and history in addition to language skills. It offers weekend courses in traditional Chinese culture, basic Chinese, and Chinese as a second language, as well as classes in dancing, martial arts, calligraphy, and more.
Jump! Immersion School – Edison, Livingston, Princeton
Jump! Immersion School offers a variety of unique Spanish and Mandarin preschool and kindergarten programs, as well as Mandarin Chinese and Spanish classes for kids of all ages. The curriculum is designed to provide an experience that promotes and often times exceeds the core competency educational expectations through differentiated learning.
Spanish Workshop for Children – Princeton
Using inspiring teaching strategies such as storytelling, music, games and crafts, the Spanish Workshop fully immerses children in the Spanish language and culture. Classes are available for toddlers, preschoolers, and older children in Princeton, as well as three Pennsylvania locations. Children ages 3-5 years can enroll in a preschool course with parent participation or a half-day drop-off program.
Originally published 2014; updated for 2017.
Top photo courtesy Jump! Immersion School.