Kid-Friendly Hikes, Swimming at Jersey's Cheesequake State Park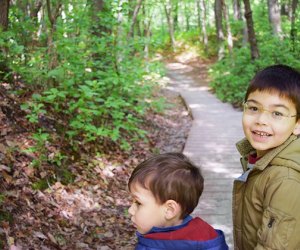 What better way to foster a child's natural love of the outdoors than with a hike in one of New Jersey's beautiful parks?
As a mom of two young boys (ages 3 and 6) and a non-walking baby, any trail my crew is going to explore must be fairly short, clearly delineated, not travel by any crazy drop-offs, not be too steep, have bathrooms somewhat nearby, and meander past interesting scenery. Cheesequake State Park in Matawan perfectly meets these criteria and is a great spot for introducing your kids to hiking—and even lake swimming.
Steps from Cheesequake State Park's Trailhead Parking Center are four great trails: blue (two miles), green (three miles), red (1.3 miles), and yellow (0.75 miles). These trails start together and then peel off one at a time. I love that they are all clearly marked with arrows and color-coded posts along the way. It's also great that they are circular; stay on the path and you can't get lost!
Note that none of these trails is stroller- or bike-friendly, so leave the wheels at home.
The first path to separate from the others is the yellow trail, and it's great for kids. There are some modest hills to climb and tree roots that cut across the path. My kids loved the wooden stairs and the views of Hooks Creek Lake. With wild blueberry bushes along the path, this trail is perfect for spotting birds and butterflies along the way.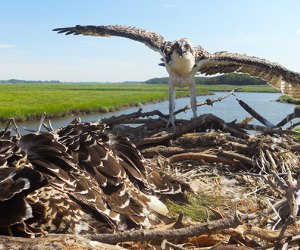 The park is home to a lot of wildlife, including ospreys.
As the trail ends (which took my group about 30 minutes of casual walking), you can finish your loop and head out, or join up with the blue/green/red routes for a longer excursion. If you choose to continue down these paths, you'll soon come to the Nature Center, where you can learn more about the park's wildlife and the Native American tribes that once lived in the area.
Apart from these trails, families with older kids can also try the white trail, which is intended for biking. It's a moderately difficult trail with some hills and obstacles along the way.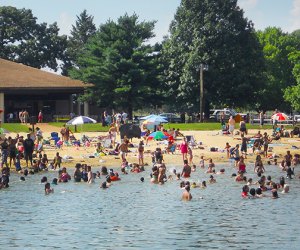 Go for a swim in Hooks Creek Lake from Memorial Day weekend through Labor Day weekend.
If your family wants to extend its trip, there's much more to do Cheesequake State Park:
Several camp sites are open at the park at $20/night for NJ residents.
Swimming is allowed in Hooks Creek Lake from Memorial Day weekend through Labor Day weekend (lifeguards are on duty at prime times). It made our list of the Best Lakes for Swimming in NJ. There's a sandy beach area with a changing area, restrooms, and a concessions store.
Outside of swimming season, boating and canoeing is allowed.
Fishing for trout, largemouth bass, catfish, and sunfish can be done in the lake, and there's a spot for crabbing from the Crabbing Bridge.
Several picnic areas with tables and grills are located throughout the park, though not on the trails.
Parking fees are only charged from Memorial Day through Labor Day weekends. It's $5 on weekdays and $10 on weekends for NJ residents.
Top photo: The Yellow Trial. Photo by the author. Unless otherwise noted, photos courtesy of the New Jersey Department of Environmental Protection.