15 Seashell Crafts: Easy Summery Craft Ideas for Kids
7/14/22
- By
Gina Massaro
Summer means long days at the beach building sandcastles, splashing in the waves, and collecting seashells. But what to do with all of those seashells when you get home? You can, of course, simply display them in pretty jars or bowls to remember your family beach days. But you can also step up the fun and create some awesome seashell crafts!
Here are 15 seashell craft ideas for kids of all ages, from toddlers to big kids. These fun seashell crafts are a great way to relive those beach days and bring out your kids' creative sides. For more at-home summer fun, check out our lists of 100 awesome art projects for kids, and 27 water games for kids to play all summer long.

What could be cuter than matching seashell bracelets?
Seashell Crafts for Kids of All Ages
1. Seashell Necklace or Bracelet
Finding an intact seashell is even more exciting when you find one with a natural hole. Growing up, this meant one thing: seashell necklaces or bracelets. While a seashell with a naturally eroded hole is great, you can also use a small drill bit to cut a hole into a shell. You can use string or, for younger kids, a pipe cleaner. Then add decorative beads, like lava beads, to really add artistic flair. Little ones can use pony beads or any bead with a larger hole, as long as they aren't prone to putting things in their mouth.
This is fun no matter the age, but seashell paintings can really become beautiful works of art as children get older. Little ones will love painting on something other than paper, while older kids can even create a beach landscape on a shell.
This is another one of those seashell crafts that changes as kids get older. Little ones can use a Play-Doh cutter with air-dry clay or model magic to create the canvas, then simply pick their seashells and lightly squish them into the clay. Older kids can smash shells with a hammer to make more intricate mosaics, then use hot or drip glue to put the shells on canvas, wood or any backing of their choosing.
Related: 21 Rainbow Crafts for Kids

A seashell jar Is a fun twist on the traditional terrarium.
4. Seashell Jar
Instead of using a jar to create a terrarium with an air plant and moss, put sand and seashells inside. This also makes a beautiful centerpiece for tables. Get as intricate as you like, adding miniature figures, sea rocks, or tiny umbrellas. Use sand collected from the beach or get creative with colored craft sand.
Purchase wood frames for a dollar at a craft or dollar store. Paint the frame first—glitter paint is a fun option—or leave the wood natural. Then glue seashells around the frame to create a beautiful, one-of-a-kind piece. Use thick globs of glue for younger kids and let older kids handle the hot-glue gun.
Buy a wooden star wand from a craft store and have your child paint it however they like. Add glitter and sequins to the star before gluing on your seashells. Since this piece is meant to be played with, it's best if an adult hot-glues the shells onto the star so they don't fall off while the wand is swung around. Tie some ribbon to the neck of the wand for extra flair.
Paint a canvas, wood, or any sturdy surface to look like the ocean before you begin your fish. Add more landscape features, such as seaweed and rocks, with paint, tissue paper, or actual rocks. To make the fish, younger kids can paint their seashell and then glue cupcake liners or paper for the fins and tail. Older kids can use a big shell for the body and smaller shells for the fins and tails. The latter version takes strong fine motor skills and use of a glue gun. Lastly, don't forget the googly eye!
Seashell Crafts for Toddlers and Preschoolers
Buy a plastic bin and fill it with local sand. Add fun sequins, seashells, fine glitter, rocks, and driftwood. Get really fancy and buy a bin that has two sections. Use one for the sand mixture and one for water. Throw in some sea-creature toys for even more fun.
You will need a scallop shell, pipe cleaners, googly eyes, glue, and Model Magic clay for this craft. First, paint the shell whatever color you want your crab to be. You can use glue to stick the pipe-cleaner legs on, or use clay to make it a little less messy (simply place the shell over the clay and trim the excess, then poke the legs in). Finally, add the googly eyes.
Related: 13 Simple Crafts for Toddlers and Preschoolers to Do at Home

Create a cute jellyfish out of a seashell, paint, googly eyes, and some ribbon.
When it comes to seashell crafts, this one is very simple. Get a scallop shell—the bigger, the better. Paint it any color using glitter paint, or add glitter after painting. Glue on the googly eyes. Let it dry, then glue ribbon to the back of the shell to create the tentacles.
This craft requires a conch, whelk, tulip, olive, or similar shell. Get some Model Magic clay of any color (white is best if you want to paint the snail's body). Decorate the shell however you like. You can make it shiny like a certain crabby villain from Moana, or leave it plain. Roll out the clay, form it into a log, and place the shell on top. Add pipe cleaners for the antennae. Kids can pose the snail by curling its front up or leaving it inching on the ground.
There are multiple ways to use a seashell to make a sea turtle. One is to pre-cut a green construction-paper body, paint a seashell green, then glue it on top of the body. Another is to use green Model Magic clay: Roll it out for the head and flippers, roll a ball for the body, then stick the ball inside the shell. Attach the body pieces. Stick some googly eyes in the head and you have a sea turtle.
Related: 30 Easy Paper Crafts for Kids for an Arty Day at Home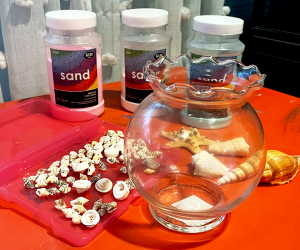 When it comes to seashell crafts, the possibilities are endless.
Seashell Crafts for Big Kids to (and Adults!)
Buy a tiara from a dollar or party store. Use seashells you've collected or buy some from a craft store or Etsy. Once you've rounded up the shells and tiara, whip out the hot glue gun and start creating your masterpiece.
Seashells can be used au natural or painted first. Hot-glue the seashells to an alligator hair clip and you've got instant beach vibes. You can also take those nifty shells that already have a hole in them and stick a bobby pin in them.
The base of the wreath depends on the style you are going for. Craft stores offer different varieties, such as floral foam, grapevine, and Styrofoam. When using foam, all of the wreath will need to be covered in shells. For a grapevine or straw wreath, shells can be used in any design preferred. Simply pick the shells and hot-glue them to the wreath.
All photos courtesy of the author
Click Here to Sign Up!
i