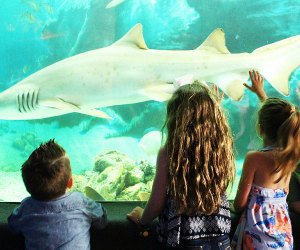 Jenkinson's Aquarium Fun for NJ Kids
Swimming sharks, stingrays, and penguins are the main attractions at Jenkinson's Aquarium, a small but charming aquarium that offers a glimpse of life under the sea. Located on the Point Pleasant boardwalk, the aquarium is a perfect respite from the noonday sun, or a way to combat boredom on a rainy day.
For younger children, a day trip combining Jenkinson's Aquarium with some boardwalk games or rides is ideal. Add a dip in the ocean plus lunch and ice cream for even more summer fun.
Read on for more about this Jersey Shore spot. To see more elaborate marine life displays (and hippos!), plan a trip to Camden's Adventure Aquarium.
OUR LATEST VIDEOS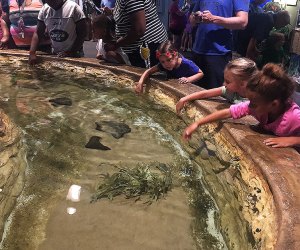 This interactive exhibit lets the kids get hands-on with marine life.
Exhibits
Stepping off the boardwalk into the dimly-lit aquarium feels a little like walking under water. Floor to ceiling tanks line the curved perimeter, making it easy to push a stroller while keeping an eye on kids gazing up at the marine life. Jenkinson's aquarium's centerpiece is a rippling, 58,000-gallon tank that is home to tiger sharks, nurse sharks, sandbar sharks and stingrays, all swimming together as children press their faces to the glass.
Smaller tanks and benches are scattered throughout the main level, featuring a python, frogs and a coral reef exhibit starring clownfish (just like Nemo) along with blue angels and triggerfish. A few steps up is a walkway along a rippling pond featuring turtles, frogs and rainforest details.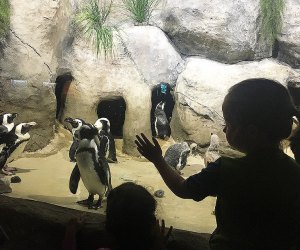 The adorable African Penguins are sure to entertain the kids.
The African Penguin tank is another highlight. These adorable, endangered, birds are pretty entertaining as they swim, dive and waddle on shore. Kids can peer underwater to watch the penguins gliding through the seawater or peer in through a "porthole" to feel even closer to the penguin action.
Stroller parking is available at the foot of the stairs leading up to the second floor, where you'll find a large touch tank teeming with stingrays, horseshoe crabs and sea stars. There are plenty of stools for little ones to climb onto and peek in to the water, and hand-washing stations nearby. Also upstairs are the exotic birds and marmosets in a Rainforest exhibit and a new collection of oysters. From upstairs, kids can also peer into the top of the seal tank, and watch staffers feed the seals at mealtime.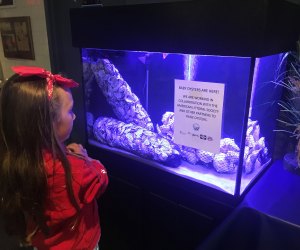 Kids learn about the exhibits through labels explaining marine life habitat, conservation details and more.
Each exhibit features kid-friendly labels explaining the marine life habitat, and conservation details, and friendly staffers were stationed near almost every tank sharing trivia about the sea life.
Programs and Events
The aquarium offers special programs year-round, including school field trips, summer camps and birthday parties. In December, the aquarium is decked out in holiday lights. For event details, check website. During the summer months, daily feeding times are a treat for all visitors. Aquarium staff members are on hand to answer all kids' questions and encourage them to reach in and touch sea stars and sting rays.
Tips for visiting Jenkinson's:
- Street parking is notoriously tight in Point Pleasant Beach, so you will most likely pay for a spot in one of the lots behind the boardwalk. Jenkinson's lot is the closest to the aquarium entrance, and daily parking rates there start at $10. Other lots are on Ocean Avenue between Arnold Avenue and Broadway. A large metered lot at Arnold Avenue fills up quickly. Street parking regulations are strictly enforced.
- Aquarium admission is $7 for kids and $12 for adults. Children under age 2 are FREE. Admission is good for an entire day, so you can pop in and out if you miss feeding time. Rainy summer days are busiest, and since the aquarium is small, lines can form outside to keep foot traffic moving smoothly inside.
- Restroom has a changing table.
- For boardwalk rides height requirements and ticket prices, check Jenkinson's website.
- The aquarium is open year-round. Summer hours are 10 a.m. to 10 p.m. daily. Off-season hours are 9:30 a.m. to 5 p.m.
- If you are making a day of it, note that Jenkinson's Beach, directly in front of the aquarium, is always crowded, as it is adjacent to Jenkinson's Pavilion and not far from Martell's Tiki Bar. Early mornings on weekdays and Sundays are your best bets to snag a spot in the sand. A long walkway extends from the Jenkinson's beach entrance, making it slightly easier to drag a stroller onto the beach. Jenkinson's also offers daily rates for shower facilities, check website for details.
- Beach tags are required for children age 12 and over, $9 daily and $10 on weekends.
Unless noted, photos by the author.