Iconic Asbury Park Bowling Alley Reopens After Major Makeover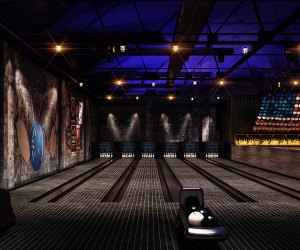 Asbury Lanes will reopen on Friday, May 18, with a nod to the center's past and an eye to the town's future. The bowling alley-turned-music venue, which first opened in 1962, has been rebuilt with state-of-the-art bowling technology by Brunswick, and its performance space has been retooled to accommodate more than double the venue's old capacity of 300.
The new Asbury Lanes features six lanes and will offer bowling lessons for children and adults, while the performance space will host concerts and other performances for all ages. The reinvented space marks another step in Asbury Park's renaissance as both a hipster retreat and a great getaway destination for New Jersey families.
After a half-century of use, Asbury Lanes was plagued by structural and mechanical issues that required it to either get demolished or close for renovations. In the spirit of the town's redevelopment, owners chose the latter and shut down in 2015 for an overhaul. By that time, Asbury Park was attracting a more artsy scene that had been using the place as a small concert hall; with that in mind, site developer iStar has kept the center's dual purpose and incorporated a new concert hall with increased capacity.
The new hall opens with a full slate of performers booked by The Bowery Presents through September. Although the initial lineup appeals to adults, a spokeswoman for iStar promises that future shows are planned with a kid-friendly focus.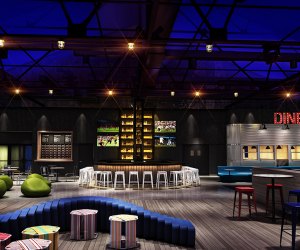 The former snack bar has been replaced by a classic diner and chic lounge area.
True to its name, Asbury Lanes will still offer bowling—though the number of lanes has decreased to six from the original 18. A new shoe rental counter was constructed with wood salvaged from the original lanes. iStar tried to keep as many original features as possible while transforming the space into a modern entertainment venue that showcases the town's history. (Similarly, the town's old carousel building was recently transformed into an indoor skate park, Forth Union, that maintains the structure's architectural integrity.)
Visitors who recall the old Asbury Lanes will notice that the former snack bar has been replaced by a mid-century style classic diner with family-friendly appeal. Kids and their parents can dine on hamburgers, cinnamon buns, milk shakes, and other hearty fare.
RELATED: Best of Asbury Park Beach and Boardwalk for Kids and Families

The performance space will host concerts and other performances for all ages.
Asbury Lanes will connect via a "secret" passageway to The Asbury, the hip new hotel that opened in 2016 (and was named one of the world's best new hotels by Travel + Leisure).
The newly retooled Asbury Lanes adds to Asbury Park's growing list of family-friendly attractions, including the popular beach, arcades, miniature golf, a glass-blowing studio, food trucks, a splash park, and an amazing Fourth of July celebration capped by fireworks.
Photos courtesy of Asbury Lanes