Why We're Loving WildPlay Jones Beach Adventure Park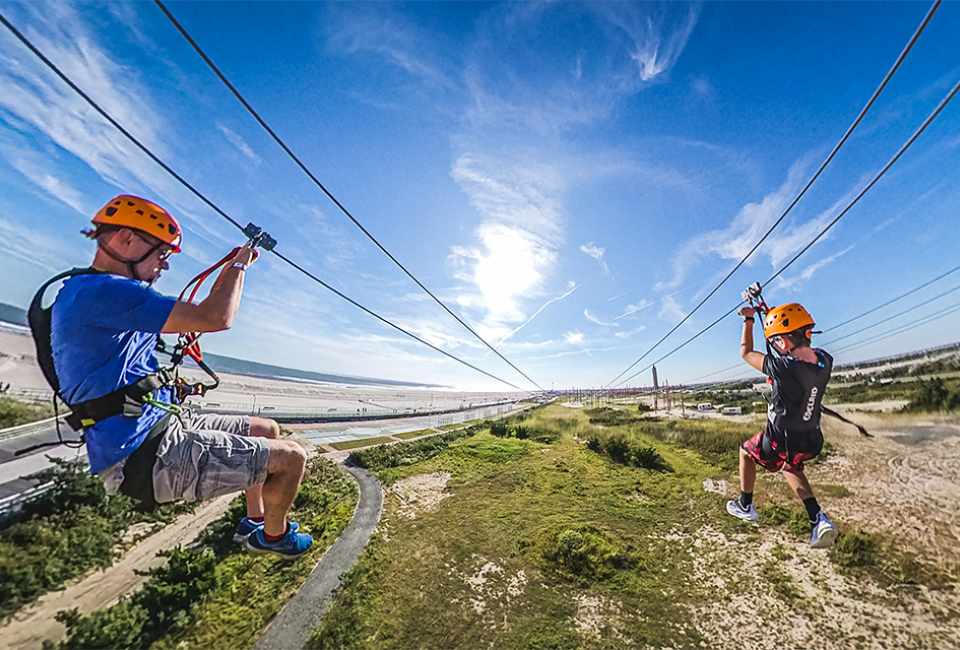 6/28/22
- By
Diana Kim
If your family's looking for a little adventure this summer, WildPlay at Jones Beach delivers with enough thrilling oceanside obstacle courses and ziplines to make for a great day trip! With four levels of adventure courses, featuring tight ropes, cargo nets, rope swings, wobbly bridges, swinging buoys, and more, WildPlay has something for every age group. And I can vouch because I recently took my three brave kids–ranging from 5 to 14–to visit, and they all had a fantastic time.
We headed out to Jones Beach on a beautiful Friday afternoon and, after filling out a few waivers, WildPlay's friendly instructors strapped on our harnesses and walked us through a safety demo so we could get right to climbing. After learning how to maneuver the pulleys over the "lifeline cables" and getting a tutorial on how to ride the ziplines, all three kids had gotten the hang of it and we set off to have some fun.
Read on for a rundown of the courses, what to know before you go, and a WildPlay coupon code for Mommy Poppins readers!

WildPlay Jones Beach Attractions
Kids Adventure Course (Ages 5-12 | Minimum height: 3'9")
For the younger set, there's a dedicated obstacle course that's a single level and reaches up to 15 feet high. With ladders, tunnels, bridges, tightropes, and nets, the course is filled with fun while also being challenging enough to keep kids engaged and moving along.
My 5-year-old went on the course and, while he was a little scared of the tightrope, he was super proud of himself for even giving it a try. I appreciated that children are always tethered to the cables via their pulleys, which keeps them safe even if their feet slip.Parents are also able to join in on the course, or lend some support from the ground below.
Classic Adventure Course (Ages 5+ | Minimum height: 4'8")
My older kids headed straight to the Classic Adventure Course, which has three levels of obstacles that get more challenging as you go. My girls spent more than an hour tackling tightropes, cargo nets, ziplines, rope swings, swinging logs, and wobbly bridges, finishing up their endeavor by jumping down on a tether. They really enjoyed the course and said it had the most involved obstacles they've ever encountered.
If your kids are looking for even more thrills, you can pay to add on the Extreme Course, which has more obstacles and ziplines, and a higher level of difficulty.
What's to Fear Jump (Ages 5+)
After all that climbing, my older kids were ready to face the "What's to Fear Jump"–an exhilarating plunge from 40 feet up in the air. They climbed a rope ladder onto a wooden platform and then, after being securely tethered to a cord, jumped right off. It's not a straight and fast fall because the tethered rope breaks the jump, turning the fall into more of a steady descent about halfway down, but it's no joke as an onlooker.
My girls claimed it wasn't as scary as it seemed and thought the initial act of jumping was the hardest part. While the minimum age is 5, my son did not want to try it after watching my older kids, so it really depends on the child.
Jones Beach Zipline
Now this one is both thrilling and breathtaking! The Jones Beach Zipline stretches 700 feet and provides incredible views of the historic beach and surrounding area. These ziplines are longer and higher than the ziplines in the adventure course, but there are no obstacles involved.
Bonus: You can actually ride side-by-side with three other people–which is perfect for nervous riders young and old! Sign up with a group of 4 or more for a $5 discount, and ask the operator about taking a second ride for just $10.

Things to Know About WildPlay Jones Beach Before You Go
Closed-toed shoes are required and long hair needs to be tied back. If you show up in sandals, there are thankfully shoes you can rent.
Make sure to wear plenty of sunscreen and bring along well-fitting hats, if you have them.
Remember to bring water bottles and snacks to keep your energy up. Drinks and food are also available for purchase at Guest Services.
You can bring phones or cameras on the course to catch some fun photo ops, but make sure they fit securely in pockets.
Bathrooms are available at the Boardwalk Cafe.
To get to WildPlay, follow Ocean Pkwy to Jones Beach State Park. Park in fields 4 or 5 and walk to the Jones Beach Boardwalk. WildPlayis located next to the Boardwalk Cafe.
From June 21st through September 5th, the park will be open from 10:00am to 8:00pm, 7 days a week! From September 6th to November 6th, the park is open Fri-Sun from 10:00am to 6:00pm.
Bookings before 11:00am and after 3:00pm typically have the shortest wait times.

WildPlay Jones Beach Coupon and Discounts
Learn more about WildPlay Jones Beach and book your visit now!
All photos by author, unless otherwise noted
Places featured in this article:
Sign up for the Mommy Poppins Newsletter today!