Splish Splash Water Park - Keeping Long Island Families Cool this Summer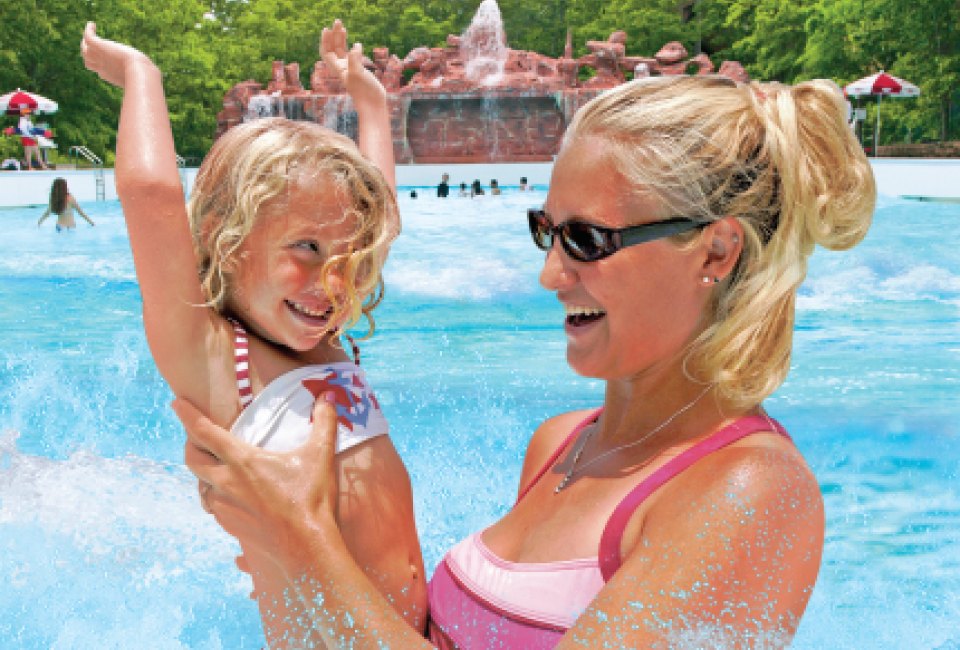 6/27/14
- By
Linda DiProperzio
After the winter that just passed, most Long Islanders want to spend as much time outdoors as possible this summer. So what to do when it's so hot and humid that being outside seems unbearable, but mom and dad still don't want to be stuck inside with the kids? One idea would be to take a drive to our sponsor Splish Splash and spend the day getting wet and wild with a ton of rides and attractions.
Splish Splash has been a Long Island staple since it opened in 1991. Located right off the Long Island Expressway—and just 90 minutes from midtown Manhattan—it makes a perfect day trip for families looking to stay cool and keep the kids happy on a hot summer day. Just be sure to bring a bathing suit for everyone who wants to get into the water; shorts and T-shirts are not permitted in the pool areas or on the rides.
The park has 96 acres of fun, with a whopping 13 slides, a Lazy River, spray park, and two wave pools including The Kahuna Bay Wavepool, which features spectacular four-foot waves. Brand new for 2014: The Battle of Mutiny Bay, an interactive water attraction that takes visitors on a voyage to battle roving bands of pirates and sea creatures. And Splish Splash (and the water) is so clean, due in large part to the "no outside food" inside the park policy. Don't worry: There are plenty of options in the park (funnel cake, anyone?), or you can eat your packed lunch at one of the picnic tables located between the parking areas.
As for the rides, my personal favorite is the Giant Twister, where visitors twist and turn through the treetops before landing in the pool. I also really like Bootlegger's Run, which features a four man raft that actually goes uphill before careening down a slide. It's described as a "roller coaster without rails"--and that's definitely true. Call me crazy, but I think it's less scary because you're doing it with other people!
Of course, since I have little kids, there's also a trip to one of the four kiddie areas for the younger set (anyone under 54"), including the Elephant Slide, where little ones get to slide down the back of an elephant and stay cool in a falling spray of water; Monsoon Lagoon, a shipwreck with climbing ropes, water cannons, and slides; Octopus Pool, where kids can swing on the tentacles of a giant octopus; and Pirates Cove, an interactive pirate ship with water cannons, climbing ropes, and slides. Parents are encouraged to accompany their children in these areas.
It's important to note that anyone under 48" is required to wear a life jacket and be accompanied by an adult in the wave pool. Guests may bring their own Coast Guard approved life jackets or obtain one at Splish Splash (for a $40 refundable deposit or a valid photo ID) at Guest Services.
Of course, no one wants to wait on line for rides—especially in the heat. Luckily, Splish Splash has the super cool H2GO pass option, a virtual ride reservation system that holds a guest's place in line. A limited number are available for purchase each operating day, but families can reserve theirs online.
Families should also check out Splish Splash's one-of-a-kind show, Parrots of the Caribbean. Veteran trainer Weldon Middlebrooks puts on a show with a bunch of bird-brained buccaneers (show times are 12:30pm, 1:30pm, 3:30pm and 5:30pm).
With all this fun, mom and dad are bound to need a rest. Splish Splash offers cabana rentals on a first come, first served basis. It's a great spot to get out of the sun and have some lunch. You can reserve online to guarantee a spot, and prices start at $89. There are also rental lockers available: Regular Lockers are $13; large lockers are $18.
Splish Splash has plenty to offer a family wanting to spend a fun-filled day while staying cool. And for more kid-friendly activities on Long Island, check out our Summer Fun Guide.
This post was sponsored by Splish Splash, but the opinions are those solely of the author.