Off-the-Beaten Path Swimming Holes in the Catskills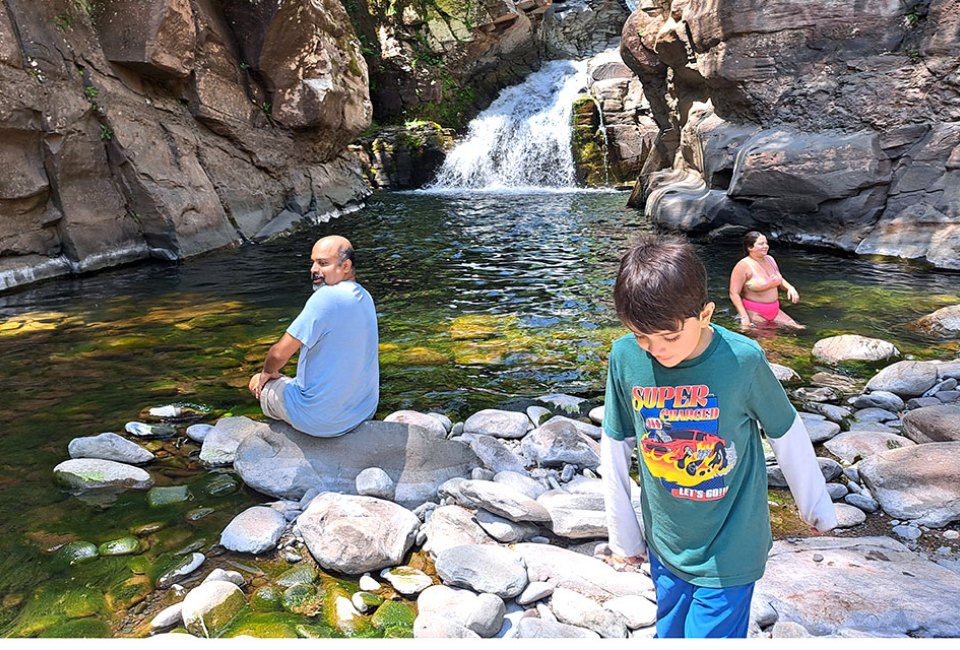 6/16/23
- By
Katherine Dhurandhar
Jumping into a cool, fresh swimming hole is one of our favorite ways to cool off on a hot summer day in the Catskills. Lucky for us, the Hudson Valley region is filled with off-the-beaten-path swimming holes that are well worth the time it takes to find them.
While some of the swimming holes on this list are established local swimming spots, we have included some more remote spots that require a bit of a hike but afford a little more privacy. For some of the spots, it would be helpful to wear water shoes, while others will require hiking boots. As always, be aware of wildlife in the area, and please use eco-friendly sunscreen and bug spray to avoid contaminating the pristine ecosystems.
For more Catskills fun, check out our picks of things to do in the Catskills with kids as well as family-friendly Catskills resorts. For more ideas on where to go swimming, check out our picks of the best pools and best swimming lakes in Westchester and the Hudson Valley.
Subscribe to our newsletters to get stories like this delivered directly to your inbox.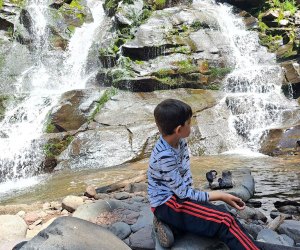 Kaaterskill Falls has multiple swimming holes.
Best Swimming Holes in the Northern Catskills
As the tallest waterfall in the state of New York, Kaaterskill Falls is an amazing sight to behold and one of our favorite waterfall hikes to do with kids. However, the same creek as this amazing waterfall forms some beautiful and often private swimming holes. If you take the stairs to the bottom of the falls and continue on the trail along the creek toward 23A, you will find several nice swimming holes, including one under a waterfall. The trail ends at Bastion Falls next to the road, but if you walk under the bridge there is another large swimming hole deep enough to jump into off the surrounding rocks. The water is cold but very refreshing on a hot summer day.
Fawn's Leap is a beautiful 24-foot-high waterfall and swimming hole in Kaaterskill Creek. Its high, rocky cliff and deep pool make it a popular jump spot among locals. If you are not up for cliff jumping, there is a rocky beach area where you can relax and enjoy swimming, wading, or picnicking. The spot is located right next to Route 23A, but it is hidden from sight by big boulders. To get here, park in one of the parallel spots on 23A just outside Palenville before the bridge crosses over the creek. Then walk along the road over the bridge, and it will be on the left. There is a small signboard as a marker, but it's hard to read while driving. Google Maps will direct you to Fawn's Leap, but the parking area is much before it and it is difficult to turn around once you drive past.
Located near Lanesville, just a short drive from Hunter Mountain, Diamond Notch Falls offers a beautiful waterfall, a nice pool to cool off in, and lots of rocks to play on. The easiest way to get here is from the Westkill trailhead on Spruceton Road. It is a 1.7-mile roundtrip hike to the falls, but it is a mostly flat trail. Afterward, check out West Kill Brewing, one of our favorite family-friendly breweries in the Catskills, or the many restaurants in the Hunter/Tannersville area.
RELATED: 25 Fun Things To Do in New York Catskills

Peekamoose Blue Hole is a good choice for families with little ones. Photo by Mommy Poppins
Best Swimming Holes in the Southern Catskills
While the Blue Hole is not a secret by any means, we couldn't leave it off the list because it is spectacularly beautiful and one of the most accessible swimming holes in the area, i.e., no hiking required. It is located in the Sundown Wild Forest area of the Catskills just off Peekamoose Road (Route 42). In addition to plunging into the icy blue water, there are plenty of areas along the creek that are ideal for picnicking, and don't miss Buttermilk Falls about a mile down the road, which also has a little pool perfect for kids to splash around. Please not that a permit is required to visit the Blue Hole (not required for Buttermilk Falls). Permits can be purchased on the New York DEC website. It is $10 per car and must be purchased 24 hours in advance.
Finding Otter Falls can be a bit tricky, but that means it is usually less crowded than other swimming holes. It is located in the Slide Mountain wilderness a short drive from Phoenicia. Park at the Giant Ledge trailhead, then hike a half-mile west along Oliverea Road (also labeled Route 47). You'll eventually see a telephone pole marked with milepost 167 1/2, and in summer, a clear path will appear along the woodline. Follow the trail roughly .3 miles, and you'll begin to hear the falls. The series of small waterfalls ends in a pool ranging from 6 to 8 ft deep. Hiking shoes or water shoes with grip are recommended as rocks can be slippery. Afterward, check out the town of Phoenicia for shops and kid-friendly eateries including Brio's Pizzeria, the Ice Cream Station, and Phoenicia Diner.
Vernooy Falls is one of the most popular kid-friendly hikes in the Catskills. It is 3.5 miles out and back but with not too much climbing or elevation. The falls features several nice waterfalls at different levels with pools to swim in and big flat rocks to relax on. The trail starts at Upper Cherrytown Road in Kerhonkson in the Sundown Wild Forest. The trailhead is well marked and can be found in Google Maps as well as All Trails. If you have time, visit nearby Kelder's Farm afterward for tons of kid-friendly activities as well as seasonal you-pick produce, a snack bar, and a taproom.
Best Swimming Holes in the Shawangunks
Located in the Mohonk Preserve a short drive from Mohonk Mountain House, the Split Rock swimming hole is a beautiful and unique rock formation that is literally split down the middle with water flowing through like a mini canyon. The big flat rocks are ideal for sunning yourself before you dive into the icy waters. There is also a large lawn where you can have a picnic while the kids play. To get there, head out of New Paltz on 299 and take a right on US44 past the Vistor's Center, around the hairpin turn and look for Clove Road on your right. Take Clove Road past the Trapps Road turn on the left and look for parking. You'll need a pass for the preserve available at the Visitor's Center or from a passing ranger ($15 per adult; children 15 and under are free). Alternatively, you can park in the West Trapps parking area and hike on the the Shongum Path through the forest.
Located in scenic Minnewaska State Park, the Mossy Glen Trail connects to the carriage road from the Awosting Falls parking area and winds along the Peterskill, offering multiple small waterfalls as well as a few deep swimming holes. Visitors can sunbathe on the smooth white rocks characteristic of the Shawangunk Ridge area and take a dip to cool off. One big advantage to the swimming holes in the Peterskill is the water is significantly warmer than other creeks in the area, so you can spend more time in the water. To get to the first big swimming hole, keep left when the trail forks and you will go right to it. The second big one is about half a mile down the trail but well worth the hike. There is a $10 per car entrance fee for the park. If you feel like more of a hike, continue on to Rainbow Falls, a tall rocky cascade that you can stand under like a natural shower.
RELATED: River Rafting with Kids in the Catskills

Peterskill Jump Spot, with multiple swimming areas, is a great destination for a day of swimming.
While there are multiple areas to cool off in the Peterskill, one particular swimming hole offers a large, deep pool with a nice (not too scary) cliff-jumping spot. To get to the jump spot, park in the Peterskill parking area and follow the red trail to the creek. At the creek, the main trail will turn right, but there is a small trail to the left that leads to the jump spot (or you can just follow the creek upstream; water shoes are recommended). If you are not up for jumping, stay on the main red trail and you will find tons of little waterfalls and great shallow pools for the kids to splash around in. Parking is free in the Peterskill parking lot. Afterward, check out things to do with kids in New Paltz, a lively college town with lots of family-friendly shops and restaurants.
Unless noted, photos by the author
Click Here to Sign Up!
i