Family Weekend Getaway: River Rafting with Kids in the Catskills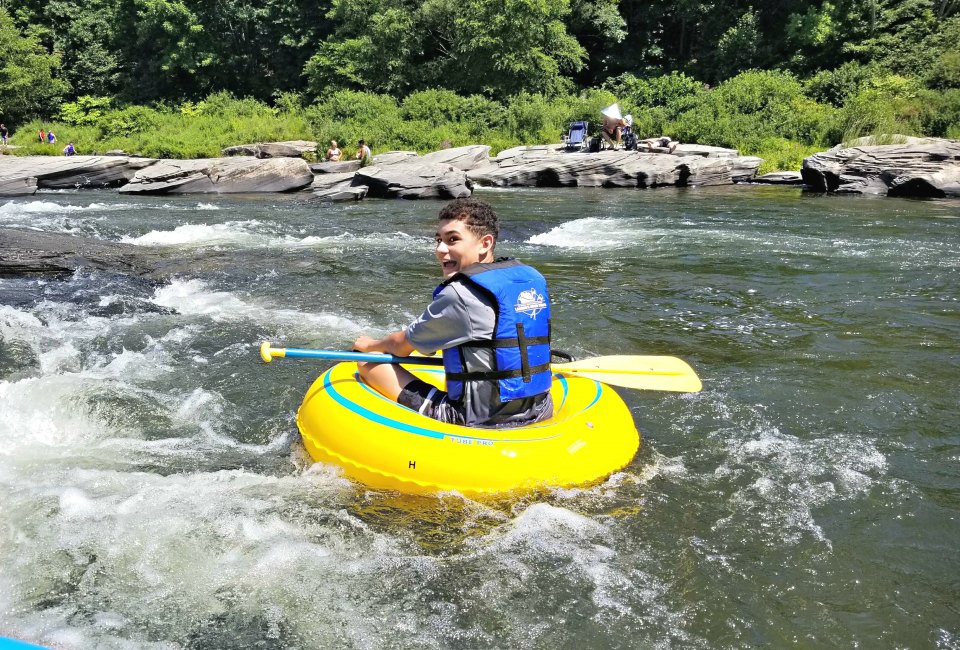 8/28/17
- By
Sonia Gonzalez
I've wanted to take my kids river rafting since my teenage son was a toddler, yet we never managed to get around to it—until this summer. After spending a wonderful day on the Delaware River in the Sullivan Catskills, my only regret is that we didn't go sooner.
With three kids ranging from 8 to 13, finding an outing we can all enjoy is sometimes a challenge. River rafting hit the mark beautifully, providing a completely unplugged experience that's fun for all ages. Plus, clocking in at just under two hours from New York City (and even less for Westchester residents), rafting in the Catskills is an easy day trip or a quick weekend getaway. We opted to make a weekend out of it, so we've got the scoop on where to go rafting and what to expect, plus where to stay overnight.
For more weekend getaway ideas, consult our Day Trips & Getaways Guide and sign up for our newsletters.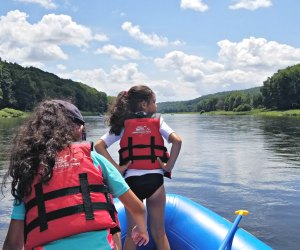 Trips range from flat and calm waters to more adventurous rapids.
We booked our rafting experience in the Sullivan Catskills with Landers River Trips, a one-stop, family-owned shop for river sports and camping. Landers offers canoeing, kayaking, rafting and tubing, plus three separate campgrounds along a 70-mile stretch of the Delaware River, from Hancock in Delaware County to Port Jervis in Orange County. River trips range from 5-15 miles with options for flat, calm stretches of water—perfect for first-timers or families with young children—and stretches with varying degrees of rapids and whitewater for more adventurous rafters.
As first-time rafters, we opted for a 5-mile stretch along calm waters, with a small rapid early on, close to the launch site. We started our adventure at Narrowsburg Campground, downstream from our launch site at Skinners Falls. Parking at the endpoint of the rafting route and taking the complimentary shuttle upstream to the launch site at Skinners is ideal—leaving our car at the endpoint is much more convenient for piling tuckered-out kids (and parents!) into the car and heading home after a day on the water.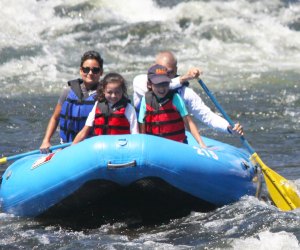 The rapids punched up the trip with just a bit of a thrill—but it wasn't overwhelming for my youngest. Photo courtesy of Landers River Trips.
After browsing the on-site store for any last minute items (hats, dry bags, etc.) and making one last restroom stop, we checked in and signed waivers, then boarded the shuttle that took us upstream to Skinners Falls, where we got a quick overview of our route and a safety tutorial. We donned life vests (mandatory for all children under 14) and tied an optional tube to our raft. My 13-year-old son opted for the tube while the rest of us piled into the raft.
Just beyond the launch site at Skinners Falls, there's a small stretch of rapids—a perfect way to start the trip, with just a touch of adventure, but definitely safe enough for even my youngest. A bit beyond the rapids, eel traps are set up along the left side of the river. If you want to have a look, you're welcome to coast along that way. If you prefer to skip it, just veer right. After that, it was pretty much calm, clear water. For the most part, the river is shallow enough to stand in, which my youngest daughter especially appreciated. She walked, swam and looked for eels.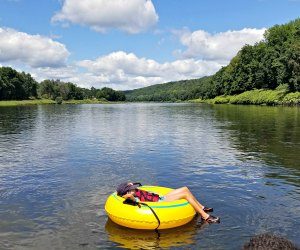 Lazing down the river—just like nature intended.

We spent the rest of our trip coordinating efforts to keep the raft straight, head left or right (tasks easy enough of our 8- and 9-year-olds to assist), taking turns on the tube, and enjoying the gorgeous mountain views, clear blue skies and riverfront homes dotting the landscape. We ended our trip at Narrowsburg, where we first checked in. It was a wonderful, unplugged, fully hands-on bonding day for my family, and we honestly cannot wait to return.
Things to Know Before You Go
Trips along this 5-mile stretch range from 3-5 hours, so definitely plan to make a day of it.

Pack a cooler. We had a small cooler with sandwiches, chips, fruit and water. After an hour or two paddling in the sun, refueling and staying hydrated is important.

You will get wet, even in the calm waters and even if you don't go swimming. Dress accordingly and make sure you have waterproof bags for phones and anything else you don't want to get wet.

Don't forget water shoes. River rocks cover the bottom of the river, and the walk to/from the shuttle and along campgrounds requires footwear.

There is no shade on the river, so pack plenty of sunblock and consider sun hats, sunglasses, etc.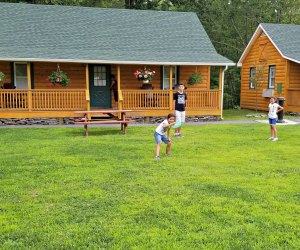 There is a variety of accommodations at the Catskill Mountains Resort.
Make it an Overnight Getaway
For our weekend getaway, we stayed at the Catskill Mountains Resort in Barryville, just 20 minutes from Narrowsburg Campground. The resort is a lovely space tucked away in the mountain and nestled among residential homes and lots of woodland. The site features different types of rooms, depending on the kind of stay you want to have. The courtyard rooms surround a lush green lawn with gas fire pits, swinging chairs and picnic tables. The main house's first floor features the Mountainside Restaurant and check-in services. Rooms on the second and third floor offer more of a "bed-and-breakfast" feel.
If you need more space than a standard room provides, or if you just want a slightly more rustic experience, you might opt for one of the Catskill cabins. The standard cabins include a king bed, bathroom and cozy front porch. The cabin suite—where my family stayed—is a large two-bedroom suite with a full living room, bathroom, kitchenette, and gorgeous front porch with wooden rocking chairs and hanging plants. All cabins look out over an expansive lawn, a beach volleyball section, picnic tables and a fire pit surrounded by Adirondack chairs.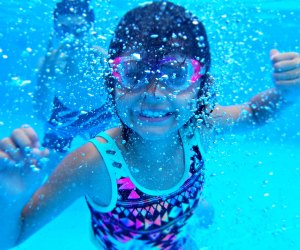 Wading in the river was awesome, but the kids also loved the pool!
Behind the main house is a large swimming pool with a tiki bar to one side and plenty of tables and lounge chairs around the pool. You'll also find some beach balls and other water toys for kids to enjoy. Not surprisingly, the pool was a huge hit for my family.
The resort has two dining options. Zac's Wilderness Lounge is just behind the main house and features casual dining options—burgers, chicken fingers, wood fired pizza, etc.—plus a game room with arcade games and air hockey.
The Mountainside Restaurant on the main floor of the mansion house is a more upscale experience and the food is absolutely delicious. Though they don't have a dedicated children's menu, they were happy to offer our kids chicken fingers or spaghetti options.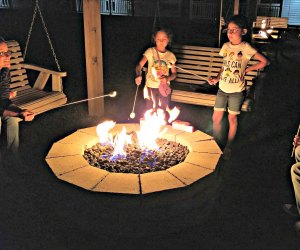 Telling ghost stories with s'mores—family bonding at its best.
After dinner, upon request at the front desk, staff helpfully started one of the fire pits for us on the main lawn and even provided us with s'mores kits! It was a classic summer evening, roasting marshmallows over the fire, building s'mores and enjoying them as we told scary stories. Like rafting with Landers, we can't wait to visit the Catskill Mountains Resort again.
Unless otherwise noted, all photos by author.
Places featured in this article:
---
Catskill Mountains Resort
---
Narrowsburg Campground
Click Here to Sign Up!
i