Upstate NY Day Trip: 25 Things To Do with Kids in New Paltz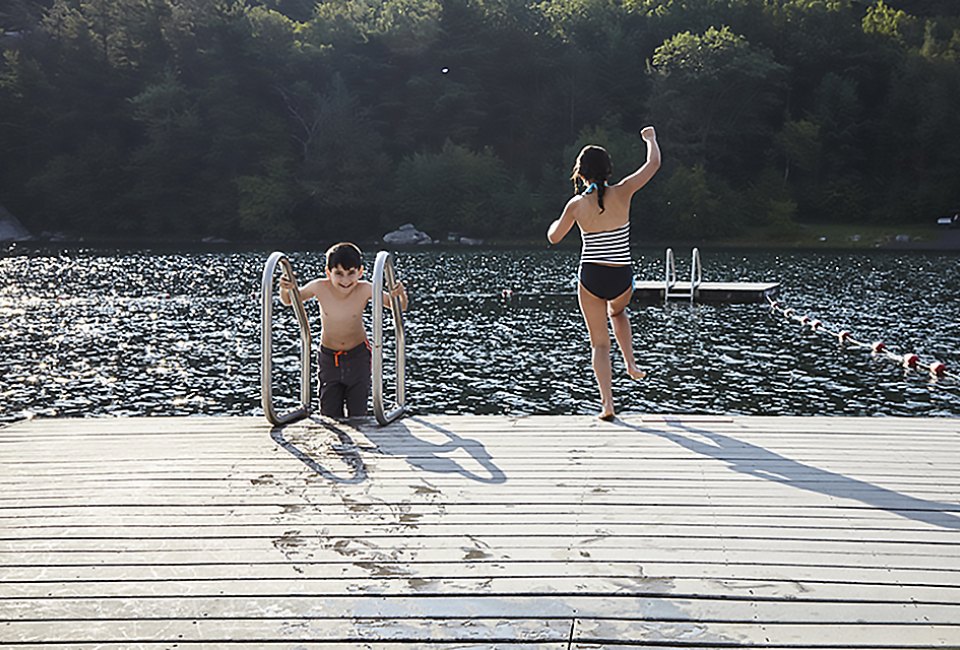 5/3/19
- By
Susan Miele
Similar in spirit to nearby Woodstock, New Paltz is laid-back college town in the shadow of the Shawangunk Mountains that offers plenty of outdoor and indoor attractions for all ages, especially in warmer months. Families can swim in a mountain lake, enjoy a hike amidst beautiful scenery, pick produce at local farms, visit quaint shops and restaurants, and explore a historic 17th-century community.

While New Paltz is just 90 minutes away by car from NYC and even closer to Westchester, the scenery suggests a faraway land. Adding to this appeal are the many festivals and other annual events that readers might consider timing their visit to coincide with.
Read on for 25 ways to enjoy New Paltz with kids. You'll find plenty of reasons to stay more than a day!
1. Hike in and around the Shawangunk Mountains (called "the Gunks" by locals), whether on your own or by joining HighXposure Adventures, which offers beginner programs and family packages.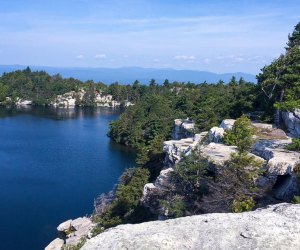 Hike around idyllic Lake Minnewska. Photo courtesy of NY State Parks and Historic Sites
2. Swim in Lake Awosting, a pristine mountain lake (but not the most easily accessible) or in Lake Minnewaska.
3. Stay active outdoors with horseback riding, skiing, or snowshoeing at the Mohonk Preserve.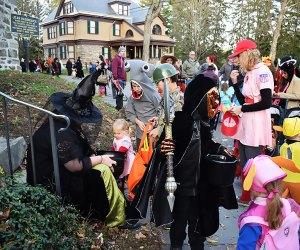 Go trick-or-treating at the historic houses along Huguenot Street. Photo courtesy of Historic Huguenot Street
4. Step back in time at Historic Huguenot Street, America's oldest continuously-inhabited block, originally settled in 1678 by a group of French immigrants. Take a guided tour, explore on your own, and check the site's event calendar for timed attractions. Free admission is offered on Family Day, and festive holiday offerings have included Haunted Huguenot Street, Trick or Treat on Huguenot Street, and Holiday on Huguenot Street.
RELATED: Sleep in a Lighthouse and More Hudson Valley Family Resorts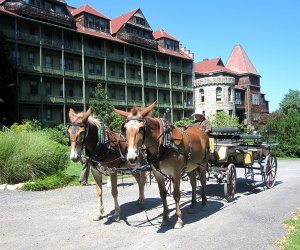 Buy a day pass for the special Mohonk Mountain House. Photo by Susan Miele
5. Splurge on a day pass at Mohonk Mountain House. This resort dates back to 1869 and offers stunning scenery, old-world charm, beautiful landscaping, hiking, daily tea and cookies, and more. Privileges expand for overnight guests.
6. Browse the shops of Main Street New Paltz, a college town with mom-and-pop shops and one foot in the groovy '60s.
7. Lounge and people-watch in the laid-back hipster Cafeteria Coffee House.
8. Enter or watch the annual New Paltz Regatta, a humorous race involving hand-crafted vessels in comical themes, preceded by a rubber-duck race. Prize categories include Most Likely to Sink.
RELATED: 35 Things To Do with Kids in the Hudson Valley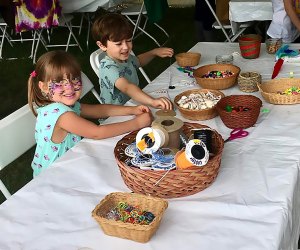 Stop by the Children's Center at the Woodstock-New Paltz Crafts Fair for demonstrations and supervised arts and crafts projects. Photo courtesy of the fair
9. Browse the artisanal offerings of the Woodstock-New Paltz Crafts Fair, held twice annually throughout Memorial Day weekend and Labor Day weekend.
10. Do your kids have a tendency to grow? Trade in their old bike for the next size at the bike swap.
11. Romp in a playground that looks like a fortress, built entirely out of wood, at Hasbrouck Park. While there are swings and slides, its most impressive feature is its multi-story castle that children can climb up via enclosed stairs or by wiggling through a series of secret passages.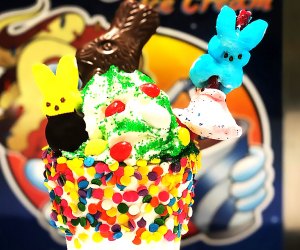 Grab an extra special indulgent dessert at Twistee Cone. Photo courtesy of the shop
12. Cool off with a frozen treat from Twistee Cone.
13. Pick your own produce at one of numerous spots, including Jenkins-Lueken Orchards, Dressel Farms, Apple Hill Farm, and Wallkill View Farm Market. Strawberry-picking begins in June, and other berries can be harvested in summer; fall is the time for apples and pumpkins. Additional attractions are also offered.
14. Browse the quaint shops, antique stores, and eateries in the charming Water Street Market, where you'll be greeted by outdoor sculpture that invites kids to interact…
15. …and savor the warmer months at the Water Street Market's FREE outdoor movies (popcorn provided) and outdoor concerts.
16. Roam the two-story Antique Barn and enjoy the serendipitous finds.
17. Stop for a spot of tea or a full meal at the Village Tea Room, housed in a 200-year-old building.
RELATED: Hudson Valley Day Trip: 40 Things To Do with Kids in Beacon

Enjoy ides, food, a petting zoo, and much more at the Ulster County Fair. Photo courtesy of the fair
18. Take in the multifaceted attractions of the Ulster County Fair, an annual event since 1887, offering rides, games, exhibits, entertainment, food, racing pigs, and more.
19. Snag a photo op at the Testimonial Gateway, a local historic landmark.
20. Feast at the Hudson Valley Ribfest, a three-day smorgasbord of food, music, kid activities, and a serious barbecue competition…
21. …or save your calories for the annual Taste of New Paltz, which also includes some attractions for kids like face painting and bouncy fun.
22. Stimulate interest by following in the footsteps of the 2019 American Girl Doll of the Year, who is said to hail from the New Paltz area.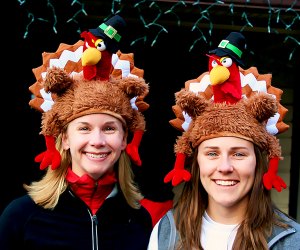 Start off the holiday season by joining in the Turkey Trot. Photo by Jamie McGothlin
23. Start Thanksgiving in costume at the charitable turkey trot, and sign your kids up for the mashed-potato race.
24. Watch Santa sky-dive.
25. Ring in the New Year with a bash for kids, with attractions that have included a scavenger hunt, circus arts, storytelling, origami, and more.