Lower Hudson Valley Destination Playground: Hasbrouck Park in New Paltz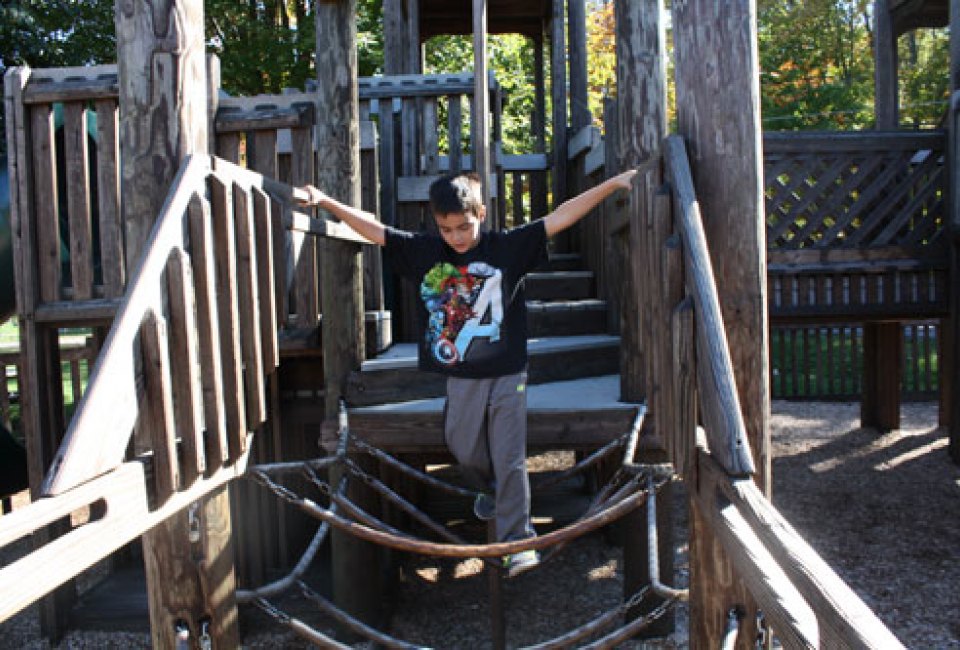 10/20/15
- By
Lisa Johnston
The leaves may be turning and the weather getting chillier, but this doesn't mean kids have any less any energy. During our travels around the Lower Hudson Valley in search of fall fun, we checked out the Hasbrouck Park playground in New Paltz to see if it's worth the trip and destination playground status.
We've already told you about the many cool things to do in New Paltz, and we're pleased to add this playground as yet another reason for families to head up to Ulster County.
Located on Mohonk Avenue near the bustling New Paltz downtown, the wooden-constructed, castle-inspired Hasbrouck Park playground packs in bridges, towers and crawlspaces galore. While one structure is a bit scaled down and aimed at the toddler and preschooler crowd, we found kids of all ages streaming throughout. In addition to the fairy-tale towers and bridges are multiple monkey bars in various heights, baby and big-kid swings, tire towers and balance bridges, sliding poles and steering wheels, and a number of slides.
My 4-year-old's favorite was, by far, the large sandbox filled with a dozen-plus trucks and other sand toys. He immediately made a bee-line for the area, and I was relieved to see the sand looked clean and well-maintained.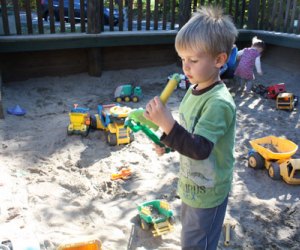 My younger son loved the sandbox, which is filled with toys for all to use.
Another Hasbrouck plus: plenty of strategically placed seating for caregivers, enabling you to keep an eye on things without being forced to shadow the youngest explorers. The playground structures are also contained by a low wooden fence for additional peace of mind.
A very large grassy field backs up to the playground, with a baseball diamond and backstop, picnic table, basketball court, more swings, a gazebo and water fountains. The only restroom is a port-a-potty, but it was thankfully clean when we were there.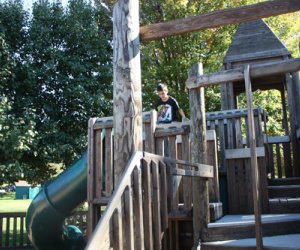 The castle-inspired playground is great for imaginations.
One caution: Watch out for splinters on the wooden play structures; we did come home with a couple.
Hasbrouck hit a hard-to-find sweet spot for simultaneously entertaining my 4-year-old and my 9-year-old. There was enough challenging climbing for the big one, while the little one was content with the smaller towers and the sandbox. New Paltz, a fun area with tons to do, is well worth a day trip. (We also hiked at the Minnewaska State Park Preserve that day, which is just about 15 minutes away.)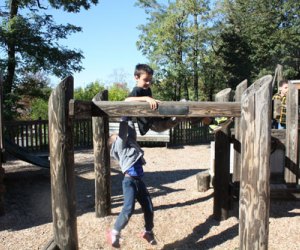 There are challenges for a range of ages.
Check out all our posts on things to do with kids throughout the Lower Hudson Valley, and follow us on Facebook.
Places featured in this article:

Sign up for our free
newsletters.
Mommy Poppins is a family activity website that helps people find things to do with kids.
©
2023
MommyPoppins. All Rights Reserved.
mp-prod4-v4.32.99
We use cookies and other data collection technologies to provide the best experience for our customers.
Learn More
Sign up for the Mommy Poppins Newsletter today!