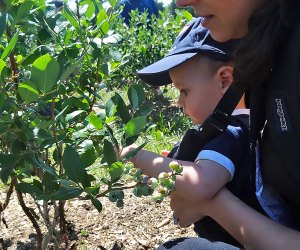 Pick Your Own Blueberries and More at These Hudson Valley Farms
Strawberry-picking season may be coming to an end, but never fear: we've got the scoop on Hudson Valley farms and orchards where you can pick your own blueberries, raspberries, blackberries, and more all summer long.
Here are a few of our favorite places to go berry picking in the lower Hudson Valley, whether you decide to go for the morning or to make an entire day of it. Either way, be sure to call ahead to make sure the farm has berries on hand.
Looking for even more outdoor fun? Check out our Summer Activity Guide for Westchester Kids.
Pick-Your-Own Berries in Dutchess County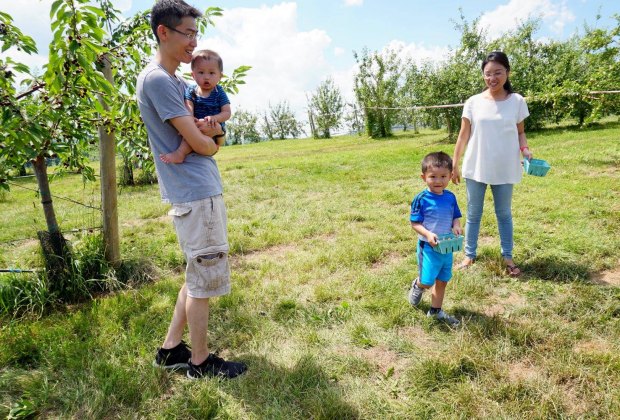 Bring the whole family to pick sweet, organic berries at Fishkill Farms in Hopewell Junction. Photo courtesy of the farm
Fishkill Farms – Hopewell Junction
If you're hoping to pick organic berries, then head to this Hopewell Junction farm. They have lots to choose from, including blueberries, as well as blackberries and raspberries, at different points in July and August. Plus, you can also pick veggies like summer squash, peppers, and tomatoes. Along with the picking fee, it's $5 to visit the farm—though Tuesdays are free and there are also membership options available.
Grieg Farm – Red Hook
In July, you'll find blueberries and in August its blueberries and blackberries. What else will you find? Goats for feeding, a craft market from Thursdays through Sundays, and the Hudson Valley Farmer's Market, a market stocked with goods. Food can be found at Papa's Best Batch, which is housed in an Airstream trailer, or at the Farmer's Market itself, which you eat in Marion's Gallery, surrounded by local art.
Mead Orchards – Tivoli
If you're looking for a weekend activity, check out Mead Orchards, where in July and August you'll likely find blueberries and raspberries ripe for picking. The farm is open from 10am to 6pm.
Rose Hill Farm – Red Hook
Calling all blueberry lovers: There are a variety of the fruit available for picking at Rose Hill Farm in Red Hook. Open from Thursday to Sunday, the farm—which has been around since 1798!—also has peaches, plums, and cherries available at different points in the summer.
Pick-Your-Own Berries in Orange County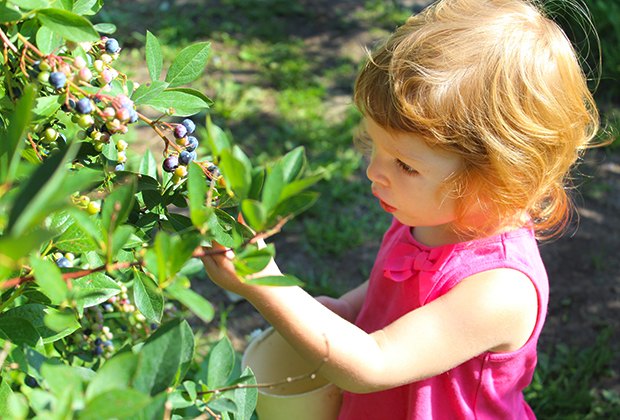 Blueberry bushes are just the right height for little ones. Photo by elizaraxi/CC BY 2.0
Ochs Orchard – Warwick
Spend a sunny day picking raspberries or blueberries at this Warwick farm, which is open from Wednesday to Sunday. Stop by the Farm Market where little ones—and, let's be honest, adults too—will love the homemade ice cream. It's $5 to get in (kids under 3 are free), but $4 of that will go towards your "pick-your-own" purchase.
Lawrence Farms Orchards – Newburgh
There's lots to pick at this Newburgh farm, including peaches, plums, pears, and raspberries, which are usually available in August. The farm is open every day, and it's $5 to visit (kids under 2 are free—and $2 of your entrance fee can be applied to what you buy). There's a concession stand with kid-favorites like hot dogs and fries, or you can pack a picnic from home. Also cool? There's a "Little Village" kids can play in.
Pick-Your-Own Berries in Ulster County

Pick farm-fresh berries AND see the world's largest garden gnome at Kelder's Farm. Photo courtesy of the farm
Kelder's Farm – Kerhonkson
Kids can pick fresh blueberries, raspberries, and blackberries at this farm in the summer months. Fun fact: There's tons to keep kids busy at Kelder's, from a new giant "spider-web" to climb around in to mini golf.
Jenkins-Lueken Orchards – New Paltz
This New Paltz farm offers blueberries, raspberries, and blackberries to pick throughout the summer, depending on the berry, with both pints and quarts available. Once you're done with the picking, head to the farm stand to stock up on even more fruit, as well as veggies and pies.
Pick-Your-Own Berries in Columbia County
The Chatham Berry Farm – Chatham
You'll find lots of different berries at this farm—it has berry right in the name, after all—including blackberries, blueberries, and four varieties of raspberries, all grown without pesticides. The farm is open every day from 8am to 5pm.