Find the Perfect Catskills or Hudson Valley Brewery to Visit with Kids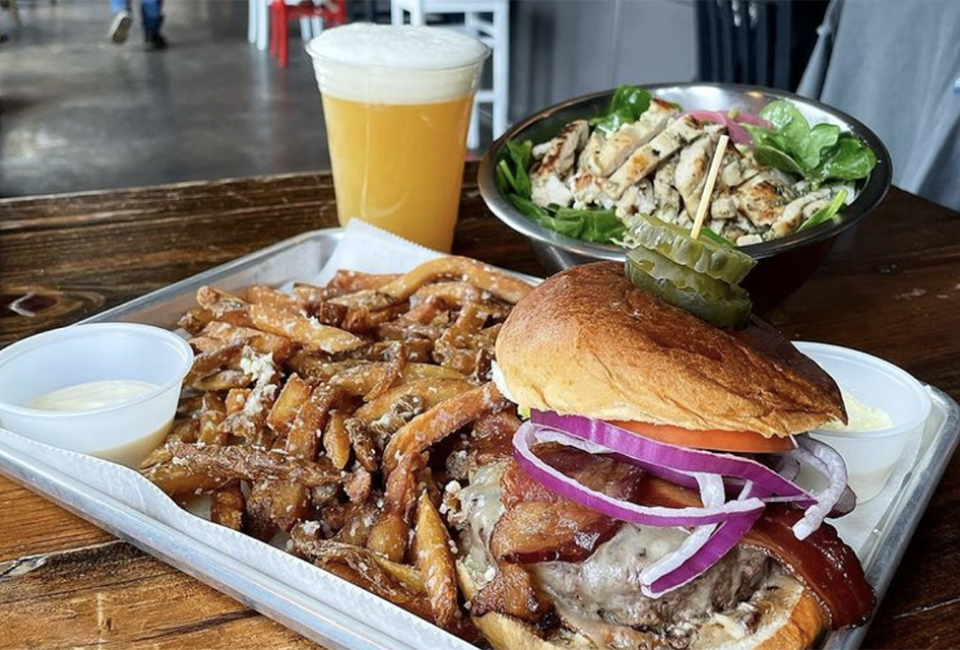 7/15/22
- By
Jody Mercier
With the dog days of summer upon us, parents may be dreaming of a cold brew—but where can you indulge alongside your kids? A family-friendly Hudson Valley brewery might be the answer. At these local taprooms and brewhouses, parents can enjoy locally brewed beers alongside kid-friendly perks like food truck fare, lawn games, and even enjoy some facetime with furry friends.
We've found 12 local breweries to visit in the Hudson Valley or nearby Catskills regions. If that's too far to travel today, consider supporting one of these local beer gardens or switch gears and visit a family-friendly vineyard or cider house nearby. Wherever your day takes you, cheers to a day of family fun.
Subscribe to our newsletters to get stories like this delivered directly to your inbox.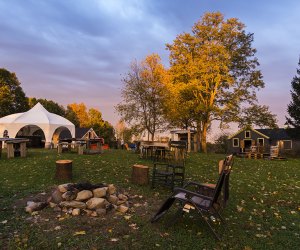 Plan Bee Farm Brewery is set on 25 acres of land and all its ingredients are harvested in New York state.
New York City transplants Emily and Evan Watson relocated to this 25-acre farm in 2015 and have since worked to perfect the art of local brewing. Currently, all ingredients at this Hudson Valley brewery are sourced from New York state suppliers, and many from their farm, where they cultivate yeast, grain, and hops on-site. The ultimate goal is to plant and process everything that goes into their beers. Visit the taproom on weekends, which is both kid- and dog-friendly, though keep in mind you'll be on a working farm. Kids are welcome to visit the friendly goats, chickens, and ducks. A communal toy box and lawn games invite hours of play. Kids can refuel with fizzy juices and popcorn. There's live music on the weekends, food trucks visit in high season, and guests are welcome to bring their own food, plus folding chairs or blankets to spread out on the grounds under the large shade trees or lounge at a picnic table.
This mom-and-pop Hudson Valley brewery specializes in mixed fermentation ales. Its operation is small, so at any given time, visitors can expect to find just one beer on tap, but you're guaranteed that whatever is being served is at its peak. The outdoor patio welcomes guests and food is mostly bring-your-own, though hand-made pretzels and other small bites are available.
True to its name, this Hudson Valley brewery cooks up some out-of-this-world flavors. Current releases include tastes as varied as Peach Guava Pop and a Girl Scout Cookie-inspired can of Samoa beer. No matter the flavor, the focus is on high ABV beverages made with fresh flavors. Sit down to dinner here with a full menu of American classics, including kid-pleasers like hot dogs, grilled cheese, and chicken tenders.
RELATED: 13 Kid-Friendly Outdoor Restaurants in Westchester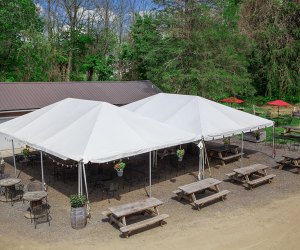 Obercreek Brewing Company offers plenty of fun and space to enjoy your brews at its outdoor patio area.
Nestled in the Obercreek Community, Obercreek Brewing Company brews an eclectic array of beers with an emphasis on local ingredients. Curious about what's on tap? Bookmark its now pouring page to find out before you visit. While there's a small indoor tap room, the real fun at this Hudson Valley brewery is outdoors. Take your seat at the picnic tables or bring your own chair. Light snacks are offered and food trucks visit occasionally. Kids and dogs are both welcome.
With a taproom, beer garden, and full-service restaurant, The Peekskill Brewery offers a variety of ways to visit. Its brews are known for their approachability, and it focuses on IPAs and sours. Kids enjoy noshing on its wood-fried pizzas, and hand-cut fries, or digging into a dessert menu that includes Nutella-filled zeppole and churros.
Beer and barbecue, what could be better? At Gentle Giant Brewing you can have both paired with dino-themed names. Order a Jurassic IPA or a Paleolithic Pils to wash down everything from double-cut, maple-glazed bacon to barbecue platters, cheesesteaks, sliders, tacos, dogs, and more. We especially love its dedicated kids' menu and family meal deals. If you're looking for a parent's night out, its jam-packed event calendar is a great jumping-off point.
RELATED: Family-Friendly Restaurants in the Rivertowns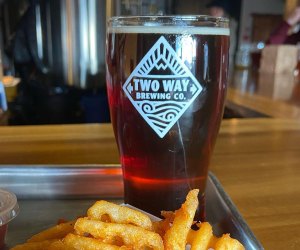 Two Way Brewing Company has a dedicated kids' menu to keep little ones happy while you sip.
Enjoy a rotating selection of eight microbrews on tap at Two Way Brewing Company. Its on-site taproom, patio, and game room have recently expanded hours to operate daily. Enjoy a menu from its neighbor The Flying Jib that's heavy on wings, snacks, and sandwiches, plus a dedicated kids' section with chicken tenders, mac and cheese bites, and waffle fries.
This hops farm-turned-brewery and distillery is a destination unto itself. Whether you choose to visit for sit-down, farm-to-table comfort food in The Apiary or dine alfresco in the open-air pavilion bar, all beer at this Hudson Valley brewery is brewed on-site with farm-fresh ingredients raised on its farm or nearby. The preservative-free method lends itself to a farmhouse-style beer with a flavor all its own. Food trucks cater the outdoor pavilion, where lawn games and more fun await. You'll likely cross paths with the friendly farm animals who call this spot home, too. If you prefer the hard stuff, consider purchasing the small-batch spirits that are the newest addition to the rotation and released in limited quantities as they're ready.
RELATED: Where to Enjoy Epic Desserts in Westchester and the Hudson Valley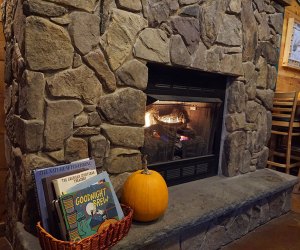 Tuck into a good beer and fireside storytime at Roscoe Beer Company. Photo by author
Where to Find a Catskills Brewery to Visit with Your Family
Troutown USA is the backdrop for this small-town brewery, which has plenty of character and a trout-stocked fish tank inside. Step outside to explore its spacious beer garden, with picnic tables, lawn games, and frequent family-friendly events. Kids aren't left out of the action here, either: We enjoyed a tasty root beer on tap when we visited. Eats include kid-pleasers like mini corn dogs, tasty house-cut fries, and plenty of sandwiches.
Honest, hardworking beer is the name of the game at this local spot—and to the proprietors, that means respecting the Catskills' environment it calls home. All brews are produced in a LEED-certified building where sustainable practices and pure Catskill water are front-and-center. Sprawling grounds are peppered with lawn games, Adirondack chairs, fire pits, and plenty of room to romp. A partnership with The Catskill Food Truck ensures yummy eats are never hard to find. If a day trip isn't enough, you can even stay overnight here at one of two Air BnBs on its property.
RELATED: 15 Family-Friendly Catskills Resorts for Your Next Weekend Getaway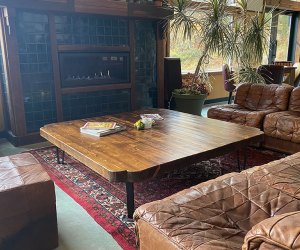 Upward Brewing Company sits at the foot of "Beer Mountain," and offers comfortable seating inside and on its sprawling grounds.
You'll find the upstart Upward Brewing Company at the foot of "Beer Mountain" in Livingston Manor. Nature is its backyard, and it draws spring water from its property to transform into its brews. Whether you enjoy your beers inside or out, the space is sprawling and touches like children's books and room to roam make it kid-friendly. Hike its trails in the summer or snowshoe them in the winter. A petit kitchen turns out a rotating menu of small plates.
Another farm-focused brewery in the heart of the Catskills, West Kill Brewery is headquartered on a 127-acre dairy farm. Its brews draw inspiration from the land, using maple sap and freshly picked produce to lend a local flavor to the final product. An outdoor tasting room is open year-round (and heated in winter!) and local food trucks visit on weekends. There's fun live music on select dates and kids and dogs are welcome. If you can't make it to West Kill, consider stopping by its Kingston Taproom.
Photos courtesy of the breweries