The Adventures of Tortoise & Hare The Next Generation
The Sheen Center

The Very Hungry Caterpillar Show
DR2 Theatre

NYC Easter Brunch Cruise 2023
Event Cruises NYC
Sign up for our free newsletters.
Horseback Riding in NYC: Lessons and Rides for Kids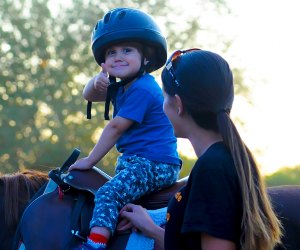 9/10/19
- By
Sonia Gonzalez
Horseback riding in New York City? You bet! While your NYC apartment probably won't accommodate a pet pony, you can indulge your child's love of horses without leaving town. There are several options for family-friendly horseback riding and grooming lessons, plus drop-in trail riding experiences for a unique way to experience the great outdoors in NYC.

Sadly, Claremont Riding Academy, the last remaining horse stable in Manhattan, closed in 2007 so there's no longer horseback riding in Central Park. However, there are stables in the other four boroughs that allow families to make like it's the Wild West.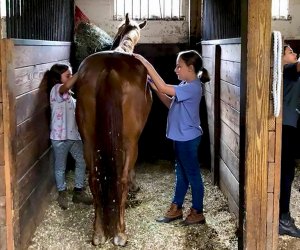 Kids get to help groom horses at Bronx Equestrian Center
Bronx Equestrian Center – Pelham Bay Park, the Bronx
9 Shore Road
Located in Pelham Bay Park, the Bronx Equestrian Center is great for even the youngest riders. The center offers pony rides every day year-round. A small fee gets you three rides on the grounds per child. Walk-only trail rides are also available for riders of all skill levels. The center offers riding lessons and educational programs for children ages 6 and up that include lessons in grooming, equipment, safety, and saddling.

Riverdale Equestrian Centre – Riverdale, the Bronx
Broadway at West 254th Street
This sprawling 21-acre center is located on the west side of Van Cortlandt Park in Riverdale. No drop-in horse or pony rides here; however, the spot does offer private and group lessons for children and adults, as well as an after-school program and summer camps.

Kensington Stables – Windsor Terrace, Brooklyn
51 Caton Place at East 8th Street
We did a dedicated post about this Brooklyn stable back in 2011, and it's still the accessible, community-based horseback riding center it was then. For little kids, Kensington offers pony rides that go up and down the block, no appointment needed and for a nominal fee. One-hour trail rides along a 3.5-mile bridle path in Prospect Park are also available for children 11 and up. Families with younger children who want to ride can request a grounds person to assist for an additional fee. Lessons are available for ages 6 and up in both English and Western riding styles.

GallopNYC – Forest Hills and Howard Beach, Queens
88-03 70th Road, Forest Hills
80-98 Linden Boulevard, Howard Beach
Specializing in therapeutic programs for children and adults with disabilities as well as veterans and at-risk youth, GallopNYC has two Queens locations—one in Forest Hills and one in Howard Beach. The Forest Hills location is a 30-horse barn near Forest Park with an indoor arena and party room. GallopNYC Sunrise Stables in Howard Beach features an outdoor arena and large stables. In addition to its therapeutic programs, GallopNYC offers limited opportunities for public riding and free horse education programs on a first-come, first-served basis. The public sessions help fund scholarships for GallopNYC's therapeutic programming. So while your little one is having fun and learning riding skills, you'll feel good knowing you're helping a worthy cause.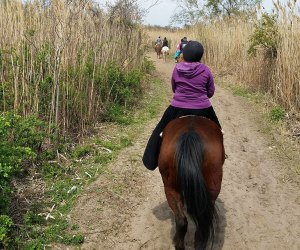 Jamaica Bay Riding Academy.
Jamaica Bay Riding Academy – Mill Basin, Brooklyn
7000 Shore Parkway
This family-owned riding center in Brooklyn offers a host of riding experiences including group trail rides for ages 13 and up, private trail rides for ages 6 and up, and pony rides for ages 8 and under. There are also Club Rides for experienced riders who want to take a horse out without an instructor or guide. Check the academy's website for a complete price list.

Get Over It and Ride – Charleston, Staten Island
2498 Veterans Road West
This Staten Island horse boarding facility also offers riding lessons. Children as young as one can hop on a pony while kids three and up can start to learn to ride horses. Lessons are by appointment only and are usually private unless you can get a group of two or more together. Call 917-500-2315 for more info.

Want to take a ride out of town? Find out where to go horseback riding in New Jersey and on Long Island.
Photos courtesy of the stables/academies