Visiting Belmont Park with Kids: A Guide to the Best Things To Do
4/21/23
- By
Jody Mercier
Belmont Park makes for a charming destination for an old-fashioned family-friendly day trip. Located in Elmont, New York, this thoroughbred horse racing track is centrally located for families traveling from New York City and Long Island, and yet a day at the races is far from an ordinary outing.
My mom grew up as a certified country girl, riding horses and watching the rodeo circuit, and though she—and I—have raised a family of city kids, I try to keep my kids connected to our country roots. Spending a day admiring the horses at Belmont Park is one of our favorite you're-not-in-NYC-anymore outings.
Belmont Park receives tons of attention on the second Saturday in June when the Belmont Stakes—the final leg of racing's Triple Crown—brings the top racehorses to its starting gates, but its racing season debuts in early May and runs through mid-July each year. From food trucks to fillies, here are all the fun things to do during a family-friendly day trip to Belmont Park. Our Guide to Local Farms and Pick-Your-Own Produce offers even more agritainment for families.
Subscribe to our newsletters to get stories like this delivered directly to your inbox.
History of Belmont Park, NY
The bucolic grounds at Belmont Park, which opened for horse racing in 1905, cover 430 acres. In addition to the well-known 1½-mile track, Belmont has two inner turf tracks, plus a training track and a pony track. The infield paints a nostalgic scene, complete with a duck pond and grassy meadow, and you'll find yourself wondering how you're so close to a major metropolis as you gaze across the tree-lined horizon.
You can catch a number of live races, which vary in length, most Thursdays through Sundays during the spring meet. An annual fall meet is usually held at the race track, too, though the 2023 fall meet, like the 2022 one, will be moved to Aqueduct Race Track in Queens to allow for further upgrades to Belmont Park.
RELATED: 7 Things to Love About the Queens County Farm Museum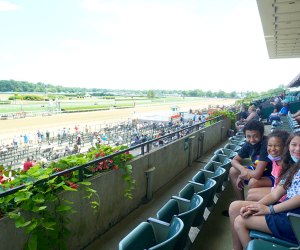 On a typical race day, there are plenty of seats to choose from in the grandstand, and most of the park is open to visitors with general admission tickets.
Best Things To Do at Belmont Park, NY
Watch Live Horse Racing
The main attraction at Belmont Park is undoubtedly on the track. On most race days, guests can wander the stands and grounds and watch from a number of different vantage points with a single general admission ticket. When the horses are running on the main track, there's no better spot than standing along the railing near the finish line and watching the hooves thundering past.
The Grand Stand Seats provide a better view for races on the inner tracks and are also a great vantage point to see the choreography that gets a race off the ground, too! Watch the tractors pull the starting gates into place and pull away as soon as their occupants take off.
RELATED: Best Petting Zoos near NYC for Kids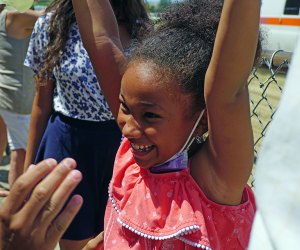 Only parents can place a bet, but everyone will cheer when you pick a winner!
Place a Wager
When you get to Belmont Park, make sure to pick up a copy of the Daily Racing Form, which acts as your program for the day and also lists the opening lines for all the races, then take your chances betting on the horses. Having a literal horse in the race ups the ante on the fun.
You can review the New York Racing Association's horse betting primer before you go, or even take a how-to course at the track. You don't have to be a high-roller to have fun: The minimum bet is just 10 cents on most races.
RELATED: Visiting Long Island's White Post Farms: 15 Things to See and Do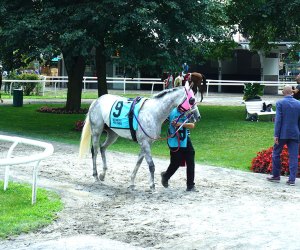 Before they're saddled for the race, admire the horses circling The Paddock.
Explore The Paddock
Animal lovers are drawn to The Paddock, behind the grandstands where you can admire the horses as they get ready to run. It's fun to see these magnificent animals up close, as they're paraded around before post time. You'll see the jockeys milling around here, too, in the brightly-colored silks that signify each horse's owner. Before long, it's riders up and the post parade is on, with the horses being guided under the grandstands and onto the track to get ready to run.
Play in The Backyard
Beyond the horses, there's plenty of space to wander and explore. On most days, you'll find food trucks parked here, plus vendors selling everything from photographs to jewelry, and more.
There are picnic tables and plenty of space to spread a blanket and enjoy a bite to eat—we love that Belmont Park lets visitors bring in small coolers of food and drink for their day at the races, which makes an outing here much more budget-friendly when compared to your typical pro-sports stadium!
Family Fun Days
Select Saturdays are dubbed Family Fun Days, and Belmont Park brings in tons of kid-friendly entertainment. The Backyard is taken over by activities like pony rides, petting zoos, live DJs spinning tunes, bouncy houses, arts and crafts, carnival games, and more. Most of the fun is included in the cost of admission.
Eating at Belmont Park
There are a pair of formal restaurants in the Belmont Park stands. You can book reservations for the Garden Terrace to enjoy a lunch buffet any day of the season. The posh Belmont Room offers a view of the finish line and comes with a premium price tag.
There are also concession stands situated under the grandstand, which offer kid-pleasers like pizza, chicken fingers, fries, and plenty of water, soda, and beer. If you spend a whole day—in the summer sun, in particular—it all adds up quickly.
Patrons with general admission tickets can bring in coolers no larger than 12-by-6-by-12 inches and enjoy their food in The Backyard Picnic Area, though pack carefully: Only cans, plastic bottles, and non-alcoholic beverages are allowed.
If you'd like to bring a bigger spread, consider getting a group together to book tickets for the Top of the Stretch Picnic Area, where you'll have access to charcoal grills and can even bring in your own alcohol.
Is There a Dress Code at Belmont Park?
While not a requirement, the horse-racing crowd traditionally tilts toward formality, so if you really want to get into a day at the races, don your Sunday best and top it all off with an ornate hat! The Belmont Stakes is a particularly fancy affair, and there are certain eateries within the track that do have dress requirements. Those dress codes apply to all visitors ages 12+. Our last visit was a sweltering July day, so we opted for comfort! Closed-toed shoes are a good idea, though.
RELATED: Sports Outings on Long Island: Cheap Places to Catch a Game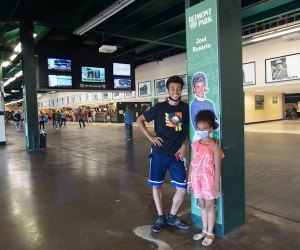 Pose next to a life-sized jockey photo underneath the grandstands at Belmont Park, NY.
Know Before You Go to Belmont Park
General admission tickets for most race days are $5 and can be purchased at the box office upon arrival.
Belmont Park, NY, is accessible via the Long Island Rail Road to Belmont Park. The train platform leaves you steps from the box office and in the shadow of the new UBS Arena.
There is paid parking on the grounds. Cash is not accepted, so be prepared with a credit or debit card.
Likewise, most transactions at the park are now cashless, including at the concessions area and box office.
Originally published in 2015. Unless noted, all photos by author
Places featured in this article:
t Click Here to Sign Up!