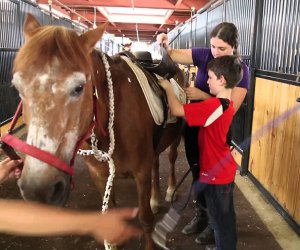 Horseback Riding Centers for Kids on Long Island
There are plenty of benefits for kids that take up horseback riding. Imagine your child bonding with one of these magnificent creatures while also improving his or her confidence by working effectively to communicate with the horse. With continued lessons and riding, kids can also learn responsibility, caring for their trusty steed.
We've rounded up 10 of the best equestrian centers in Nassau and Suffolk counties open to the public. These offer a variety of services, including pony rides, trail rides, weekly lessons, and even on-site birthday parties. When visiting one of the stables for pony or trail rides, it is important to dress appropriately. Helmets are provided. Boots are preferred, but sneakers are usually acceptable. Call ahead to check on rules and regulations.
For more outdoor activities, check out our guide to Long Island family fun and our seasonal activities guides, including our roundup of spring entertainment options.
Nassau
Bethpage Equestrian Center — Old Bethpage
499 Winding Road
Bethpage Equestrian Center offers trail rides, lessons, and leasing. Group trail rides are available for ages 12 and older. The center can also host your child's next birthday party, which can include pony or trail rides (depending on age), and other festivities. Therapeutic riding sessions to encourage socialization, flexibility, mobility, and more are also offered.
Horseability — Old Westbury
SUNY Old Westbury campus
HorseAbility offers a year-round therapeutic riding program for those with special needs in both private and semi-private environments. Most students begin with private lessons to ensure a solid foundation in basic skills.
New York Equestrian Center — West Hempstead
633 Eagle Avenue
For a fun day trip, children 13 and older are welcome at NYEC, where they can enjoy an hourlong trail ride led by an experienced handler over a 775-acre property that runs along Hempstead Lake State Park. New York Equestrian Center also offers private English and Western lessons for beginner through advanced levels. It is suggested all beginners take 30-minute private lessons to start. NYEC also hosts Pony Parties at the Ranch for all ages up to 30 people. An on-premises indoor facility provides for year-round riding.
RELATED: The best animal farms and petting zoos on Long Island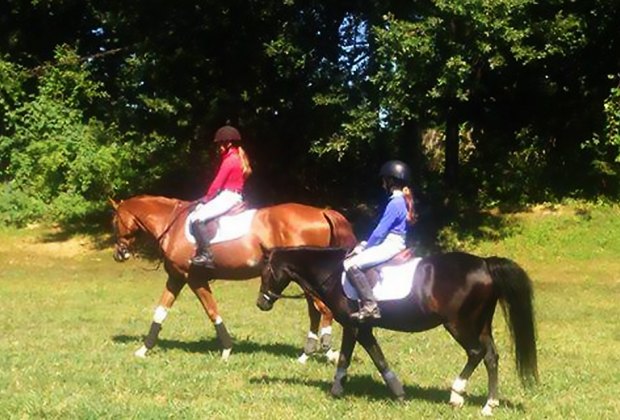 The Red Barn offers programs for kids of all ages and ability levels. Photo courtesy of The Red Barn
The Red Barn — Old Brookville
​1009 Cedar Swamp Road
This full-service equestrian center offers boarding and individual and group lessons. From first-time riders to riders training for competitions, the Red Barn has a program for most. Children ages 4-5 who wish to interact with the animals and ride safely can enjoy the Pony Time program. The historic red barn dates back to the 1700s, but the facilities are state-of-the-art. A six-week summer camp is also available.
Suffolk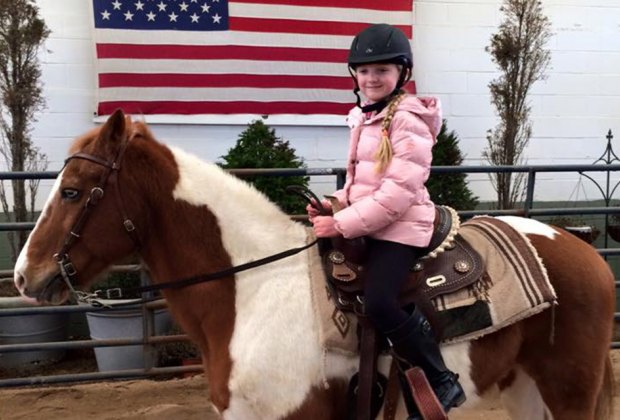 Learn to care for, groom, and ride your horse at Babylon Riding Center. Photo courtesy of center
Babylon Riding Center — West Babylon
1500 Peconic Avenue
Nestled on 460 acres, Babylon Riding Center offers lessons, leases, boarding, camps, trail rides, and more. Children can even have their birthday parties on site: Those 6 and younger have riding instruction, while ages 7 and older enjoy ride and groom.
Country Farms Equestrian Center — Medford
200 Bellport Avenue
Country Farms Equestrian Center offers private, semiprivate, and group lessons. Country Farms also has a birthday party package where 10-15 partygoers receive a tour of the facility and have the opportunity to meet all of the horses and ride one. Country Farms holds summer camps for children who have taken a minimum of 5½ hours of private lessons.
Greenlawn Equestrian Center — Greenlawn
29 Wood Avenue
Pony rides are a great introduction to the sport for young children, and Greenlawn Equestrian Center offers the Pony Pals for Toddlers program. A parent is welcome to walk along the trail with the rider. Greenlawn Equestrian Center offers private, semiprivate, and group horseback riding lessons for children and adults. Lessons are offered in 30-, 45-, and 60-minute sessions. The birthday party package includes horse or pony ride, horse-care grooming lesson, a craft project of creating a photo frame from a real horseshoe (cleaned and painted of course), a photo taken with the horse for each child, and a pizza lunch.

Nativity Riding Academy — Ridge
11 Ruth Lane
Nativity Riding Academy offers guided trail rides for kids of all ages. Children have the opportunity to participate in a tacking and grooming session and even feed the horses some carrots before or after the ride. Birthday parties give all your guests the opportunity to fall in love with their pony.
RELATED: Family-friendly hiking trails on Long Island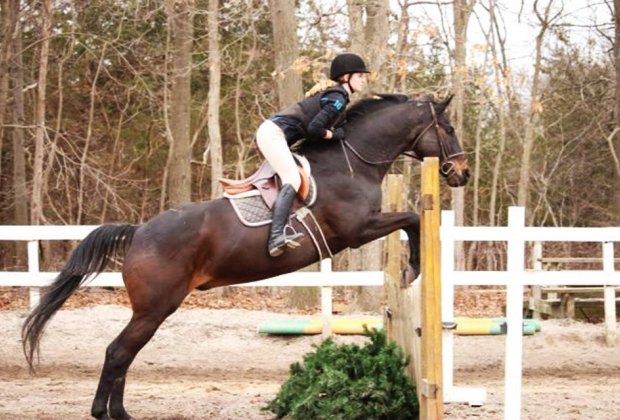 Enjoy a fun ride or train for competition at Olde Towne Equestrian Center. Photo courtesy of the center
Olde Towne Equestrian Center — Selden
471 Boyle Road
Riding lessons for children as young as age 2 are available at Olde Towne Equestrian Center. Offering both private and group lessons for beginners to advanced riders, this equestrian center has a lighted ring, two sand rings, and a grass hunt course. Children learn to care for horses as well as how to ride. Camps are offered in the summer.

Thomas School of Horsemanship — Melville
250 Round Swamp Road
Thomas School of Horsemanship offers English riding lessons from age 3 to adult. An indoor arena allows the school to offer lessons to riders year round. Each child is guided by both a certified instructor and an assistant instructor. Children learn how to groom and tack horses, as well as how to ride. The school also hosts birthday parties. Parents provide the cake, food, paper supplies and decorations, and the folks at Thomas School of Horsemanship handle the rest.
This post was originally published in 2015. It was updated in April 2018.