Brooklyn Botanic Garden Shines Brightly With Lightscape
11/24/21
- By
Rosalind Muggeridge
If you're looking for the perfect holiday family outing, search no further: The Brooklyn Botanic Garden's after-dark, immersive display Lightscape does not disappoint. You'll want to snag tickets now for this glittering holiday lights display and prepare yourself to be wowed.
Subscribe to our newsletters to get stories like this delivered directly to your inbox.
Celebrating the beauty of nature in the wintertime, the site-specific show—a version of which premiered in 2014 at the Royal Botanic Gardens in London—has sold out every year in the U.K. My daughter and I recently visited, exploring the enchanting one-mile path, which winds its way through the garden offering dazzling surprises at every turn.
RELATED: Holiday Lanterns and Light Shows in NYC for 2021

The Brooklyn Botanic Garden's collection is illuminated with a rainbow of colors in Lightscape.
Featuring more than 1 million twinkling lights, the trail showcases more than 18 original works of art—by local and international artists—beginning with the majestic Pampas and White Peonies sculptures by French studio TILT. My daughter especially loved the next piece along the way, the whimsical Wish Tree, where guests can use their phones to scroll their hopes and dreams on hanging "leaves." Further along, at the Japanese Hill-and-Pond Garden, Laser Fog beams rays of light across the water, taking the surface reflection with them as they create shapes that seem to float into the sky.
As the path continues, the Winter Cathedral slowly emerges from the darkness until a brilliantly illuminated 100-foot tunnel is revealed. Visitors enter through a traditional Gothic archway and walk through to the other side, all while experiencing the glow of tens of thousands of individual lights.
RELATED: Best Holiday Train Shows in NYC for Kids: NYBG Train Show and Beyond

Flickering, real flames bring the Fire Garden installation to life.
My favorite installation, Fire Garden, features an area filled with metal sculptures holding dozens of candles lit with real fire. The whole scene is accompanied by soft, seasonal music creating an incredibly beautiful and peaceful atmosphere.
Two concession stands along the way offer snacks and hot drinks—and adults can opt to add a bit of additional cheer. Guests can also purchase s'mores kits to roast at one of three fire pits.
RELATED: Guide to Christmas and Holiday Events in New York City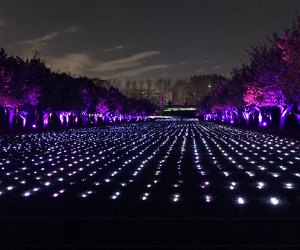 The Brooklyn Botanic Garden's famed Cherry Esplanade comes alive with Sea of Light during Lightscape.
The trail ends with the show-stopping Sea of Light, an animated light show timed to holiday music and covering the famed Cherry Esplanade. Be sure to climb the path to the Robert W. Wilson Overlook for the best views.
At the end of the night, my daughter and I walked slowly out of the darkness and back into the glow of the city's lights, already planning our return.
Know Before You Go to Lightscape at BBG
Lightscape runs through January 9, 2022.
Tickets must be purchased in advance; some days are already sold out.
Entry times are staggered to avoid crowding.
The trail begins at the Visitor Center at the Washington Avenue entrance and exits at the Eastern Parkway entrance.
Strollers are allowed; bikes and scooters should be left at home.
Unless noted, photos by the author
Places featured in this article:

Sign up for our free
newsletters.
Mommy Poppins is a family activity website that helps people find things to do with kids.
©
2023
MommyPoppins. All Rights Reserved.
mp-prod4-v4.32.99
We use cookies and other data collection technologies to provide the best experience for our customers.
Learn More
t Click Here to Sign Up!