Historic Mansions for Westchester Kids: Step Back in Time with Interactive Fun for Westchester Families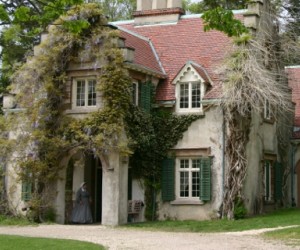 Historic mansions may not be the first thing kids (or their parents) think of when planning a fun-filled outing, but take a closer look. Westchester County is home to several historic homes that offer visitors more than just a glimpse into the past. Many have dedicated kids programming, annual and seasonal events, fairs and festivals and stunning displays and exhibitions. We've covered many of these events on Mommy Poppins, including the debut of Lightscapes, and the annual Sheep-to-Shawl and Great Jack O'Latern Blaze at Philipsburg Manor.
Now we've got the scoop on six historic mansions throughout Westchester that are worth checking out with the entire family. These architecturally stunning homes have been restored or maintained throughout the years (and in some cases, centuries) and offer a peak into prominent, wealthy family life (in the case of the Rockefellers), colonial life during the 18th century and so much more, as well as interactive programming that brings history to life in fun, educational and unforgettable ways.
Lyndhurst - Tarrytown
635 South Broadway
(914) 631-4481
Built in 1838 and overlooking the Hudson River, this gothic revival mansion has been inhabited through the years by numerous well-known figures such as railway tycoon Jay Gould and former NYC mayor William Paulding. The home is open for tours Friday-Monday and the grounds are open everyday. Weekend grounds charges may apply so call ahead or check their website to plan your visit. In addition, Lyndhurst hosts many events throughout the year including concerts, theater events, exhibits, lectures and their annual famous crafts fair sure to attract the entire family.
Washington Irving's Sunnyside -Tarrytown
3 W Sunnyside Lane
(914) 631-8200
Sunnyside, pictured above, has been charming visitors for years, telling the tale of the storied Washington Irving and how he rose to become America's first internationally famous author, most well-known for The Legend of Sleepy Hollow. Hear Irving's life story as told by tour guides dressed in traditional 19th century garb, surrounded by beautifully landscaped gardens and stunning views of the Hudson River. Families can enjoy From A Child's Perspective, tours specifically designed to entertain even the smallest spectators. Of course, one of the biggest draws comes every October with The Legend that is the 'Legend' and several other events such as spooky walks, a shadow puppet show and much more.
Kykuit: The Rockefeller Estate - Sleepy Hollow
381 North Broadway
(914) 631-8200
This architectural gem was once owned by four generations of the Rockefeller family. Now this historic site is open to the public. Enjoy the expansive gardens while taking in the incredible views of the spectacular Hudson Valley. Tour the six story stone house then wander through the incredible 20th century art garden, full of sculptures featuring works by Picasso, Warhol and many other famous artists.
Philipsburg Manor - Sleepy Hollow
381 North Broadway
(914) 631-8200
Looking for a way to experience life in the colonial north during the 18th century? Visit Philipsburg Manor for hands-on activities such as threshing wheat, shelling beans or producing a tray of ship biscuits. Explore the foodways, textile production techniques and medicinal practices of past inhabitants of the Manor. Tour the 300 year old manor house and get a feel for everyday life in that time. In addition there are various family-friendly events held year round such as Sheep-to-Shawl, CORNucopia, and the very scary Horeseman's Hollow Haunted House in October (not suitable for young visitors).
Van Cortlandt Manor - Croton-on-Hudson
525 S Riverside
(914) 631-8200
The Van Cortlandts were one of New York's most prominent families of the late 1700s and at times found themselves in the crosshairs of many social and political debates of their time including religious changes and, as slaveholders, controversy over emancipation. Learn all this and more during a tour of these incredible grounds, including a garden with rare heirloom plants and one of the country's largest and best-equipped 18th century kitchens. This past spring they debuted a new exhibit, Lightscapes--an incredible nighttime display of light, sculpture, sound and special effects. In October and November, families won't want to miss the annual Great Jack O'Lantern Blaze featuring over 5,000 hand-carved illuminated pumpkins configured in the most elaborate, breathtaking displays imaginable. This event is truly not to be missed!
Glenview Mansion - Yonkers
Hudson River Museum, 511 Warburton Avenue
(914) 963-4550
This historic house sits on the grounds of the Hudson River Museum, where several rooms of the mansion have been restored to reflect the lifestyle of its turn-of-the-20th-century residents. Glenview offers a wide array of fantastic kids programming including family art and science projects on the weekends, as well as a special Sunday event, "Tea at Three", where children can participate in a make believe tea party as they learn about the Victorian family who inhabited the mansion 100 years ago.
Check out our Rivertowns Neighborhood Kids Guide for more things to do in these towns overlooking the Hudson River!
Photo compliments of Historic Hudson Valley.