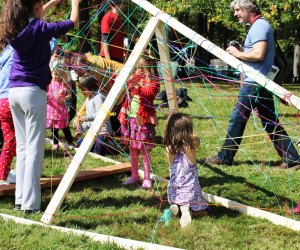 Museums with Cool Kids' Programming in Westchester and the Hudson Valley
While there are many fantastic family-friendly museums and exhibits in New York City, you don't necessarily have to travel to NYC for an enriching cultural outing. We've rounded up 11 museums right here in Westchester and the Hudson Valley that offer lots of stimulating fun, in subjects ranging from fine art to firefighting.
All of these museums offer family programs that allow kids (and grown-ups) to explore and learn about the collections by engaging in a variety of hands-on activities. Best of all, a lot of these programs are free with museum admission—and many of the museums themselves offer free admission to children under a certain age. Don't forget to check with your local library to see if it offers free passes.
Read on for more about these cultural gems, which make for great family day trip destinations.
Westchester
Hammond Museum & Japanese Stroll Garden – North Salem
$5 for adults; free for kids under 12
The meticulously constructed gardens are a serene and contemplative place full of enchanting beauty. Children will enjoy following the meandering path through the plants, sand, water and rocks. Inside the museum, frequently changing exhibits explore the connections between eastern and western cultures. Throughout the year, family-friendly events and programs further this exploration through music, dancing, art and hands-on fun. Open from April–November.
Hudson River Museum – Yonkers
$7 for adults; $4 for children ages 3-18; free for kids under 3
At this lovely museum overlooking the Hudson River, you'll find art galleries full of beautiful, diverse, and thought-provoking exhibitions year-round, notably Red Grooms' The Bookstore, a permanent immersive pop-art installation. Other highlights include the historic 19th-century Glenview Mansion; the hands-on, interactive Hudson Riverama; and frequent family events and workshops, like hands-on art projects and kid-friendly gallery tours. The museum's amphitheater hosts outdoor entertainment during nice weather, and the Andrus Planetarium has many shows geared toward ages 4 and up.
Hudson Valley MOCA – Peekskill
$10 for adults; $5 for kids 8 and up; free for kids under 8
Formerly known as Hudson Valley Center for Contemporary Arts, Hudson Valley MOCA showcases contemporary exhibitions it describes as "challenging"—and some of the work might be a bit heavy for smaller children (e.g., the upcoming exhibition of dystopian paintings). Take the younger set to Drop in and Create, a weekly workshop for children, families, and visitors of all ages. Free with admission.
RELATED: 5 Inspiring Firefighter Museums Near NYC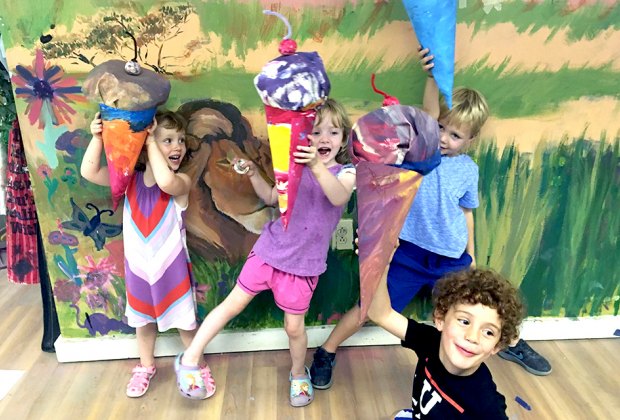 Kids can make art of their own at the Katonah Arts Center.

Katonah Museum of Art – Katonah
$10 for adults; free for kids under 12
Nestled in scenic Katonah, this art museum features dynamic exhibits for art lovers of all ages; a serene outdoor sculpture garden; and series and workshops for children, like Sunday Family Days, School's Out/Art's In, and Stroller Tours for parents with infants. Best of all is the museum's Learning Center, an exhibition space and drop-in activity center aimed specifically at kids. The museum also offers children's party packages.

Neuberger Museum of Art – Purchase
$5 for adults; free for children under 12 and for all the first Saturday of every month
**As of July 3, 2019, the Neuberger will be closed for renovations for the remainder of the summer. In addition to its beautiful exhibitions, the Neuberger hosts the monthly Open Studio for Kids series. Geared toward ages 5-10, the workshops give kids the chance to make art based on artists and exhibitions that are on view in the museum. There is a $15 fee for non-members, and registration is required.
Westchester Children's Museum – Yonkers
$7.50 for adults and children; FREE for babies under 1
In addition to kid-focused exhibits and activities like Toddler Beach, Makerspace, and plenty of building and design challenges, Westchester Children's Museum offers many programs geared toward various age groups, including Rhyme and Read (3-5), Museum Minis (18-24 months), Young Discoverers (2-5), and Exploring Play (2-4). On the first Saturday of the month, all ages are welcome to drop in for an arts workshop led by fine arts and crafts specialists.
Hudson Valley
Dia:Beacon – Beacon
$15 for adults; $12 for kids 12 and up; free for kids under 12
Housed in a sprawling former Nabisco box factory, DIA: Beacon is an art museum and exhibition space that showcases imposing, large-scale artworks from world-renowned artists like Richard Serra and Louise Bourgeois. Though the space is cavernous, it's not ideal for running and the staff is known to keep a close eye on young visitors, so this outing might be better suited for older kids. If you are bringing younger kids, your best bet is to go on the second Saturday of the month for Saturday Studio, a free family workshop geared toward ages 5 and up. Families who participate get free admission to the museum for the day.
FASNA Museum of Firefighting – Hudson
$10 for adults; $5 for kids 3 and up; free for kids under 3
With more than 50,000 square feet of fire equipment, gear, and, memorabilia from the past to the present, the FASNY Museum of Firefighting is a great place for the entire family to learn how firefighting has evolved over the past 300 years. The museum's collection features artwork, antique fire engines, and a variety of firefighting equipment. You can explore a replica of a firehouse from the 1800s, and kids 3 and up can test their firefighting mettle in an interactive Junior Firefighters' Challenge. There are also two video kiosks where firefighters answer some of kids' most common questions about firefighting and fire safety. Free Super Saturdays are held once a month, featuring fun kids' events and FREE museum admission. Registration is required for some of the programs.
Hudson Highlands Nature Museum – Cornwall
$5 for ages 3 and up
Located about an hour from central Westchester, Hudson Highlands Nature Museum makes for a great weekend day trip. It consists of two locations—the Wildlife Education Center (WEC) and the Outdoor Discovery Center (ODC). The indoor WEC is home to many native animals, including rabbits, turtles, fish, owls, and crowd-favorite Edgar the crow. Meet-the-animals sessions are held Saturdays and Sundays at 1 and 2:30pm. At the ODC you'll find the visitors center and gift shop, hiking trails, the Grasshopper Grove nature playground, and many of the nature programs.The museum's extensive programming includes weekend nature programs, maple sugar tours, and more.
Mid-Hudson Children's Museum – Poughkeepsie
$10 for adults and children; free for babies under 1
This museum is all about kids, of course, and it has tons of family programming, as well—from drop-in programs to special workshops. Family Free Night is held from 5–8pm on the third Saturday of each month at the MHCM. And on the second Friday of the month, it's My Grandparent and Me Day, when grandparents get in free as well.
RELATED: Free Museum Days in Westchester and the Hudson Valley

Enjoy art in the great outdoors at Storm King Art Center. Photo by Janet Bloom
Storm King Art Center – New Windsor
$18 for adults; $8 for kids 5-18; free for kids 4 and under
This 500-acre outdoor museum offers programs for children and families every Saturday at 1pm, from May–November. Led by artists, conservators, arts educators, and environmental educators, these hands-on workshops welcome participants of all ages, and no registration is required.
Unless noted, photos courtesy of the venues
Originally published in 2013.