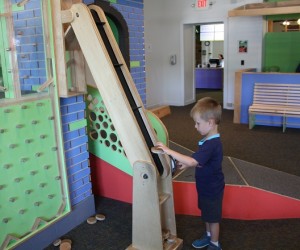 Mid-Hudson Children's Museum: Interactive Play for Little Ones
Lower Hudson Valley is a wonderful place for kids and families. From laid back fun like drive-in movie theaters to an impressive outdoor sculpture park, there is so much to see and explore. We recently wrote about the Hudson Highlands Nature Museum, a fantastic summer outing for local residents or an easy day trip from Westchester. Now we're taking a closer look at the Mid-Hudson Children's Museum. Located in Poughkeepsie, this interactive space is aimed at kids under age 6 and covers many themes including science, art and community through vibrant and engaging exhibits. Not surprisingly, my 4-year-old son loves this place! We've got details on what to expect and tips to get the most out of your visit.
Within walking distance of the Poughkeepsie Metro-North Station and the Walkway Over the Hudson, the Mid-Hudson Children's Museum (MHCM) is situated on the banks of the Hudson River. Naturally, the museum brings its picturesque setting directly into the exhibits, with a wooden train greeting you at the front door and a massive train table and an interactive train station on the first floor. The exhibit, known as Early Learning Junction, is designed for children 4 and younger. The room features translucent tubes with forced air, allowing children to stuff colored scarves into them to see where they end up. A long, narrow reading nook with comfy benches and a vast variety of children's literature is a cozy place to settle in for a bit.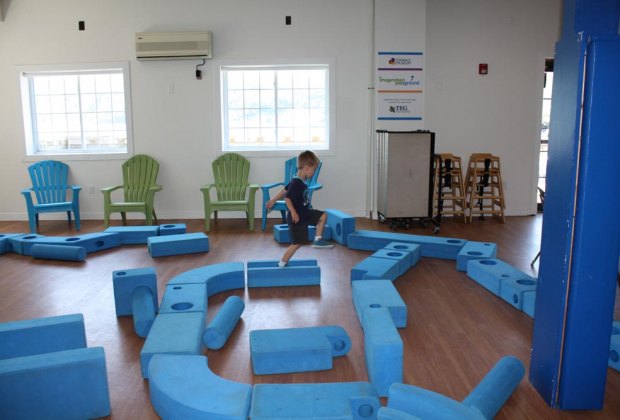 My son loved the giant blocks in the Imagination Playground.
Next to the Junction is the Imagination Playground exhibit, which consists of about a hundred giant blue foam blocks and cylinders that can be used for free-form building. This area is also the designated Snack Zone. You are welcome to bring food and drinks into the museum, but this is the only place you are permitted to eat. A vending machine offers snacks and drinks falling on the healthier side, such as popcorn, Kashi bars, and fruit pouches, as well as bottled water, juice, and milk boxes. There is no cafe at MHCM.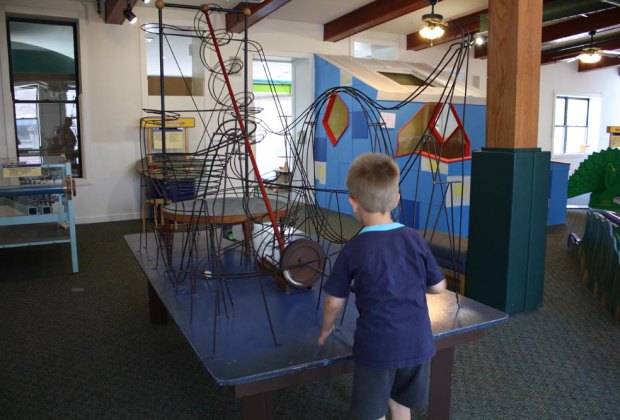 My son was enthralled.
Other exhibits on the first floor include Rivertown, which hosts the kid-favorite grocery store and kitchen found in many children's museums (and still beloved by my preschooler); an interactive fire truck with a cool enclosed ladder that kids can climb; a builder area with hard hats, tools and pipes; and Caroline's Baby Zone for non-walking infants.
An arts and crafts area provides space for hands-on activities, both scheduled and impromptu. Some activities are included with the admission price (like the paper bag puppet my son made), while others may charge an additional fee.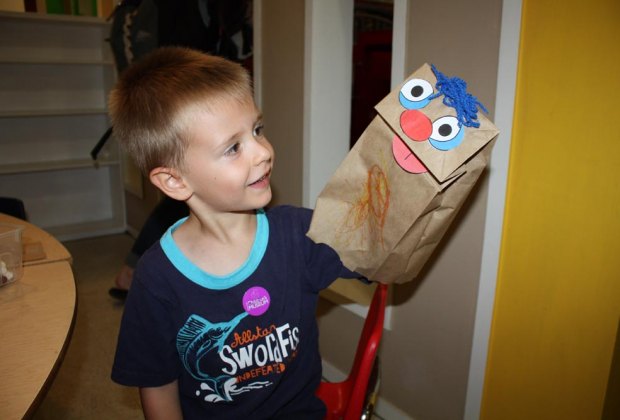 Making the paper bag puppet was included in our admission.
The second floor of the museum is home to the Wonder Dome, a darkened enclosed area with a variety of tasks that play on both light and building. The Fun 2, 3, 4 exhibit is a series of math-focused stations, while the Hyde Park Mastodon is a 12-foot replica of (you guessed it) a mastodon that has been transformed into a play structure. Stations with plenty of different building toys, including Magnatiles, Magformers, and oversized Legos round out the museum's attractions.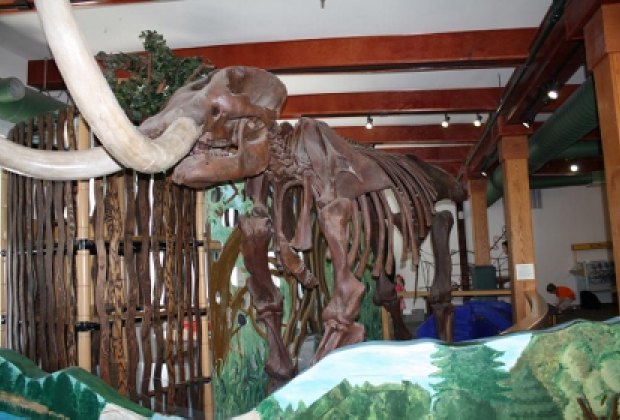 Kids can climb up the Hyde Park Mastodon and then slide down.
A few things to know about MHCM
Although there are quite a few different exhibits, they are all quite small, especially if you're used to the Children's Museum of Manhattan. The museum can get crowded on rain or cold days, and seating for adults can become limited.
As mentioned above, MHCM is aimed at kids ages 0-6 and that seems about right. While my 8-year-old would have busied himself with the many building stations, he would likely have lost interest after an hour or so, while my 4-year-old could have stayed all day.
Bathrooms with changing tables are located on each floor of the museum. A gift store at the front desk offers STEM kits and exhibit-based toys.
There is a fee to park though the museum does validate parking. If the lot is full, free parking is available at Waryas Park, about a three-minute walk from the museum.
Mid-Hudson Children's Museum is located at 75 North Water Street. Hours are Monday through Saturday from 9:30am to 5pm and 11am to 5pm on Sundays in July and August; it's closed on Mondays the rest of the year. Admission is $10 (babies under 1 are free). Take note: The museum stays open until 8pm the third Saturday of every month and admission is FREE from 5-8pm! Many libraries (including Beacon's Howland Public Library) also offer free passes that can be checked out. In addition, a discounted admission of $2 per person is available for low-income families with a valid EBT card and photo ID.
Check out all our posts on exploring Lower Hudson Valley with kids.