Dutchess Daytripping: 15 Things to Do with Kids in Poughkeepsie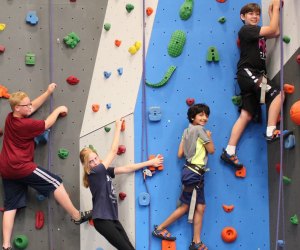 Nestled next to the Hudson River, the bustling little city of Poughkeepsie—and the surrounding town with the same name—is packed with family-friendly destinations. This Dutchess County destination is located an hour's drive from White Plains and about 90 minutes from the George Washington Bridge, and it's also easily accessible via Metro-North.
We've rounded up some of our favorite things to do in Poughkeepsie, with both indoor and outdoor options to suit any type of day trip.

Looking for more family fun? Sign up for our newsletters, check out our Event Calendar, and follow us on Facebook!
1. Trek across the 212-foot-high Walkway over the Hudson, hailed as the longest elevated pedestrian bridge in the world. Open year-round, the 1.28-mile Walkway provides stunning views of the Hudson River and surrounding landscapes.
2. Bring your preschoolers to the Mid-Hudson Children's Museum. With its standby Rivertown play area, regularly updated exhibits and ongoing events, this hands-on museum is perfect for the younger set.

3. Nathan who? Experiment with the gourmet hot dogs at Noshi's Coney Island. Try the specials!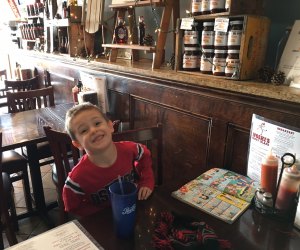 Noshi's has burgers and dogs to suit any taste. Photo taken by the author.

4. Stock up on crafting supplies and peruse the interesting gifts at Catskill Art & Office Supply.

5. Mix artistic creativity with interactive playtime at Poughkidsie, this combination art studio and indoor play space. It's a wonderful option for parents with kids of different ages.

6. Bounce off the walls at Bounce! Trampoline Sports.
7. Indulge in the zomg-delicious treats and gourmet ice cream at The Pastry Garden.

8. Bring the family to a walk-in climbing session at The Gravity Vault.

9. Race the "these aren't your father's go-karts" at K1 Speed.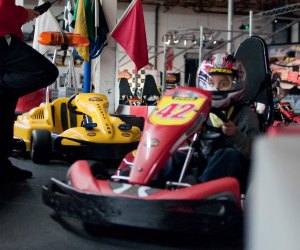 Get your speed fix at K1. Photo credit: Zach Zupanic via Flickr
10. Celebrate the maker movement at the annual Mini Maker Faire at the Poughkeepsie Day School.
11. Catch a flick with the entire family—including Fido—at the Overlook Drive-In Theater.

12. Cool off at Pulaski and Spratt Parks in the summer, with season pass deals that can't be beat.
13. See a show at the Mid-Hudson Civic Center or go ice skating at the McCann Ice Arena.
14. Play mini golf or hit the batting cages at the Overlook Golf and Recreation Center. Didn't get enough go-kart racing at K1? They have them here too!

15. Bowl a few frames, play laser tag, or hit the arcade at Spins Bowl.
Top photo: Reaching new heights at the Gravity Vault. Photo courtesy of the venue.