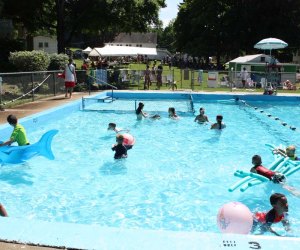 10 Swimming Pools and Splash Pads in the Hudson Valley with Day Passes
It's full-fledged summer and we know you're looking for ways to cool off. We've already directed our Westchester-residing residents to the swimming options at the county parks, but what about the rest of the Lower Hudson Valley? Fear not because we've got those areas covered as well.
We've gathered up a list of great swimming pools and splash pads in Rockland, Orange and Dutchess counties. While some town pools are open to residents only, the ones on this list offer daily passes (at a minimum) to everyone—so pack a lunch and take a day trip somewhere new!
Rockland County
Tallman Beach & Pool Club – Sparkill
Set in Tallman Mountain State Park, this swim club has an Olympic-sized pool, a kiddie pool with splash features, and even a sandy beach on the Hudson River. Two types of memberships are available: Seasonal and Day, the latter of which is $10 per person. Seasonal members are given an Empire Passport and thus free parking, while Day members will have to pay an additional $6 per car.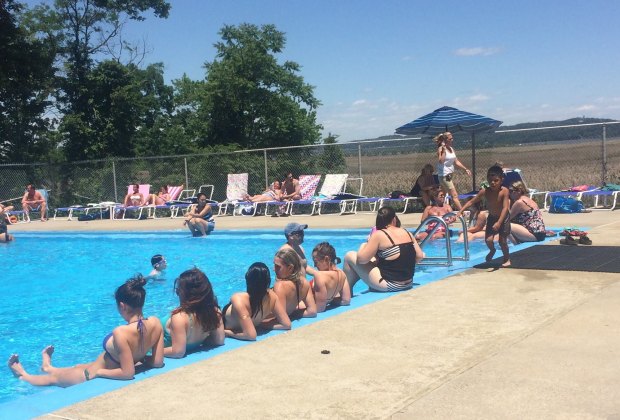 The Tallman Beach & Pool Club is a "semi-private" club. Club memberships are available, but so are day passes for everyone. Image credit: Tallman Club
Spook Rock Pool – Suffern
This splash pad at Spook Rock—fairly new, having just opened in 2011—hosts more than 25 different interactive features. Those who aren't fond of splashing can take a dip in the swimming pool; you don't need to be a town resident to swim here, but those who are can take advantage of discounts. Two big pluses: Not only does Spook Rock stays open until 8pm each night, but it's also open until September 6 for those end-of the-summer swims.
Rockland Lake State Park – Valley Cottage
Forget Olympic-sized, this park is home to a truly massive swimming pool that's a whopping 24,140 square feet. Toddlers and preschoolers will especially love the kiddie pool. While you're there, you can also take advantage of the hiking trails with lovely Hudson Valley views. Although admission to the park is free, it costs $8 to park and another $3 per person for the pool.
Bowline Point Park – Haverstraw
This park, open to both residents and non-residents, features an Olympic-sized swimming pool, water slides, a wading area and a toddler pool. There are also multiple playgrounds, a tennis court, volleyball courts, and spots to picnic and grill. Entrance fees can be a bit pricey, so look into getting a season pass if you plan to go often.
Hi-Tor State Park – New City
Swimming at the Hi-Tor pool is just $5 per person. Unlike many New York state and county parks, this one doesn't have a parking fee. The pool is open from 10am – 5:45pm.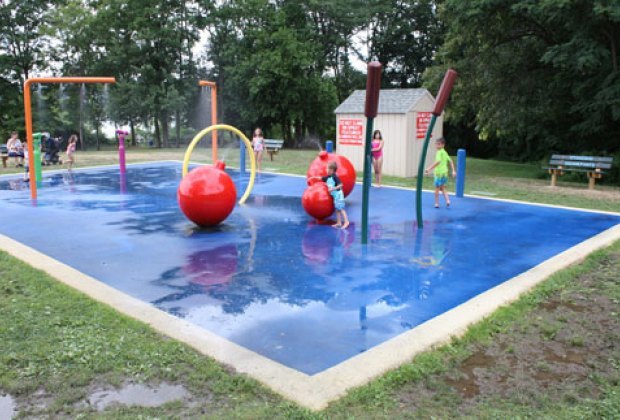 The spray park at Bowdoin Park isn't huge, but it's perfect for the younger set. Photo taken by the author.
Orange County
Fancher-Davidge Park – Middletown
With a newly renovated pool and splash pad with interactive fountains and fun, this Orange County spot is one of the most affordable places to cool off on our list. Kids 16 and under are just $1 each while adults are $3. It's open seven days a week from 12-6pm.
Hil-Mar Lodge – Salisbury Mills
Hosting a large pool (with a fenced-in toddler section), a small playground, hiking trails and a rec room, Hil-Mar is an enjoyable, somewhat nostalgic spot to spend a summer afternoon. The pool (shown in the photo at top) is open from 12-6pm. We've written about Hil-Mar in the past, so take a look at everything you need to know.
Dutchess County
Bowdoin Park – Wappingers Falls
Open to everyone, Bowdoin Park is a great destination playground. It has an awesome giant playground and a cute little splash pad with water spray guns and benches for parents to relax while staying dry. The best part? It's FREE!
Spratt Park & Pulaski Park – Poughkeepsie
Poughkeepsie lays claims to two town pools: Spratt Park and Pulaski Park. Both are extremely affordable, with kids just $1 each while adults are $3 at Pulaski and $4 at Spratt. Speaking of affordable, not only do they offer extremely inexpensive season passes—$25 for Pulaski and $85 for Spratt—but Pulaski also holds FREE swimming lessons for town residents (and just $30 for non-residents, which is still a steal). One downside: These pools close up shop on August 21, a bit earlier than most.
Looking for more summer fun? Consult our Activity Guide and follow us on Facebook!
Top photo taken by the author.