Day-Trip Destination for Families: Hil-Mar Lodge in Orange County
When the sun is blazing and the temperatures are soaring, you'll likely find yourself looking for a quick way to cool down. Beaches are great; however there's often something just a little easier about dealing with swimming pools vs. a beach: no waves to contend with; no rip tides to worry about; no mucky river bottoms to grimace over. And while Westchester offers many options for poolside fun, Hil-Mar Lodge in Orange County has become my family's go-to for a day at the pool. At just under an hour from central Westchester, Hil-Mar makes a great day-trip destination from anywhere in the Lower Hudson Valley area.
Established in 1931, Hil-Mar is a throwback to the old bungalow communities once popular in the area. The facilities, while clean and well-maintained, are decidedly no-frills and make me somewhat nostalgic for the summer camps I attended in the early 1980s--great for no-fuss fun for the whole family.
Let's start with the pool. My kids call the pool at Hil-Mar Lodge "Noodle Pool" because the owners fill the pool with around 30 pool noodles that are available for anyone to use. The pool goes as deep as 8 feet (diving isn't allowed), and it has one corner fenced off as a 1-foot-deep shallow end for babies and toddlers. The pool is well-maintained and the lifeguards are extremely attentive. There were three on duty while we were there on a Saturday in June more than adequate given the number of people in the pool that day.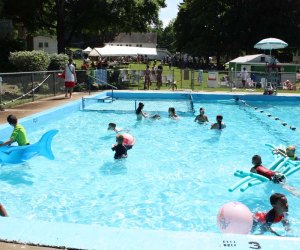 Beyond the pool, Hil-Mar offers lots of outdoor space to keep you and your little ones entertained. You'll find a volleyball net and plenty of open green space, perfect for a game of Frisbee or tag. There's also a small playground with a merry-go-round, slide, swings, tether ball, a trio of springy animals, a small climbing structure and an uncovered sand box.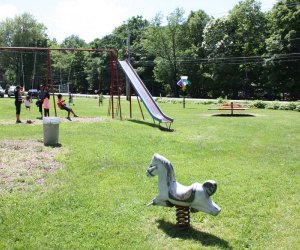 Visitors can settle in using the many wooden Adirondack chairs grouped around the pool and on the grounds. Even though it was quite crowded when we went, we were still able to find four chairs together and one small wooden table. It's worth noting, however, that spots in the shade are often occupied quickly, so bring your own chairs to maximize shady areas. Visitors also have access to the nearby hiking trails; however the owner cautioned that these are not beginner trails.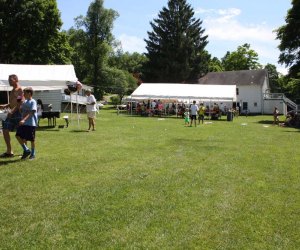 If you need a break from all the outdoor fun, Hil-Mar offers a modest game room with ping-pong and foosball tables, as well as a snack bar that serves traditional beach fare: hamburgers, hot dogs, ice cream, candy, soda. You are also welcome to bring your own food.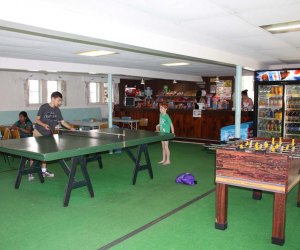 While Hil-Mar does offer weekly and monthly rentals—and will rent a room for the weekend if one is available—the best value is really as a day-trip destination for swimming-pool seekers. Hil-Mar also rents its grounds for parties, providing access to the pool, a gas grill and a canopy tent for party guests.
Hil-Mar Lodge is located at 1 Hilmar Lane in Salisbury Mills. Daily admission for 2015 is $8 for adults and $7 for children 5 and up. Kids under 5 get in free. Be sure to ask for a punch card on your first visit--5th and 10th visits are FREE!
Be sure to check our Summer Activity Guide for more to do throughout Westchester and Lower Hudson Valley.