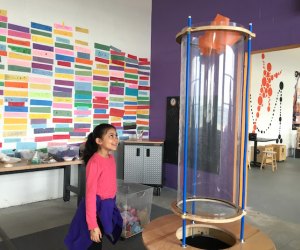 Hands-On Fun at the Westchester Children's Museum
The highly anticipated (and already beloved) Westchester's Children's Museum is now officially open year-round! The museum completed and opened the first phase of an impressive 22,000-square-foot plan, and after a recent visit with my 6- and 8-year-old daughters, we're already hooked and can't wait for what's to come.
Read on for details about the new hands-on spot for kids, located along the Playland Boardwalk in Rye. Lookin for more ideas for indoor fun with kids in Westchester and the Hudson Valley? Sign up for our newsletters.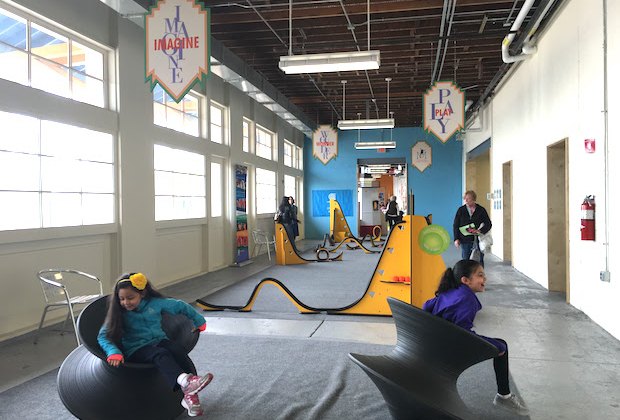 Fun from the moment you arrive.
Upon entering the Westchester Children's Museum, we noticed the minimalist appeal of the space—concrete floors, exposed beams and painted cinderblock walls throughout. Still, the space felt welcoming and warm. My kids darted straight past the front desk and into a set of spinning-top-inspired chairs. From the entrance, you can see the entire corridor of the first phase, spanning about 6,500 square feet. Each station flows into the next, making for seamless transitions between activities.
Just beyond the chairs, my girls spent some time testing their architecture and design skills as they tried to arrange rollercoaster tracks that would allow balls to travel swiftly without falling off (only one attempt was successful). Then they were on to the reading nook with large cushioned pieces kids can move and build out for sitting or climbing.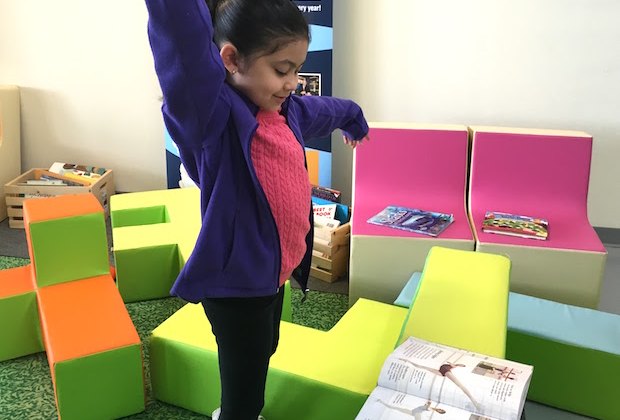 Practicing ballet with the aid of a useful book.
After perusing a few books, we made our way to the KEVA Planks Construction Zone. We gathered around a table and attempted to recreate some of the structures on display—lots of fun for kids and adults!
Next we moved on to the Wind Tunnel Challenge. My girls set to work designing something that would hover in a wind tunnel (too light and it flies straight through the top; too heavy and it sits on the bottom, never taking flight). They loved using scraps of paper, tin foil, pipe cleaners, coffee filters and more, adjusting and modifying after failed attempts before delighting in successful flights!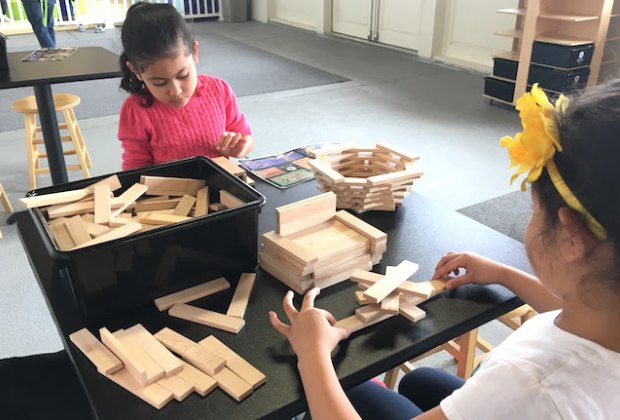 KEVA Planks are fun for all ages!
A magnet station, makerspace table and shadow puppet area round out the space. My girls thoroughly enjoyed each station. My older daughter made the spot-on observation:"This is more of a big workshop than a museum." Right now, it certainly feels like a workshop—in the best way. The museum provides hours of analog, creative, low-tech play for kids, all designed with clear purpose. The magnet station and wind tube focus on science basics, while the makerspace and shadow puppet area toward the back offer imaginative play and creative expression. The Tree of Creativity behind the makerspace invites visitors to leave their masterpieces behind to inspire others, or simply to showcase their work.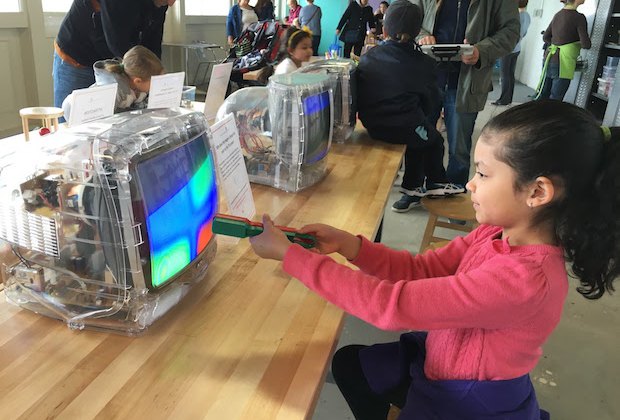 The magnet station highlights basic science principles.
Though not restricted to the area, babies and tots can hit Toddler Beach, a sectioned off, shoreline-themed, padded play area for the youngest visitors and their caregivers. Friendly, knowledgeable and attentive staff were never far off and made sure to engage kids with questions and suggestions at each station.
Our visit lasted about two hours. We had a great time and my girls were already asking to come back as we headed out the door. The museum has visionary plans for the remaining unbuilt space, including an innovative climbing structure, water play area, performance theater and more.

Toddler Beach gives the littlest visitors a safe space to romp.
Things to know before you go:
The museum is aimed at the preschool set and young school-aged kids.

Strollers are not permitted in the museum space, though the museum does provide stroller parking in the currently undeveloped space of the museum.

No eating onsite. Though there are plans for a cafe and gift shop down the line, currently there is no designated area for eating in the museum.

Family restrooms are available and equipped with changing tables.

Events and activities are already underway, including Museum Minis for tots and drop-in art workshops. Check the museum's event page for a full lineup.
The Westchester Children's Museum is located in the historic, landmarked North Bathhouse at 100 Playland Parkway in Rye. Hours are 10am–4pm on Thursdays, Fridays, and Sundays; and 10am–5pm on Wednesdays and Saturdays. In the summer, the museum will stay open until 8pm on the first Fridays of the month, so that guests can enjoy the exhibits and activities until sunset and then grab a spot outside to watch the Playland fireworks.
Parking is available in the main Playland Amusement Park lot and subject to fees determined by the Park. You can also take advantage of a one-day getaway on Metro-North.
Admission is $7 per person, with babies 12 months and under free. Family memberships are also available if you think you might become a frequent flier. A discounted admission of $3 per person is available for low-income families with the presentation of a vaild EBT card.

Looking for more to do in Rye? Check out our roundups of family-friendly dining and indoor play options.
Top Photo: A successful flight at the Wind Tube Challenge station. All photos courtesy of the author.