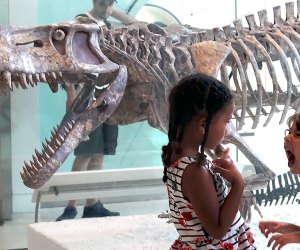 Free Perks That Come with Your Westchester Library Card
If your library card hasn't left your wallet in a while, it may be time to pry it from its confines and put it to use.
More than a means to borrow books, your Westchester library card is your ticket to a host of privileges that you might not even know about. Put away the credit card and let this other piece of plastic save you money on admissions, shopping, and periodicals. In addition to checking out books, you can also borrow other media and even musical instruments, cooking supplies, and recreation equipment. Access technological services, learn a new language, support academic study, reserve a room. All this and more may be available, depending on the specific offerings of your local branch. Read on to see what you might be missing—not to mention all the books and free events, from storytimes to STEAM activities!
Looking for more helpful insight that helps you stay in the know with all things kid-related? Sign up for our newsletters and follow us on Facebook.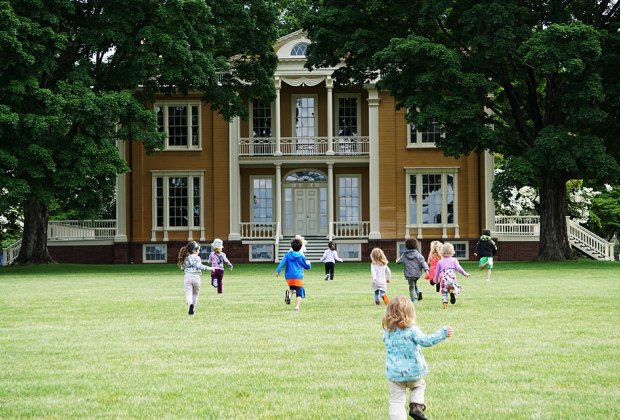 The Boscobel House and Garden is just one of many venues that can be accessed for FREE by borrowing a pass from participating libraries. Courtesy of Boscobel
FREE museum passes: Library card-holders can sign out various museum membership cards to gain not only free admission but full privileges of members, such as discounts in the gift shops. Memberships vary by library, but common ones include the American Museum of Natural History, the Hudson River Museum, Katonah Museum of Art, Neuberger Museum of Art, Storm King Art Center, Boscobel House and Garden, Stepping Stones Children's Museum, Children's Museum of Manhattan, The Guggenheim, the Maritime Aquarium of Norwalk, the Intrepid Sea, Air & Space Museum, and even the Empire Pass, valid for admission at New York State Parks.
Downloadable eBooks, Audiobooks and Music: From comic books to audiobooks, movies to streaming music, your library card allows access to a vast array of multimedia while in the library or at home. Features that are specifically for kids include talking picture books, reading-comprehension quizzes, and educational games.
Borrow the Unexpected: Besides books, DVDs, and music media, some libraries lend… surprises. The Harrison Public Library, for one, loans its patrons a telescope, knitting needles, and badminton sets. The Lewisboro Library lends fishing equipment, as well as "Discovery Backpacks"—preloaded with fun that's ideal for car trips and rainy days. The Somers Library loans cake pans, cookie cutters, scrapbooking kits, bongo drums, ukuleles, and more (even "borrow" heirloom seeds), and the Warner Library in Tarrytown loans Kindles and Nooks. Check with your library to find out what your local branch entitles you to.

You may be able to use the 3D printer at your local library.
3D Printing: Some libraries offer periodic programs that provide training in the use of their 3D printer, while others, including the Riverfront branch of the Yonkers Public Library, allow card-holders to utilize its 3D printer on other occasions as well (some branches charge a fee for this service). Slightly less high-tech, libraries also offer the use of their in-house computers, Wi-Fi, Internet access and, at least in some cases, scanning—all FREE.
Foster a Love of Learning on ABCmouse.com: This interactive site—which typically requires a paid subscription—stimulates young minds to prepare them for pre-K through elementary school through fun activities. Use this in the library or from home. They won't even realize that they're learning!
Online Learning for Older Kids: Learn about fashion design or prepare for your road test with an additional assortment of online learning tools.
Homework Help: Many libraries offer after-school homework help at scheduled times, including having teen tutors help younger learners. Additionally, Yonkers card-holders, for one, can access online tutoring in various subjects.
Battle of the Books: Kids in grades 4-10 can rev their literary engines in these biblio-trivia tournaments that some libraries participate in, with teams competing against teams from other libraries. Reading becomes a social and recreational event, particularly appealing to game-lovers and those with a competitive bent.
Summer Reading Games: Keep kids reading all summer, with fun themes, special events, and prizes for completed books. There's an adult version, too.
Reserve a Room: The Larchmont Public Library, among others, allows patrons to reserve a room in the library for private use. While using this space for birthday parties isn't quite the right fit, kids can form study groups and book clubs or use the space just for private tutoring, game-playing, and meetups.
Save While You Shop: The Tuckahoe and Eastchester Libraries encourage local buying by teaming up with local businesses to provide holiday discounts to cardholders, some of which remain ongoing.
Get Product Ratings from Consumer Reports: Buying a stroller, a booster seat or other kid items? Consult the ratings in this highly reputable resource (which requires a paid subscription to access but is FREE to card-holders) to learn about the reliability, safety, efficiency, and value before purchasing.
Yet More: The Yonkers Library will convert VHS to digital format, the Warner Library sells EZ Pass; some libraries, such as The Bronxville Library, offer free notary service, and the White Plains Public Library has a café.

The Trove at the White Plains Public Library plays host to lots of free kids' activities. Courtesy of the library
Free Events: Much more than storytime, Westchester libraries have offered kids of varying ages workshops in everything from crocheting and cooking to coding and yoga. In keeping pace with the times, recent offerings have included 3D printing, escape rooms, and slime-making. Seasonal offerings help kids make holiday decorations or gifts for Mother's Day and Father's Day, while some quirkier favorites have included Zombie Night (librarians dress up like zombies and engage in a chase with tweens) and Dance Like a Chicken Day (yep, that actually happened). And with STEAM programming on everyone's minds, you'll find loads of these for the choosing, as well as chess clubs, bilingual activities, and just about anything you can think of. Some libraries have offered evening drop-off programs (even sleepovers!) to encourage parents to have a local date night.
Of course, the best way to keep abreast of library activities is via our Event Calendar, as we comb through all 38 branches of the Westchester library system to bring you the best programs we can find.
Sign Me Up!
All this and more are available to library card holders. Sign not only yourself but your kids up for their own card. Librarians typically offer an assortment of age-appropriate graphics to choose from, so little ones will love their card. Cards expire after three years (regardless of patron age or recent activity) so be sure to keep yours current!
This post has been updated for 2019.