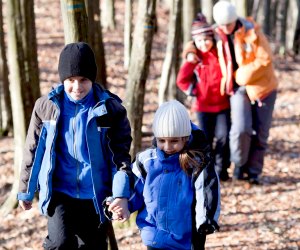 9 Family-Friendly Hiking Trails on Long Island
Whether you're a family of expert outdoorsman or just looking for a relaxing nature walk with your little ones, Long Island is home to an abundance of family-friendly hiking trails.
Not only are the hiking trails of Nassau and Suffolk a chance for exercise and quality time with your kids, but they're a great way to learn about Long Island's diverse natural landscape. From toddler to teen, these hiking adventures have something for everyone in your family.
For more family-friendly activities this season, check our fall fun guide and September GoList.
Nassau
Massapequa Preserve — North Massapequa
This 20-mile trail is the longest hiking trail in Nassau County. The trail follows the shore of Massapequa Lake over a charming log bridge, where the landscape changes from traditional vegetation to pine barrens. Parts of the trail parallel Bethpage Parkway. The trail is mostly flat, but a hilly north section ends at Cold Spring Harbor State Park. Picnic areas dot the route, making it an ideal choice for day-trippers.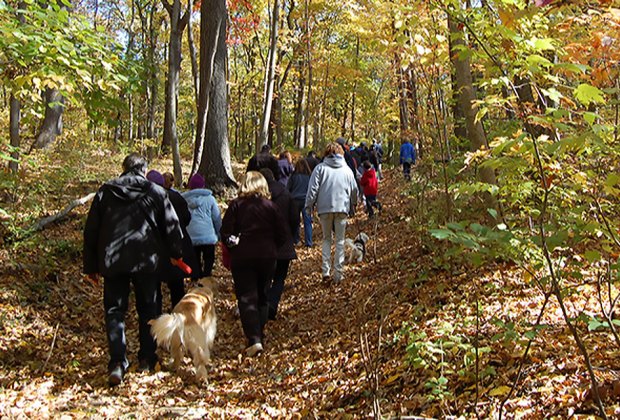 Trails at Sands Point Preserve meander through acres of diverse habitats.
Sands Point Preserve — Sands Point
This site offers six marked trails through 216 acres of diverse habitats, including woods, fields, a pond, and even beachfront along Long Island Sound. The preserve offers guided nature walks, or hikers can grab a trail map and find their own way. Dinosaur lovers will enjoy the Dino Trail, a short walk through the woods complete with dinosaur footprints. It is open from 8am to 6pm daily and a cost of $15 per car or $4 per person to walk in. Leashed dogs are welcome.
RELATED: The best parks for family fun in Nassau County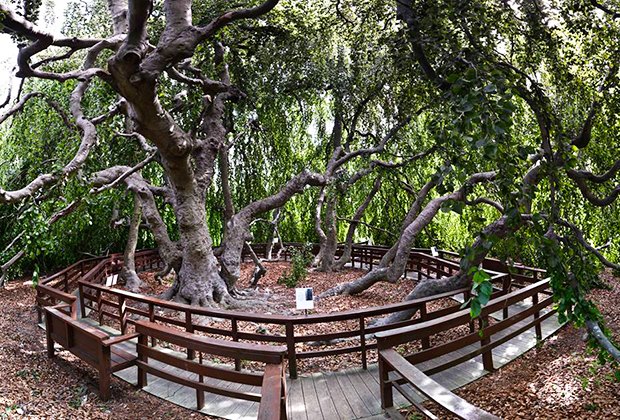 Take in a diverse environment while hiking through Bayard Cutting Arboretum.
Suffolk
Bayard Cutting Arboretum — Great River
This Long Island oasis offers eight marked trails that wind through gardens along the Connetquot River and around Long Island's pine barrens. The arboretum is open from 10am to 5pm, Tuesdays through Sundays, April through November, at a cost of $8 per car.
RELATED: Nature centers sure to delight Long Island kids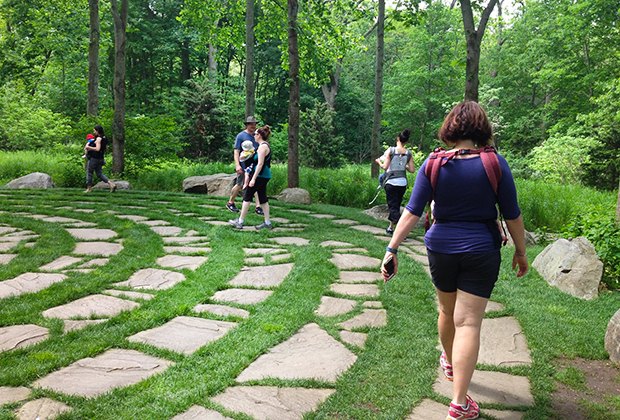 Meditate while walking the labyrinth with the family at Avalon Park and Preserve.
Avalon Park and Preserve — Stony Brook
Between dusk and dawn, enjoy the gifts of nature at Avalon Park and Preserve. The preserve features 8 acres of hiking trails, including a boardwalk and crushed stone paths. There is also a wheelchair-accessible paved hiking trail, as well as several points of interest to explore, including a labyrinth, rock formations, and sculptures. Leashed dogs are welcome. FREE
Blydenburgh County Park — Smithtown
The 627-acre Blydenburgh County Park features several trails to enjoy, including a 6-mile loop around Stump Pond. Most trails offer water views and fishing is allowed with a permit. Four-legged friends are welcome, so grab a leash and take in what nature has to offer. Admission is FREE to county residents with a Green Key residency card.
Caleb Smith State Park Preserve — Smithtown
Caleb Smith State Park features 543 acres of woodland with marked trails perfect for exploring with the family. Keep an eye out for a variety of birds. Children ages 15 and younger can fish on Willow Pond from April to October. The preserve also offers nature programs for all ages. The park is open from 8am to 4pm, Wednesdays through Sundays. Admission is $8 per car.
Caumsett State Historic Park Preserve — Huntington
The historic, 1,750-acre Caumsett State Park offers 13 marked trails to explore, from less than a mile in length to 6 miles. Offering sweeping views of Long Island Sound, paved trails, and crushed stone trails, woodlands, and beachfront, all amid historic charm, it is clear why this park is a Long Island favorite. The park is open 7 days a week from sunrise to sunset at a cost of $8 per car.
RELATED: The best animal farms and petting zoos on Long Island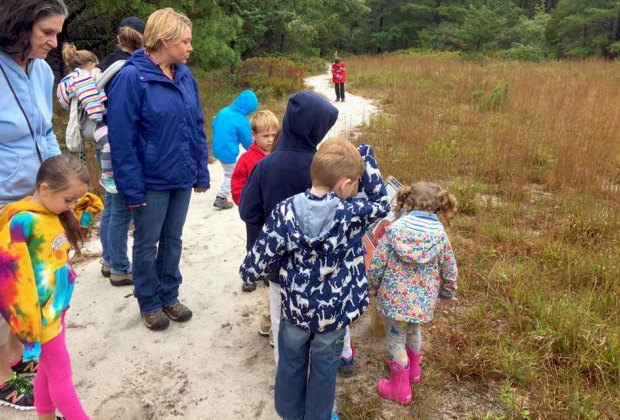 Quogue Wildlife Refuge features 7 miles of explorable trails for young and old.
Quogue Wildlife Refuge — Quogue
The refuge is home to diverse wildlife, some of them injured animals in rehabilitation, and 7 miles of trails to explore. The trails, which run through bogs and pine barrens, are easy hikes for all ages, and are accessible for wheelchairs and strollers. Keep an eye out for turtles and frogs, and stop by the outdoor wildlife complex and nature center to view owls, foxes, and a bald eagle. Open every day from sunrise to sunset. FREE
Sunken Meadow State Park — Kings Park
The park's main trail features beautiful views of the mouth of the Nissequogue River. With varying topography, from wooded areas to beach bluffs, a hike through Sunken Meadow State Park is sure to be interesting. After your hike, cool off in the Long Island Sound. Open year round, sunrise to sunset, at a cost of $8 per car.
Photos courtesy of the parks and preserves
Versions of this post were published in 2017 and 2018. It was updated in September 2019.