13 Kid-Friendly Things to Do in Garden City, New York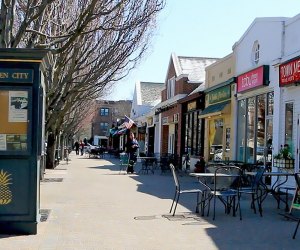 2/13/18
- By
Thien August
Tranquil, tree-lined streets, a vibrant downtown, highly rated schools, and plenty of green space make Garden City one of Nassau County's most desirable communities. Take a stroll down historic Seventh Street that plays host to family-friendly events all year round; spend the day learning on Museum Row; or shop till you drop at the area's largest shopping mall, Roosevelt Field. It's no wonder so many families enjoy living and visiting this village.
With its wide streets, broad lawns, and playing fields, Garden City has an open feel to it, and a grid system of roads that makes navigating the area easier. Located south of Long Island Expressway in the Town of Hempstead, Garden City is an incorporated village governed by an elected mayor and board of trustees, all of whom live in the village. Another major draw is proximity to New York City. Commuters have the option of two Long Island Rail Road stations or a driving commute of less than an hour.
You don't have to live in Garden City to enjoy many of its amenities, public spaces, and museums. It's worth the drive no matter where you live. We've put together a list of the 13 best family-friendly things to do. Pick one or two things or make a day of it and enjoy lunch and dinner at one of Garden City's fun and hip eateries.
Known as Museum Row, a block of museums is a one-stop destination for learning fun for all ages. Start off at Charles Lindbergh Boulevard and Railroad Avenue and work your way east toward Nassau Veterans Coliseum to hit all three museums and Nunley's Carousel. Check your local library for free museum passes before you go.
Museums and Learning
Cradle of Aviation Museum
Charles Lindbergh Boulevard
View more than 70 air and space crafts, including an actual Apollo lunar module, in a museum housed in a converted aircraft hangar. Kids can experience what it's like to be a pilot by testing out the many different cockpits and hands-on exhibits. Stop by the Junior Jet Club, a play area designed for kids up to age 6, and build a rocket, collect moon rocks, or "fly" a shuttle into space. For a full-on space experience, take in a show at the planetarium and Dome Theater. Admission to the museum, Junior Jet Club, and Dome Theater are sold separately or as a package.
Garden City Public Library
60 Seventh Street
For a relaxing way to spend a few hours, stop into the Garden City Public Library. Enjoy a book or one of the many periodicals in a comfy chair and let the kids explore the children's room. With its colorful mural featuring recognizable book characters, this child-friendly space invites kids to read on their own or discover new favorites as a family. This library offers adults and children's programs to cardholders as well as occasional drop-in storytimes and events all can enjoy.
RELATED: Kid-friendly planetariums and observatories on LI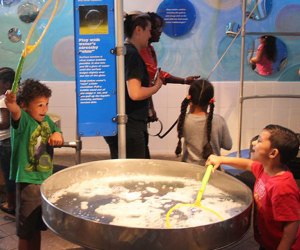 A world of fun awaits at the Long Island's Children's Museum. Photo courtesy of LICM
Long Island Children's Museum
11 Davis Avenue
With 14 interactive exhibits, including a giant climbing structure, indoor beach, outdoor sensory garden, and so much more, the LICM is a favorite of kids and adults alike. The performing arts center introduces little ones to live theater with productions that encourage audience participation. As an inclusive space, the museum offers a new sensory room for visitors with neurodivergencies who might feel overwhelmed by the sights and sounds. The sensory room is a calming space with interactive elements to help soothe and relax.
RELATED: 10 great family-friendly museums on LI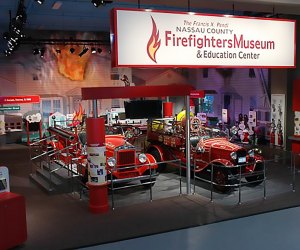 Your aspiring firefighter can learn about safety and prevention at Museum Row facility. Photo courtesy of the museum
Nassau County Firefighters Museum and Education Center
1 Davis Avenue
Learn about fire safety and the history of firefighting in Nassau County, all while having fun in an interactive environment. Families can plan their home escape route, practice stop, drop, and roll, and crawl low to avoid smoke. The display of firetrucks is impressive and sure to capture the imaginations of aspiring firefighters.
Shopping Fun
Roosevelt Field
630 Old Country Road
With its recent renovation and expansion, this shopping complex offers more than just clothing stores. In addition to more than 250 shops and services, there is a movie theater, glow-in-the-dark mini golf, and a FREE indoor play area for kids. A large food court makes it easy to grab a quick bite, and there are plenty of options for sit-down restaurants as well. When nature calls, families can use the updated restrooms near the food court, where there is also a private room for nursing moms.
Lego Store
Inside Roosevelt Field
Although this is a store inside the mall, it's a destination in and of its own. If you have a Lego enthusiast, a visit here is a must. Kids can choose a building set or design their own from the Build Wall, or join in the monthly FREE Mini Model Build. There are specials and events offered for kids and adults, so check the calendar for registration information.
Nature
Garden City Bird Sanctuary
181 Tanners Pond Road
Bring your binoculars for bird sightings here. Located on seven acres along Nassau County's Stormwater Storage Basin, this nature preserve serves as a refuge and feeding ground for local and migrating birds. Open on weekends from April through the end of October, visitors have a good chance of seeing and hearing the songbirds that use the preserve as a home. The bird sanctuary is FREE to enter, but visitors are encouraged to make a cash donation or contribute bird seed.
Family Fun
Kidville
960 Franklin Avenue
This learning center offers fun and educational classes for babies, toddlers, and kids up to age 5. A monthly membership gives you access to dance and music classes, art and science classes, and more. Sign-up online for a free class and a tour of the facility. Kidville also offers birthday party packages that include a private party space.
RELATED: Kid-friendly bowling alleys in Nassau County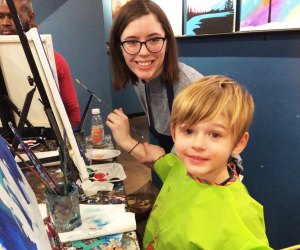 Create your own masterpiece at Muse Paint Bar. Photo courtesy of Muse Paint Bar
Muse Paint Bar
837 Franklin Avenue
Get in touch with your creative side at Muse Paint Bar. Instructors teach painting techniques, and each person leaves with a piece of art ready to display at home. Family paint events let kids and adults create their own artwork while enjoying tasty finger foods and beverages. No experience is necessary, so let your imagination run wild.
RELATED: The best indoor play spaces for kids in Nassau County

Take a ride on the beautiful and historic Nunley's Carousel. Photo courtesy of Wikimedia Commons
Nunley's Carousel
Adjacent to the Cradle of Aviation is historic Nunley's Carousel. Built in 1912, this beautifully restored carousel continues to bring joy and excitement to kids and adults. At $2 a ride, it's an inexpensive and fun way to end an afternoon of museum visits.
For Sweet Tooths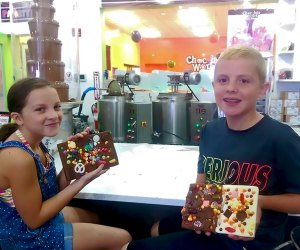 Satisfy your chocolate fix at Chocolate Works. Photo courtesy of Chocolate Works Garden City
Chocolate Works
916 Old Country Road
A visit to Chocolate Works is sure to satisfy any sweet tooth. Drop by during most school-break days to create your own sweet work of art and enjoy the 4-foot flowing chocolate fountain. Register ahead of time for fun events and workshops offered all year round. For those who prefer candy to chocolate, there's a 20-foot wall filled with colorful candies in all shapes and sizes.
Village Amenities
Access to nonresidents is limited. Check the websites or call if you're considering a visit.
Garden City Pool
52 Cherry Valley Avenue
Open from June until Labor Day, this outdoor pool offers a respite from the summer heat. Garden City residents can enjoy an Olympic-sized pool with two water slides, lap pool, and a kiddie pool. The kiddie pool has a multilevel play structure with interactive water features for even more summer fun. A concession stand operates during the season, and the village hosts events such as movie nights on the pool grounds.
RELATED: The best parks in Nassau County for kids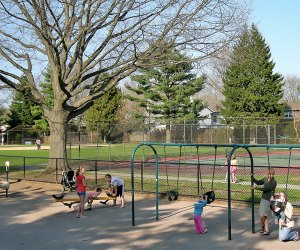 Tullamore Park's green space is full of activities for children and adults. Photo courtesy of the Village of Garden City
Tullamore Park
Tullamore Road at Somerset Avenue
This neighborhood park has enough swings and a playground that to keep even active kids busy. Although not the largest playground in the vicinity, it has two separate climbing structures with slides, monkey bars, and a school bus climber, all in a fenced-in area. There are also basketball courts, tennis courts, and a comfort station.
Top photo: Garden City's quaint downtown sits near the intersection of Franklin Avenue and Seventh Street. Photo courtesy of the Village of Garden City
Sign up for the Mommy Poppins Newsletter today!