Planetariums, Observatories, and Eclipse Viewing on Long Island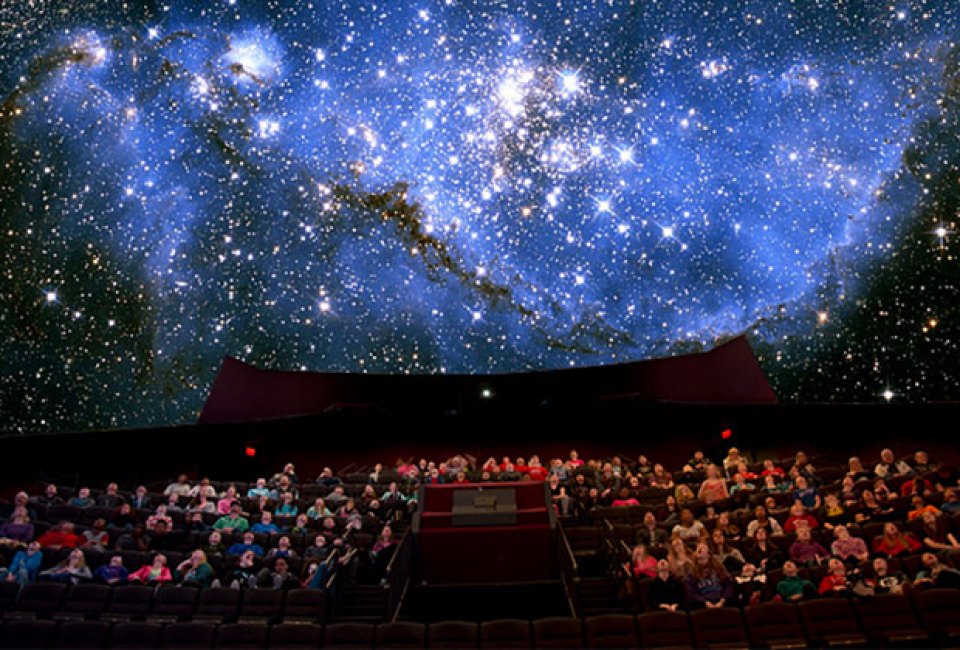 8/17/17
- By
Natalie Ferro Aurigema
A solar eclipse will swoop across the United States on Monday, August 21, causing total darkness to fall across a 70-mile corridor. Long Islanders won't make it into this path of total darkness, but you can still enjoy a celestial show to commemorate this once-in-a-century event.
Solar eclipse viewing on one of Long Island's beaches is a great option, and we've added some local viewing parties where you can see one of nature's rare spectacles with your family. For astronomy enthusiasts of all ages, we've got you covered with stargazing science programs to enjoy year-round.
Before the big day, check out our guide to preparing for the eclipse, including safety measures and viewing times.
Monday, August 21
Great American Solar Eclipse Viewing Parties
Cradle of Aviation Museum — Garden City
Noon-4pm
The museum will host solar eclipse activities, including hands-on experiments in the science zone. In addition, there will be educators on hand to demonstrate ways to safely view the eclipse and offer visitors a chance to seal memories in a time capsule to be opened in seven years, during the next Long Island eclipse. The Cradle of Aviation is one of the area's premier science destinations, celebrating Long Island's aviation history. Admission is $15 for adults and $13 for children ages 2-12.
Huntington Public Library — Huntington
Noon-2pm
The library will be offering astronomy crafts as well as a viewing party. No registration is necessary, and attendees will receive a free pair of eclipse shades. FREE
John Jermain Memorial Library — Sag Harbor
1:15-4pm
The solar eclipse viewing party will be hosted in the library's garden. Glasses and refreshments will be provided. FREE
Oceanside Library — Oceanside
1-4pm
In addition to games and entertainment for kids, the library will be hosting a viewing party at the Schoolhouse Green. FREE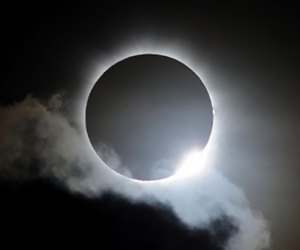 Visit the Parrish Art Museum and celebrate this rare celestial event. Photo courtesy of the Parrish Art Museum
Parrish Art Museum — Water Mill
1-4pm
Hosted by Montauk Observatory astronomers, admission to the the art museum is $12 for adults. Children younger than 18 are FREE. Admission includes access to all museum exhibits as well as the eclipse event. Eclipse shades will be distributed and NASA will be live streaming the entire eclipse across America, which will be displayed on a big screen.
South Fork Natural History Museum — Bridgehampton
1-4pm
This rain-or-shine event, also hosted by Montauk Observatory astronomers, promises telescopes that will enable children to safety view the sun. While supplies last, eclipse shades will be distributed. The total solar eclipse will be streaming live from NASA and displayed on a big screen. Guests should bring their own seating.The museum is one of the East End's premier naturalist destinations. FREE for those attending only the eclipse event; for those who would like to visit the museum, admission is $10 for adults, $7.50 for children 3-12, and free for kids younger than 3.
Year-Round
Stargazing Activities
Amateur Observers' Society of New York — Islandwide
Established in 1965, the Amateur Observers' Society sponsors stargazing activities at several venues on Long Island, including Jones Beach State Park Nature Center and Robert Moses State Park. The organization also offers stargazing Saturday night at the Susan Rose Observatory in Southold on the grounds of the Custer Institute; a Young Astronomers program at the East Meadow Library; and hosts an Astronomy Day in April at the Cradle of Aviation Museum in Garden City.
Custer Institute & Observatory — Southold
Long Island's oldest public observatory, the Custer Institute was founded in 1927. It houses a number of telescopes of all sizes and descriptions. It is open every Saturday evening from dusk until midnight for lectures, slide shows, and, weather permitting, sky viewing.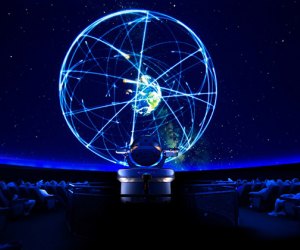 Enjoy a celestial show at the Vanderbilt Museum and Planetarium in Centerport.
Vanderbilt Museum and Planetarium — Centerport
This museum offers educational programs for families developed by planetariums in Britain, China, and the United States. Also enjoy Rock 'n' Light shows, and sky shows that recreate celestial events on the museum's 60-foot dome. The rooftop observatory is open every Friday night, weather permitting, where visitors can examine the night sky through the Vanderbilt's 16-inch reflecting telescope.
Top photo: The Cradle of Aviation Museum hosts a number of eclipse-related events on Monday. Photo courtesy of the museum