Sign up for our free newsletters.
Glow-in-the-Dark Mini Golf Opens at Roosevelt Field in Garden City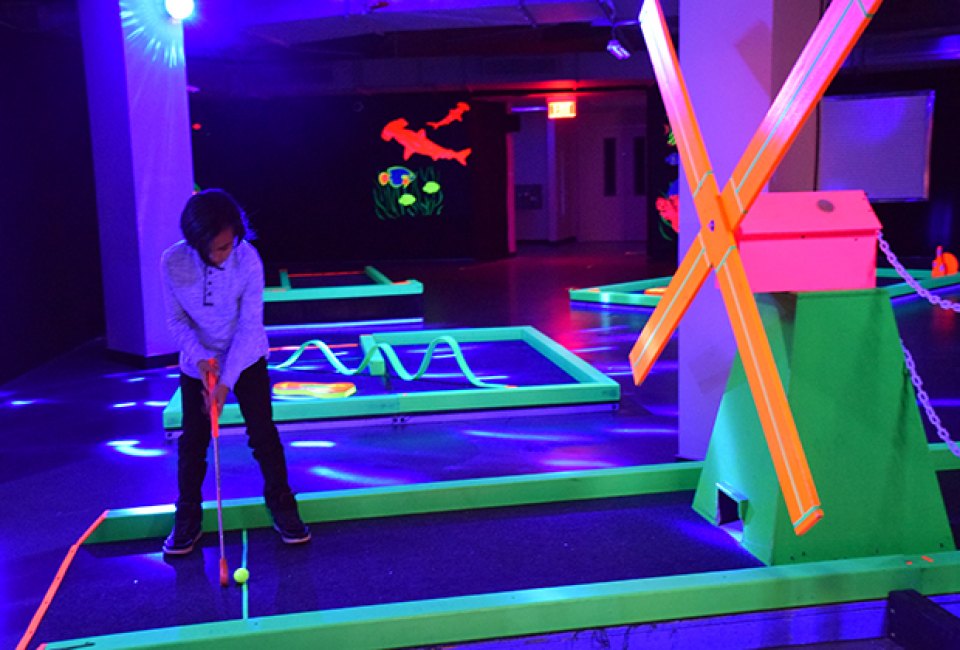 1/26/17
- By
Jaime Sumersille
Dragging the kids along for another trip to the mall? Tired of them complaining as you meander from store to store?
At Roosevelt Field mall in East Garden City, you can take a break at the new Glowgolf, a glow-in-the-dark miniature golf facility. Located on the concourse level near LensCrafters and the kids play area, you can grab a club and ball and embark on a glowing adventure through 27 holes.
Set amid twisting hallways and rooms, Glowgolf is played completely under black lights. Each hole offers a unique experience, with windmills, motorized components, inclines, blocks and even a gravity-defying loop-the-loop. Pop hits (clean versions!) play as you stroll in and out of rooms and attempt to make your hole-in-one putts. Follow the glow-in-the-dark arrows through this maze of hallways to make your way to the end of the course where—surprise—there is a prize hole. Sink your ball in the Plinko-style hole and win a glowing treat.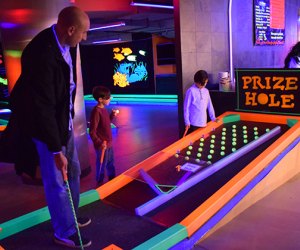 Win a prize on the 27th hole. It's not as easy as it looks.
Glow bracelets and other items are available for purchase if you want to be seen under the lights.
You have two options once you've completed 27 holes. You can go through again because the admission price includes two whole rounds. That's 54 holes of mini golf.
Or once you've mastered the course Phil Mickelson-style, try out your spy skills in the laser maze. With three levels of difficulty, your little ninja must go through the maze and back without touching any beams —easier said then done. Enter the dark booth and use your night vision to scale the room while friends and family watch outside on a monitor. An alarm light triggers if you hit any lasers. Hint: Leave loose clothing behind and tie up girls' hair.
Celebrating a birthday or looking for a fun group or Scouting activity? Glowgolf's party room is enormous, equipped with several tables and glow-in-the-dark chairs. There's even a stage on which the birthday guest can be serenaded.
Hours
When school is in session, Monday-Friday, 4-9:30pm; Saturdays, 10am-9:30pm; Sundays, 11am-7pm. When school is not in session, Monday-Saturday 10am-9:30pm; Sundays, 11am-7pm.
Pricing
Mini-golf: Adults $12, children ages 5-12, $10, 4 and younger, $7. Laser maze: single game, $3; two games, $5; five games, $10. Parties: $12 per person (minimum of 10 people), which includes two hours of golf, use of the party area and glow bracelets.
Hours and prices are as of January 2017. Check the website or call 516-747-3682 for updates.
Top photo: Glowgolf offers traditional mini-golf with a twist — it's played under black light. Photos by the author.
Places featured in this article: