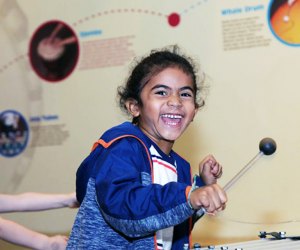 Free Museum Passes and More Perks From Your LI Library Card
Unlike the other cards in your wallet, a library card doesn't come with fees or payment due dates. It does, however, come with a list of very cool, very FREE perks for the whole family, and we're not just talking books.
Access to free museum passes from your local library is a huge perk for families, and one not everyone knows about: We are here to spread the word. In addition, your Long Island library card gets you access to a variety of other freebies that can entertain the whole family, from toddlers to tweens and teens.
Take a look at our list of museums from which you can score free passes and our roundup of other cool perks available at libraries in Nassau and Suffolk counties and on the East End. For more details, check individual library websites. And see our seasonal fun guide and events calendar for more ways to keep your family busy this winter.
Take a FREE Pass
Most libraries on Long Island allow cardholders to access free museum passes, usually up to four passes at a time. From admiring art or learning about science and history to exploring a different culture, bringing your children to a museum lets them discover new things and perhaps unleash a passion or two.
Museums are located throughout Long Island, from Nassau to Suffolk, with a few on the East End. New York City's most popular museums are also represented. Here's a sampling of museums that participate in the library pass program. While some passes must be picked up at the library (and returned there), passes for select museums can be printed at home. Note: Library offerings differ and there are restrictions, so be sure to check specific websites for details.
RELATED: Great family-friendly museums on Long Island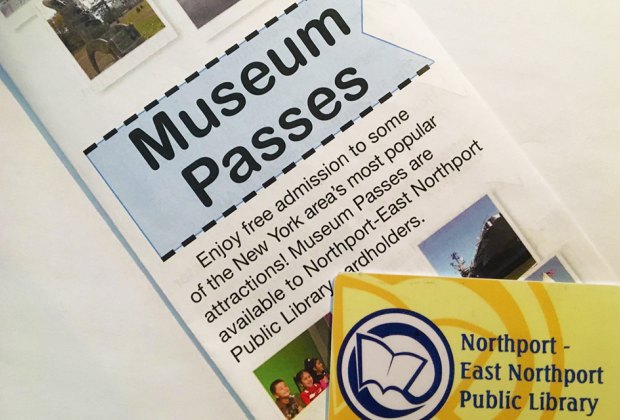 Your family can enjoy some of New York City's most popular museums for free with a library card. Photo by Lisa Mancuso
Nassau: Cradle of Aviation Museum, Garvies Point Museum & Preserve, Hofstra University Museum of Art, Holocaust Memorial & Tolerance Center of Nassau County, Long Island Children's Museum, Nassau County Firefighters Museum, Nassau County Museum of Art, Old Bethpage Village Restoration, and Old Westbury Gardens
Suffolk: American Airpower Museum, Cold Spring Harbor Fire House Museum, Cold Spring Harbor Fish Hatchery & Aquarium, Fire Island Lighthouse Preservation Society, Heckscher Museum of Art, Long Island Maritime Museum, Long Island Museum, Vanderbilt Mansion, Museum and Planetarium, Walt Whitman Birthplace State Historic Site, and the Whaling Museum and Education Center in Cold Spring Harbor.
East End: Children's Museum of the East End, The Parrish Art Museum, and the South Fork Natural History Museum
New York City, including Brooklyn: Brooklyn Botanic Gardens, The Frick Collection, Guggenheim Museum, Intrepid Sea, Air & Space Museum, Museum of Arts and Design, Museum of Modern Art, Museum of the City of New York, New York City Fire Museum, New York Botanical Garden, New-York Historical Society Museum and Library, and the New York Transit Museum
RELATED: The best in museums and arts for Long Island kids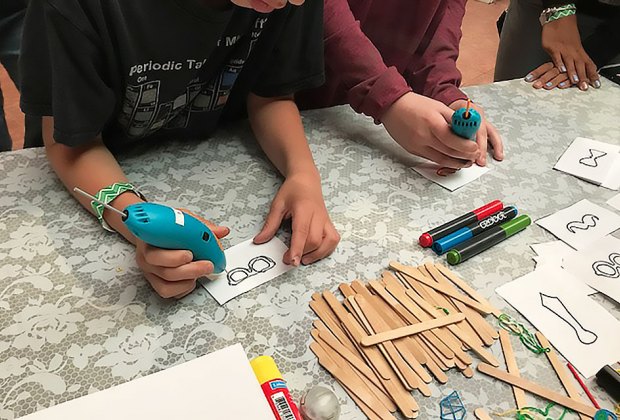 Kids can explore their creative side at Merrick Library's digital media center. Photo courtesy of Merrick Library
More Perks to Be Had
You might not be able to physically borrow it from the library, but at Merrick Library's Walter Mintz Makerspace 3Doodler (3D pen), Ozobots (robot), and 3D printer are available for kids to use while exploring their creative side. Other communities whose libraries boast high-tech gadgets include Jericho, Smithtown (also located in Commack, Kings Park and Nesconset), Sachem Public Library in Holbrook, and Middle Country Public Library in Centereach/Selden, which also boasts a Nature Explorium, an awesome outdoor learning space for kids. Curious about your roots? At many libraries, including Hempstead, you can now access ancestry databases.
Toys and dolls, including American Girl dolls and accessories, can be borrowed from the Brentwood library. Libraries in Port Washington and Lynbrook offer telescopes, and Lindenhurst and Massapequa libraries have tablets for children, all of which can be checked out simply by handing the librarian a card. Snowed in? No worries. Digital books, music, and more are available to download from the comfort of your home via your library's website.
You can even borrow a Roku stick from many libraries, including Merrick and Port Washington, and stream movies from the library's account to your home television.
Books, free museum passes, and much more…Your public library has it all and it's all FREE.
This post is updated annually.