See The GREEN Transform Lincoln Center's Famed Plaza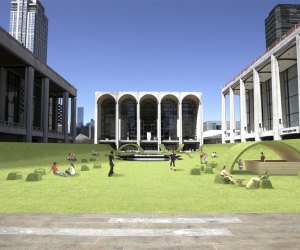 Green spaces have been a godsend during the pandemic, and now, Lincoln Center is introducing an innovative new one to the mix. The iconic Josie Robertson Plaza is set to become an expansive park space dubbed The GREEN on Monday, May 10.
The plaza's transformation acts as the centerpiece of Lincoln Center's sprawling transformation into an outdoor arts venue, dubbed Restart Stages, this spring, summer, and fall.
The GREEN is the brainchild of set designer Mimi Lien, who was commissioned to reimagine the 14,000-foot concrete expanse into a more inviting environment. She hopes her use of the recyclable, biobased SYNLawn material inspires visitors to linger in the space.
"When invited to consider how the physical space of Josie Robertson Plaza could be re-envisioned to be a more inclusive and inviting environment, I immediately thought that by changing the ground surface from hard paving stones with no seating to a material like grass, suddenly anyone would be able to sit anywhere," Lien said.
The addition of 10 entertainment-filled, outdoor stages adds to the allure, of course, as will other amenities: A snack bar is planned for one corner of The GREEN, while the New York Public Library for the Performing Arts sets up shop as an outdoor lending library, too.
RELATED: Live Performances Return to Lincoln Center With Sprawling Outdoor Setup This Spring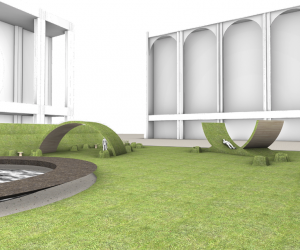 Designer Mimi Lien hopes the curved grass structure she's created for The GREEN acts as an 'embrace' for visitors.
The GREEN opens on Monday, May 10, and remains in place through September. When the installation is removed, the SYNLawn material will be upcycled into materials to build new playgrounds for at-risk youth in upstate New York. Hours run from 9am-midnight daily, and safety measures include requiring social distancing and face masks, plus regular cleaning.
Bookmark the Mommy Poppins Event Calendar for all the kid-friendly performances planned for the space, including Red Baraat's mashup of North Indian bhangra with hip-hop, jazz, and raw punk energy on Saturday, May 15, and find all the performances, events, and visitor guidelines on the Restart Stages site.
The GREEN designed by Mimi Lien; renderings by Timothy Leung/courtesy of Lincoln Center