Live Performances Return to Lincoln Center With Sprawling Outdoor Setup This Spring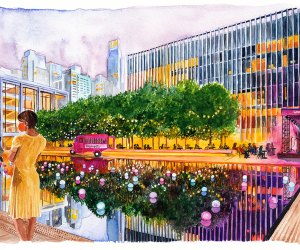 If you're craving IRL performances, we've got some good news: Lincoln Center has announced it's turning its sprawling campus into a giant outdoor performing arts center to help revive New York City's arts economy. The programming series, named Restart Stages, launches on Wednesday, April 7.
All told, 10 outdoor venues will be installed—including one dedicated to kid-friendly programming and activities—bringing world-class talent into the great outdoors with safe, welcoming venues for artists and the public alike.
Read on for more details on this exciting public arts installation, and bookmark our Event Calendar for details on performance dates once they're released.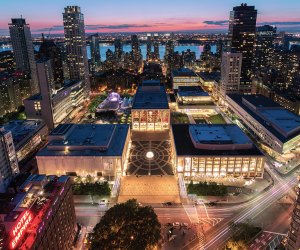 Lincoln Center's sprawling campus is undergoing a pandemic-ready transformation for Restart Stages. Photo by Inaki Vinaixa
Restart Stages was developed in conjunction with NY PopsUp, the recently launched outdoor performance festival running through Labor Day, bringing small-scale, surprise, pop-up performances to the city's streets. Unlike most NY PopsUp performances, a Restart Stages programming schedule will be announced in the coming weeks. Some performances will require advance tickets, while others can be enjoyed more spontaneously.
Of particular note: One of the performance spaces is dedicated to family-friendly programming and includes children's art activities. The New York Public Library for the Performing Arts is also hosting an outdoor reading room on the site.
Other Restart Stages venues include a cabaret stage on Hearst Plaza, outdoor rehearsal spaces, and even a venue for public schools to host their graduations, a milestone many students missed in 2020 as the pandemic tightened its hold on the city.
Restart Stages promises the return of the Chamber Music Society of Lincoln Center's popular Summer Evenings concerts, film screenings by Film at Lincoln Center, and dance workshops from the New York City Ballet. Programming is supplemented by a diverse array of partner organizations, including the Bronx Academy of Arts and Dance, Harlem Week and the Harlem Arts Alliance, the Korean Cultural Center New York, and the Weeksville Heritage Center, among others.
Besides providing entertainment, Restart Stages takes on a starring role as a community hub, hosting blood drives, serving as a food distribution site, and acting as a polling place in the upcoming primary election.