Tips for Preparing Your Child for the First Day of Daycare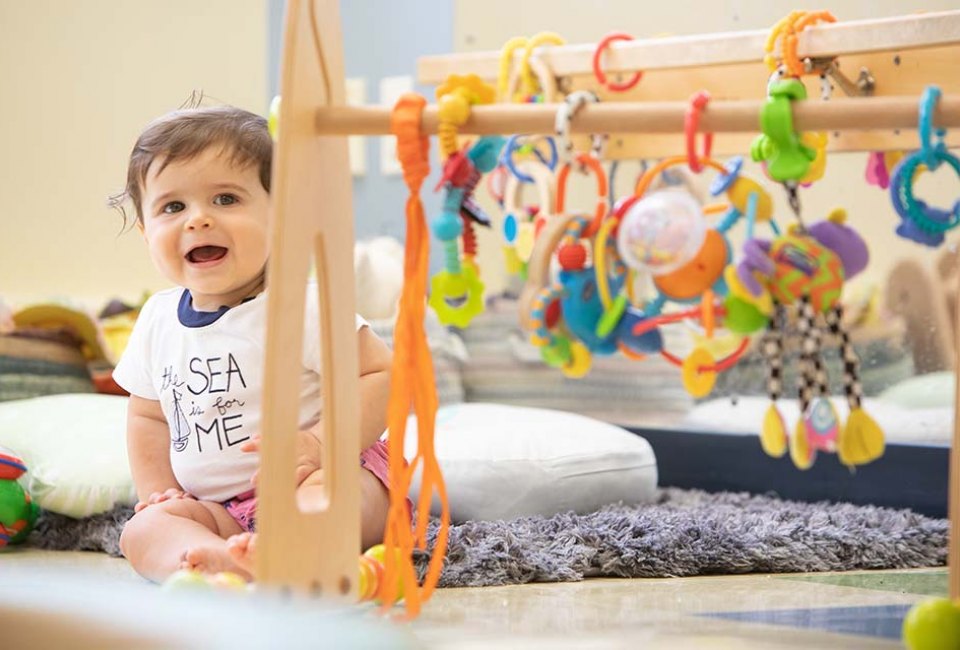 9/7/21
- By
Jessica Laird
The reality is, everyone is likely to be a bit nervous on the first day of daycare. Starting at a child care program is a big transition for the entire family, and a little preparation goes a very long way for kids and parents alike.
While I've done my share of first day drop-offs, I connected with the experts at Bright Horizons to create the child care to-do list I wish I'd had myself. If you don't know Bright Horizons, the popular early education and preschool program has been thoughtfully designing centers, programs, and schedules to meet the needs of working families for over 30 years now. With more than 1,000 locations worldwide—plus 3 brand new NYC centers opening at West 53rd, Essex Crossing, and down in NoHo—the team behind the innovative program for infants through pre-kindergarteners knows everything there is to know about gearing up for that very first day.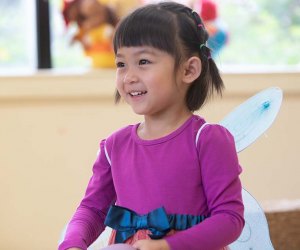 Make sure to spend time talking about daycare and what the first day will be like for you toddler or preschooler.
Before the First Day of Child Care
Start getting to know your child's teachers. Your little one's teachers will play a big role in their early development. Make the most of meet and greets, information sessions, and other opportunities to connect—virtually or otherwise! And don't hesitate to ask questions or share any concerns you might have before day one. Remember that teachers are trained to support children and parents through this big transition.
Find out what to expect at drop-off. To help with first day jitters, you may want to ask your child's teachers what that first morning at daycare will really look like. Find out if you should arrive extra early and how long you should plan to stay. If you think it might be helpful, you may even be able to work together to create a separation routine that takes some stress off of everyone.
Give those new morning and evening routines a test run. For many families, daycare means a change in routine. It's very likely that you'll need to allot time for filling bottles, packing lunches, or restocking your kiddo's daily diaper stash. You might even need to give up that morning snooze button! If you're able, give your new morning and evening schedules a try a week before daycare starts to see how they serve you and to help everyone get adjusted. Of course, it's important to stay a little flexible too because, hey, life.
Pack up the night before. By now, you know predictability is hard to come by with kids, so include packing your little one's bag in your evening routine instead of holding off until the morning. It can be helpful to keep a packing list on hand so that nothing slips your mind—and make sure you know what items are not allowed as well (like blankets or toys at some centers). Label everything to prevent lost items and mix-ups.
Let your little one help out with daycare prep. If your kiddo's old enough, let him pick out his snack for the next day or let her set out a t-shirt to put on in the morning. On day one, or on other tough days, think about what might bring your child some added comfort while they're away from home, like a family photo in their backpack or a sweet note in their lunchbox.
Block off time on your own calendar. Remember to block off time on your work calendar on that first day of daycare, so you can help your child get settled without feeling totally rushed. Drop off can also be a bit of a tear-jerker for parents, so allow yourself some recovery time before rushing to the office.
Talk about school—and make it good! In the weeks leading up to that big first day, spend time talking about daycare and what the first day will be like. Remind your little one of their teachers' names and explain some of the activities you think they'll really enjoy. You might also talk about friends who already go to child care or school, and just how much they love it.
Do your best to keep your emotions in check. As much as you can (and we're all human…), try to keep your emotions and actions aligned in front of your child. It can be confusing to tell a kid through your own tears that they're going to a "wonderful, fun place."
Hold off on making other major changes. If you've been thinking about moving your toddler to a big kid bed, potty training, or stopping the bottle, you may want to hold off until everyone's settled into the new daycare routine. (Although if your little one is still nursing, make sure to introduce bottles at least a few weeks before the start of child care to help with the transition!).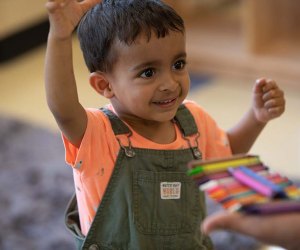 Remember that your child is being well taken care of—learning, playing, and building meaningful new relationships.
On the First Day of Daycare
Wake up early. When it comes to parenting, is time ever on your side, really? Set those alarms to give the whole family enough time to get ready for the day without rushing. Serve up an energy-boosting breakfast, and remind your little one about the plan for the day. Keep in mind that big transitions often come with big feelings, so don't be surprised if a tantrum, defiance, or tears hold you up a bit.
Take your time at drop-off. On day one, you'll want to go slow. Spend a few minutes reintroducing your kiddo to the teachers, and take some time to chat with them yourself. If you have any specific instructions to share, make sure to give them both verbally and in writing. Before you head out, help your child find an activity they like, and join in for a bit.
Give a confident goodbye—and don't sneak out! When it's time to leave, give a happy and confident goodbye and reassure your child that you'll be back at the end of the day. It helps to give a "when" too, like "after story time." Resist the urge to sneak out, which may actually make it harder for your kiddo to trust when you'll leave and when you'll return in the future. Instead, let the teachers know when you're ready to leave and give them space to help your child through the transition. Make a quick exit, and don't linger by the door.
Take a breath. Remember, it's totally normal to feel a little anxious or concerned after drop-off. Just like how it's normal for kids to cry, scream, or beg you not to leave! Remind yourself that your child is in good hands, playing, learning, enjoying new experiences, and building relationships with teachers who will do everything possible to help them feel secure and happy. And if you're feeling like you could use an update or a little reassurance at any point during the day, don't hesitate to give your daycare center a call.
If you're in need of reliable child care designed to meet the needs of working families, take a look at Bright Horizons' programs for infants through pre-kindergarteners in New York City and beyond. Search for your closest child care center here.
Photos courtesy of Bright Horizons
t Click Here to Sign Up!