Mall of America's Most Amazing Attractions for Kids of All Ages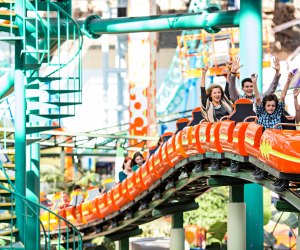 2/2/19
- By
Christine Mooney
Mall of America, located in the heart of the American Midwest in Bloomington, Minnesota, is nothing short of an indoor entertainment epicenter for kids. Sure, it has over 500 stores, but there's way more to do than just go shopping at the country's largest mall (so big that it requires its own zip code: 55425).
From Chicago's iconic Willis Tower to the Harley Davidson museum in Milwaukee, the Midwest is full of fun, interesting, and educational things that kids and their parents will love. Mall of America might possess a more commercial feel than some of the area's other travel destinations, but it also likely offers the most entertainment per square foot (5.4 million square feet to be exact) with some of the most popular kids' characters and brands on hand, including Lego, Nickelodeon, American Girl, and Paw Patrol. There's an indoor amusement park, aquarium, arcade, mini golf, and so much more, all within just a few minutes of the Minneapolis-St. Paul airport.
Read on to check out our list of the top 25 amazing things that kids of all ages can do at Mall of America.
1. Ride a roller coaster and play with Paw Patrol. There is literally an amusement park inside of the mall. Nickelodeon Universe has rides for teens on down to tots, each with cartoon and character themes: Spongebob, Teenage Mutant Ninja Turtles, Rugrats, Bubble Guppies, and Paw Patrol. Tickets can be purchased at automated machines or kiosks at the mall.
2. Grab a bite. With two massive food courts and plenty of dine-in options, the kids won't go hungry at Mall of America. You'll find all manner of eats, from sushi and burgers to macaroons and candy shops. There are national fast food chains, such as Chipotle and Burger King, but also a number of local and regional favorites, as well as Caribou Coffee and even a Nestle Toll House cafe for a little pick-me-up.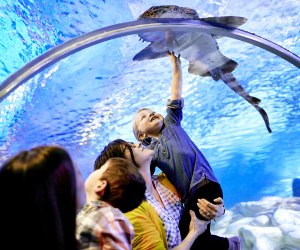 The glass tunnel at Sea Life Aquarium lets you see ocean life from all angles. Photo by Nick Fay Photography courtesy of Mall of America
3. See sharks, turtles, and rays up close at Sea Life Aquarium. Walk through a 300-foot undersea glass tunnel and feel starfish in the touch pools. Kids can collect stamps at interactive stations throughout the tour of this fun, perfectly sized aquarium right in the middle of the mall.
4. Experience FlyOver America. Take a virtual reality ride over America's most iconic features in this 10-minute full-body sensory experience. With moving seats, wind effects, and scents, it really feels like you're flying. Note: Children must be at least 40 inches tall. Purchase tickets online to save 10% on admission.
5. Build with buckets of Legos. Mix and match your own Lego characters inside The Lego store, or step right outside to enjoy building with bricks free of charge at the creativity tables. The tables are low enough for toddlers, and with benches surrounding the area, it's easy for parents to relax just a little while their kids build. Don't forget to look up! There's a 34-foot Lego robot, a Lego helicopter, and more towering above the store.
6. Hit the arcade. Load up a game card for the kids and let them hit the many, many video and interactive games at the XScape Arcade. This one has two locations in Mall of America, including one right across from the Paw Patrol playground in Nickelodeon Universe. There's prize counter for their winnings, too. Read on for two more gaming spots within the mall (GameWorks and SMAASH).

Play a round indoors at Moose Mountain Adventure Golf. Photo courtesy of Mall of America
7. Play a round or two of putt-putt at the mall's two miniature golf courses. The Moose Mountain Adventure location has an old "north woods" feel and is fully accessible, so everyone can enjoy a round. At the Rock of Ages Blacklight Minigolf you can travel through some groovy music history from the 1950s to the present day. Best of all, children ages 5 and under are admitted FREE with one regular priced admission.
8. Catch a live show. From big names to local choirs, the events calendar at Mall of America is chock-full of live entertainment. The Music in the Mall series delights visitors with different shows each week, from January through mid-November. There's also a nightly light show with music and smoke effects that runs for 9 minutes to close out the mall's day.
9. Go ice skating in the winter. A pop-up outdoor ice rink lets mallgoers skate for FREE during December and January. Skate rentals run about $5 a pair but admission is free. Find the outdoor rink near the iconic MOA star in the mall's north entrance.
10. Aim for a strike. Knock down some pins with family bowling. The bowling alley is located inside GameWorks on the 4th floor and features unique black-lit lanes. Kids might also enjoy the more than 100 arcade games available to play while grown-ups partake in the full menu and bar, along with large high-def TV screens.
11. Get lost in a 2,500-square-foot mirror maze. The Amazing Mirror Maze, one of the largest mirror mazes in the world, is located right inside Mall of America. This funhouse-style maze, lit with brightly colored lights, is a unique way to spend some time at the mall.

Make the perfect box of crayons at the Crayola Experience. Photo by John Sterling Ruth courtesy of Mall of America
12. Color, craft, and play at The Crayola Experience. Design and wrap your own crayons, star in a personalized coloring page, or complete any of the other 20 hands-on activities perfect for an afternoon of family fun.
13. Zip-line across the mall. Head over to the Dutchman's Deck Adventure Course in Nickelodeon Universe to climb what is billed as "the tallest ropes course in the world," head down a dizzying spiral slide, and zip-line over 55 feet above the mall floor. Height restrictions vary by activity, but generally, kids will need to be at least 40 inches tall (and taller in some cases).
14. Relax at the movies. The CMX theater has 14 theaters and a 1,100 seating capacity. After a long day shopping and adventuring through the mall, store your shopping bags in the special reclining seats and munch on gourmet goodies while you take in a new release. Grown-ups might want to treat themselves to an adult beverage.
15. Laugh your way through a live comedy show. Take your older kids to the House of Comedy, which hosts live shows each evening. There's an early show and a late show, group discounts, and a full dinner menu. Note: There is an age restriction of 16 years and an adult must accompany teens. (Of course, comedians aren't a very self-censored lot so attend).
16. Dine with the American Girl dolls. Bring, borrow, or buy a doll to join the family while you dine on appetizers, lunch, dinner, and dessert at the American Girl Bistro. Don't forget to check the events calendar for special events, such as author signings and cooking classes.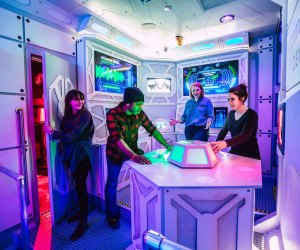 Mission: Mars at The Escape Game. Photo courtesy of The Escape Game Minneapolis
17. Escape from the mall in The Escape Game. You can pick from five themed escapes, including Special Ops and Mission: Mars. Each adventure lasts 60 minutes as the family tries to puzzle its way out!
18. Drive go-carts (or bumper cars for the little kids). While little ones will enjoy the Rugrats-themed bumper cars at Nickelodeon Universe, kids (and kids at heart) ages 8 and up need to check out SMAAASH. Its multilevel go-kart track, plus virtual reality element that includes a design-your-own-roller coaster, makes SMAAASH a win for your techy big kids.
19. Meet Chase, Dora, and SpongeBob. Kids can say hello to their favorite characters from shows like Paw Patrol, Bubble Guppies, and more, at Nickelodeon Universe each Friday, Saturday, and Sunday. Times and character schedules can be viewed up to two weeks' in advance.
20. Snag some time for yourself with a trip to the spa. Take a load off after a day spent walking the aisles and hauling your kids' stuff at one of the two spas (Progressions and Solimar) within the mall.
21. Spend the night at the mall. There are 50 hotels within 10 minutes of Mall of America, including a Great Wolf Lodge with an indoor water park. However, if you don't want the hassle of driving once you get to the mall, check out Radisson Blu or the JW Marriott, both of which are connected to the mall itself. Your kids will love being able to say they had a slumber party at the biggest mall in the country.
22. Kids will thrill to meet Santa during Christmas, or the Easter Bunny during Easter. See the events calendar below to find out which fun seasonal events are happening during your visit.
23. Have fun with MOA's weekly calendar of events. From Disney Store fun for the little ones to yoga for mom and dad, Mall of America hosts loads of daily events. Also check out the FREE Toddler Tuesdays programming with ballet, arts and crafts, storytimes, character appearances, and more.
24. Go virtual (if you dare) with a 5D VR experience. Want to feel like you're going to nose-to-nose with prehistoric sharks or experience an all-out adrenaline rush in a virtual "Mystery Mine" ride? This European-style 5D Extreme Attraction by Matrix Technology might be perfect for your little thrill-seeker.
25. Or get your kicks with the XD Ride, part-roller-coaster, part-video-game thrill ride. Compete against 15 other participants in this fully immersive video game experience. From moving seats to weather effects, this is not your average video game or arcade experience. There are robots, pirates, zombies, and more experiences from which to choose. Not for kids under the age of 5, but the venue can recommend the less-scary experiences better for children, too.
Need to Know Before You Go