Amazing, Kid-friendly Features at these Airports Make Family Travel Way Better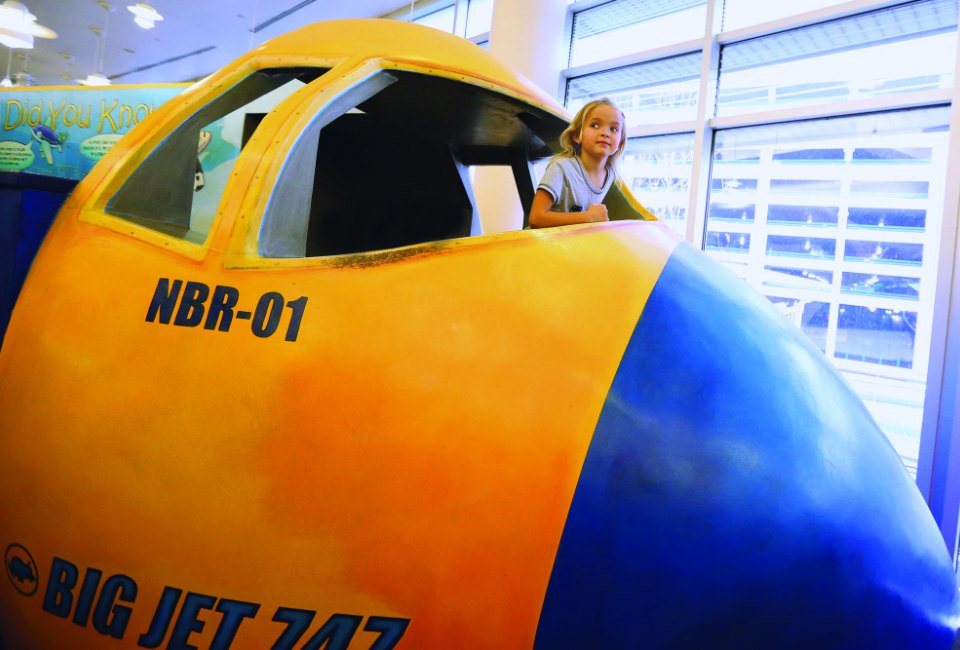 11/20/17
- By
Colette Herbstman
There are all sorts of things to look forward to when we travel, but the airport is not generally one of them. If flying with kids conjures up images of agonizing lines, stressful bathroom visits, and long walks down grimy hallways with cranky toddlers, maybe for your next trip you should try rerouting through one of the airports below. These 10 US hubs have all gone the extra mile to make an airport into a destination kids will remember as part of the adventure. If your trip starts, finishes, or lays over at one of our favorite kid-friendly terminals, you can look forward to play areas, interactive exhibits, rides, and more to keep ahead of the turbulence.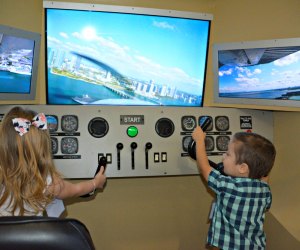 Junior pilots at the controls of Plane Fun. Photo courtesy of Miami International Airport
1. Miami International Airport
When your kids get a look at the exhibit this airport has created in collaboration with Miami Children's Museum, they may ask to return whether you're flying or not. Plane Fun in Concourse E offers an interactive play space with a control tower where they can actually listen in on conversations between pilots and the tower. Bigger kids can take the controls of a remote-controlled airplane and practice their own take-offs and landings, while toddlers sit in planes and crawl through tunnels. The I Spy Miami exhibit features a simulated hot-air balloon ride; and before you leave make sure to take a selfie with an airplane in front of the giant touch screen monitor.
RELATED: Most Kid-Friendly Hotels in New York City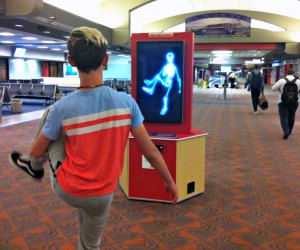 Getting jiggy at the Pittsburgh International Airport. Photo by Roberta Brown
2. Pittsburgh International Airport
Kidsport, a brand new 2,100 square foot play area in Concourse C, lets kids run around and burn off some energy, plus a whole lot more. An interactive installation by the Children's Museum of Pittsburgh invites kids to create their own videos and upload them right away to a rotating video wall, while educational exhibits by the Carnegie Science Center keep curious minds engaged. The airport also features interactive exhibits to chase away doldrums in other terminals, as well as a tribute display to beloved local Mr. Rogers. With all the fun options that Pittsburgh International has to offer, kids may never want to board.
3. Portland International Airport
Portland's airport has everything you'd expect: great coffee, a branch of the city's hometown bookstore, Powell's, inside the terminal, and various play spaces for little ones to run around in. But did you know PDX also offers a movie theater playing G-rated fare throughout the day to entertain kids when they've had enough running around? As a bonus, the food on offer is said to be some best in the country. This award-winning airport can perk up even the crankiest traveler.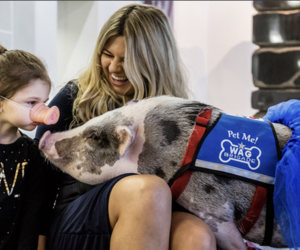 The Wag Brigade are the stars of SFO. Photo courtesy of FLY SFO
4. San Francisco International Airport
The SFO Museum offers kids the opportunity to learn about early aviation attempts in free guided tours led by museum and library staff. There's also a video art program where kids can watch short films, and a Kidspot in Terminal 2 and 3 with more interactive exhibits. All told, the SFO Museum presents about forty exhibitions throughout the terminals annually. But the biggest thrill for most kids will be if they catch a visit by the Wag Brigade: a team of dogs (and a pig) trained to put visitors at their ease.
5. O'Hare International Airport
Chicago's biggest airport is more than just a place to get stranded in a snow storm. The "Kids on the Fly Exhibit" in Terminal 2 is a play area with control towers and helicopter models updated with fresh features annually. Other fun stops include a real Brachiosaurus Dinosaur on display—one of the largest mounted dinosaurs in the world—as well as an urban garden exhibit, a WWII fighter plane, and The Sky's the Limit, a 744-foot kinetic neon sculpture of light and sound.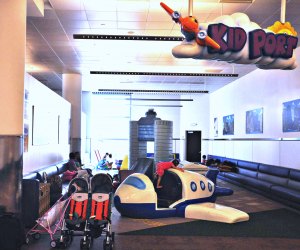 Kidport at Logan Airport's Terminal A. Photo courtesy of Massport
6. Boston Logan International Airport
With multiple areas for play in three different terminals (A, B, & C) and a kinetic sculpture in terminal E, this airport does not disappoint. Whether your kids want to explore the climbing structures, use the control tower or pick a spot to watch one of their favorite shows on television, Logan Airport has the family covered.
RELATED: Las Vegas Babysitting Services that Let Parents Enjoy Vegas, Baby!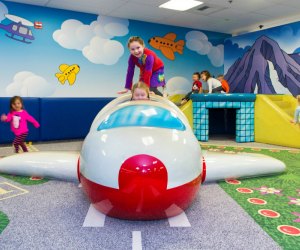 Kids' play area on Concourse A at Sea-Tac Airport. Port of Seattle image by Don Wilson
7. Seattle Tacoma International Airport
It seems like this West Coast airport has thought of everything. Whether it's the 1,400 square foot play area where tykes can get the wiggles out (between Central Terminal and Concourse A), the live music featured throughout the airport seven days a week, or the Art Walk where more than 100 works of art are featured, there's always something to see and do before your flight. Plus, Sea-Tac recently unveiled six new nursing stations located throughout the secure side of the airport.
8. Minneapolis St. Paul International Airport
​The two play areas at the Twin Cities airport (in Terminals 1 & 2) are both equipped with mock airplanes, slides, and control towers. And since Peanuts creator, Charles S. Schultz, is a hometown native, the giant statue of Snoopy in Terminal 1 should come as no surprise. There are pay rides for kiddies as well, if you feel like splurging, and the airport even offers free monthly flying run-throughs for parents of children with autism, to ease the potential stress of travel.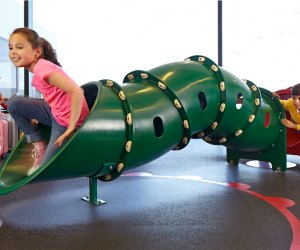 Getting the wiggles out at San Francisco International Airport. Photo courtesy of FLY SFO
9. Dallas-Fort Worth International Airport
At the Lone Star state airport, you'll find a padded play space with plenty of seating and charging outlets for parents (Terminal D). But what you might not know is that this airport offers a unique opportunity to view the works of dozens of local and national artists working in a variety of mediums including painting, sculpture, and mosaics. There are inspiring walking paths, an outdoor sculpture garden, breathtaking terrazzo floors, and interactive installations located throughout the terminals.
10. Atlanta Hartsfield-Jackson Airport
Rounding out our list, the busiest airport in the world has something for even the littlest traveler. If your kids are dinosaur fans, this airport features the assembled skeleton of Yangchuanosaurus, a prehistoric reptile from China. Additionally, there are two play areas, an Airport Art exhibit featuring rotating artists, and The Youth Art Galleries showcasing the work of local students.
Click Here to Sign Up!
i