Ultimate Guide to Boston's Logan Airport for Families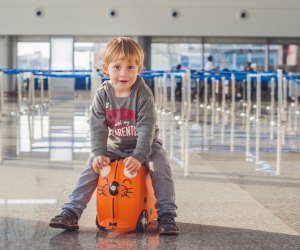 "Hooray! It's time to take the kids to the airport," said no parent ever. We all know bringing children and their bags and their feelings to the airport can be an absolute nightmare. But Bostonians are in luck: Logan is, without bias, one of the kid-friendliest airports in the country. It has comfy restaurants, clean play areas, lactation stations, and, yes, lots of good coffee that will make your wait or layover slightly less painful. Here are some tips for getting there on time, and finding the good stuff once settled (hopefully not for too long).
1. Tack an hour onto the time you'd leave if you were traveling without children. It should come as no surprise that, as with everything else with kids, traveling with children takes at least twice as long as flying solo. So give yourself some time. I tease my husband because he always wants to get to the airport about three days before our flight, but he actually has the right idea, at least when we're with the kids. Add an hour onto the recommended airport arrival time to give yourself a little sanity. If you're early, you can hit the cool spots below. Central parking, which is connected to the terminals, is one of the most convenient parking systems among major airports nationally, and a lifesaver if you are running short on time with little ones in tow. But it does put you back $70 for the first day (and $35 each additional day). If you get to Logan early enough to not stress about timing, economy parking is a better eal at $39 for the first day ($25 each additional day). Even more economical? Take the T silver or blue line, which will drop you at a free shuttle bus that will take you the final few minutes to your terminal.
2. Look into Pre-Check. If you fly frequently—or even just once a year—you might want to look into TSA Pre√. For $85 per person, you get to skip the queue for security and zip right through without removing your shoes, computers, and liquids, which is invaluable when you're waiting in line with impatient little people. If you travel internationally, check out Global Entry, which is $100 per person and gives you the same benefits but also gets you through U.S. immigration quickly on your return. Both programs have a five-year membership. For $20 per year (less for TSA Pre√), it seems well worth it.
3. Find a playground, stat. Want that little body to stay parked once on the plane? Remember, they've already been sitting in the car or train for awhile prior to getting here, so it's an excellent idea to try to tire them out before boarding. Believe it or not, Logan has indoor playgrounds in Terminals A, B, and C. Bring the kids to one of the Kidports and let them dangle from climbing structures and pretend to work in an air control tower. The Terminal C Kidport even has a place to watch TV if your child just needs to zone out before the flight.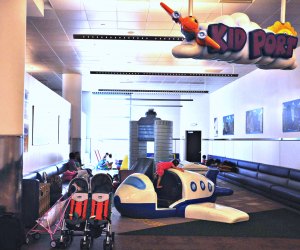 There are Kidports in three different terminals. Photo courtesy of Massport.
4. Let them stare for awhile at the kinetic sculpture. If you're flying from/to Terminal E, there's a very cool kinetic sculpture in the arrivals lounge. If your kids like the kinetic sculptures at Children's Hospital or the Museum of Science, this one is equally riveting. True story: my son loved this so much that we actually used to take "field trips" to the airport so he could watch the planes and stare at the sculpture. Even now, we have to get to the airport early to pick up my in-laws so the kids can check out the sculpture.
5. Soothe an overtired tot in a rocking chair or nursing room. If your kids are too young to appreciate a playground or sculpture, Logan still has amenities for you. There are rocking chairs throughout the airport for nursing or soothing a wee one to sleep. All the men's and women's bathrooms are equipped with folding changing tables, and each terminal has assisted care/family restrooms. Nursing moms will be thrilled to hear that nursing rooms can be found in Terminal A, and Mamava nursing pods are available in Terminals C and E.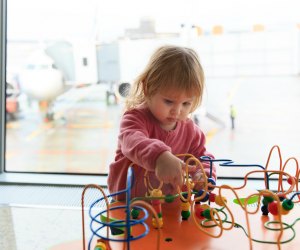 6. Take care to fill their bellies (because airlines won't). Logan is full of restaurants, so you can feed your family in a leisurely manner without having to suffer through airplane meals or pay your kids' college tuition savings for snacks on the plane. Legal Sea Foods has multiple branches in Terminals A, B, and C. Harpoon Tap Room is in Terminal A, along with Lucky's Lounge, Friendly's, and Currito. Terminal B has Stephanie's, Cisco Brewpub and Cosi. If you're at Terminal C, you can hit up Wahlburgers, Johnny Rockets, Potbelly Sandwich Shop or Boston Beer Works. Terminal E visitors can chow down at Durgin Park or Dine Boston. And if you don't have it in you to sit and eat and you just want to grab some munchkins and call it a day, there is a Dunkin Donuts in every terminal, because hey, this is Boston, after all!
7. Caffeinate yourself before assisting others. Gone are the days when you could flip through a few pages of Vanity Fair and then conk out. Kids need tending, even with screens and books at hand, and for some of us, coffee makes it all better. If caffeine is your friend, considering getting a special treat just for yourself before your flight. Aside from DD and Starbucks around every corner, Logan serves up lots of great coffee; our faves are Fuel America (outside pre-check for all American Airlines departures) and Espressamente Illy and Peet's (both in Terminal B).
8. Pay a visit before travel day to help special needs kids feel more comfortable. Families with autistic children can find traveling especially trying, but MassPort's Wings for Autism program is designed to lessen the stress. Twice a year, Wings for Autism holds a "dress rehearsal" to give families a test run before their actual trip. Families get to practice arriving at the airport, getting boarding passes, checking bags, going through security, and boarding the plane—with pilots, flight attendants and TSA screeners to help them through. For more information, visit the Massport website.
The most important thing to consider is that while traveling is stressful, going to the airport is a big deal for kids. Seeing the airport, carrying their own bags, and flying on planes are some of the most exciting things they do. So plan as best you can, and then try to relax and enjoy the friendly skies.
Photos via Bigstock unless otherwise noted.